Xochitl Gomez on becoming teen Marvel superhero and fighting online hate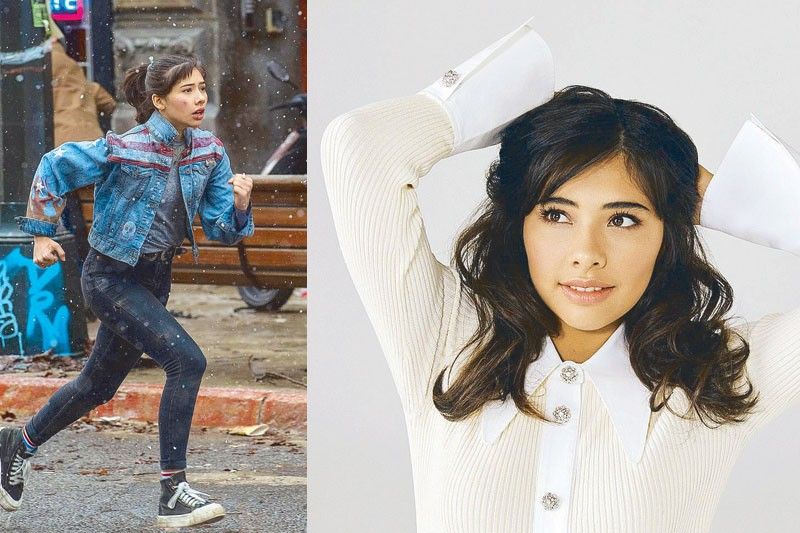 Xochitl Gomez had a "really crazy story" to tell about how she became part of the Marvel Cinematic Universe (MCU) as the teen superhero America Chavez in the movie Doctor Strange in the Multiverse of Madness.
The 16-year-old breakout star recalled the top-secret way Marvel Studios made her audition for the role back in March 2020.
"Because it was Marvel Studios, they made all the names of the characters, the story, the plot and everything completely fake. I did that audition, and then I didn't hear anything for six months. So, I thought they didn't like me, and I wasn't the choice. I just kind of moved on, and then I got a callback," Xochitl, who fans might also know for her work in the Netflix series The Baby-Sitters Club, shared in a recent Q&A.
"I got pinned a couple days later after I sent the audition. That means that they like you and think of you as one of the top picks for the character. Whenever you get pinned, it's so exciting."
While Xochitl — pronounced as "Soh-chee" by the way — had a feeling it was going to be for a superhero movie when she got asked to do a screen test in London, it was only when she arrived on the set that her suspicion got confirmed. "The screen test was so crazy. I thought it was just going to be in like a conference room, but because it's Marvel Studios, nothing's regular. I did my screen test on the set of the Sanctum Sanctorum."
Xochitl looked back on her first meeting with lead star Benedict Cumberbatch, a.k.a. Doctor Strange, and Sam Raimi, who directed this sequel to the first film back in 2016.
"There were about 80 crew members on a working set, not just some normal screen test. I was really nervous, and that was the first time I met Benedict Cumberbatch. I really had to calm myself down. I did my screen test with him, and he was so nice and so lovely. Also, Sam Raimi and (producer) Richie Palmer were super nice," she said.
Three days later, Xochitl learned the good news over Zoom that she was cast as America and the rest is MCU history.
"I was just shocked, and I think I still am shocked. I don't think it ever really went into my head until I started packing a couple weeks later to go to England and started actually filming for the movie. It's crazy," she said.
America is introduced in Doctor Strange in the Multiverse of Madness as a teenager with an awesome ability to punch through portals of the multiverse. But she doesn't realize the extent of her power yet, nor does she know how to control it.
In the film's opening sequence where America is chased down the streets of New York by a monster called Gargantos, she meets the characters of Doctor Strange (Cumberbatch) and the new Sorcerer Supreme Wong (played by Benedict Wong) who will save her and put her under their care.
This was actually her "favorite moment" from the film.
"I run a lot through the streets of New York City. But in this specific part when I'm running, they had all these special effects. Lights were going off, a tree was falling, cars were crashing into each other, a fire hydrant (went) off and a building completely (collapsed) behind me," Xochitl said.
"The thing is, all these special effects are actually going off as I'm running, and there's only one chance to do it. There's literally only one shot. That's really hard because we've had issues where some of the special effects don't go off at the same time. But, luckily, all of them went off. I ran and none of them went off at the wrong time. And the shot looked incredible. That was probably one of the moments where I felt like a true baddie."
Xochitl's America has been credited to have brought youthful energy and vibrancy into an otherwise dark and "very adult" film.
In a separate presscon and intimate roundtable interview attended by Asia-Pacific press, including The STAR, she said, "One thing that was so, you know, important to me was that this is a very adult movie. There's lots of adults in it. It's very, you know, heavy," she said.
"And so, I wanted to make sure that America still had that youthfulness and still had that 'fake it 'til you make it', you know, resilience. But when you've got some crazy stuff happening, it's a little hard."
In retrospect, what also helped her portrayal was she was the same age as America when she shot the film.
"With America, I really wanted teens to feel that they can relate to her, especially with me being 14 when I shot the film and also America being 14. It's a real teenager playing a teen and I wanted teenagers to be able to look at it and be like, I would do that same thing."
As a certified Gen-Z, Xochitl offered glimpses of the fun she brought to the set via TikTok. Talking about some off-screen dance showdown with co-stars like Cumberbatch and Wong, she shared, "I don't think there's anything better than all three of us dancing at the same time. I mean that's pretty epic. But Benedict Wong — I call him Benny — is amazing. He carries this mega huge boom speaker around and bumps up and down. He's like a walking rave party. Everyone gets so excited, and that's how all of it usually starts. All of us get dancing, and it's pretty epic."
"Benedict, I mean, he's got some snazzy moves. But I think my moves are a bit snazzier. Even though he's an award-winning actor, I think I might win in this area because of TikTok," she further quipped.
During our virtual chat, it was discussed that while a lot of fans were happy with the debut of America in Doctor Strange 2, there was an audience segment "not happy" with the inclusion of her character, who is also described as the "first queer Latina superhero." An LGBTQ reference in one scene has led to the film not being screened in Saudi Arabia (and other countries) after censors' request for edits was not granted by Disney, as per Variety. Apparently, Xochitl became a direct recipient of criticism in relation to America. The supposed amount of negative comments resulted in her TikTok account being briefly banned on the platform.
In a previous article, this paper wrote about how Wong took the cudgels for the teenager and called out the "trolls," saying they should "feel deep shame" for targeting his co-star.
"She's just a young girl playing her role and full praise for that," Wong stressed. "You know, all we are doing is radiating representation, voicing the voiceless. That's all that we can do, and represent people so that they can be seen."
Xochitl herself is defying the negativity with a positive and empowering mindset, saying: "Online hate is one of those things that I never really liked to pay attention to. I'm always just like, whoa, you know, whatever. People have opinions. It's fine. I can't change people's opinions. I can only be myself and it was only until my TikTok got banned that I realized, okay, this is not good."
"So, I mean, I did post that I got my TikTok back and I posted because I know that I do have a very strong, young following. I thought it was only right to post a photo of, you know, just nothing can break me down. I'm going to stay strong and just keep going because it's very important for young teenagers to have a positive person to live up to and I hope that I can do that for you," Xochitl concluded.
Meanwhile, the local theatrical release of Doctor Strange in the Multiverse of Madness has been reported to be the highest-grossing film in the Philippines this year. It also made new records in the country as the ninth-highest opening film of all time for MCU, 10th in terms of highest opening of all time for a Disney film, and 13th in terms of the highest opening weekend of all time in the local box-office.