Miss Universe 2021 Haarnaz Sandhu opens up about having Celiac disease, Muslim women wearing hijab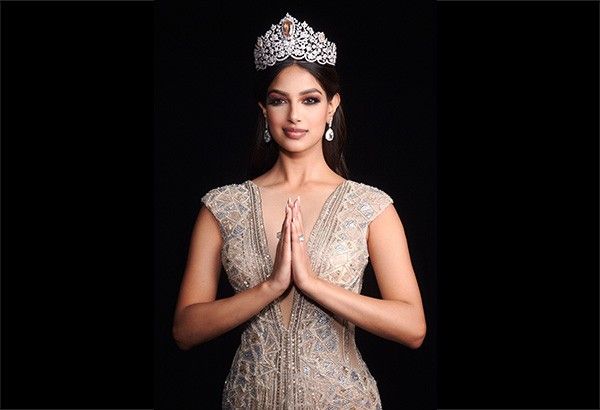 MANILA, Philippines — Reigning Miss Universe Haarnaz Sandhu is currently enjoying her homecoming around India, after her victory in Eilat last December.
The 24-year-old Punjabi maiden went viral recently after she gave her views on a hijab issue, after a reporter asked her during an event in Mumbai.
Haarnaz, in a recorded clip from the interview, said she believes in letting one live (and dress up) the way one chose to.
"I think I just gave my perspective to it. At the end of the day, that girl is dominated by the patriarchy system, or if that girl is wearing the hijab, that's her choice. Even if she's getting dominated, she needs to come and speak," the beauty queen said.
The hijab is a piece of cloth covering the hair and neck but shows the face, or in stricter communities, just the eyes. In Muslim countries, wearing it denotes a partition (from males), and is used generally for Islamic rules of modesty and dressing for women. While most Indians pursue Hinduism, a large part of the population belong to the Islamic faith.
The wearing of the hijab has given an unofficial pressure to Muslim women, as some believe it was not expressly mandated by the Qu'ran, the holy book of the Mohammedan faith. It is, however, required by law in Iran, Afghanistan, and the Indonesian province of Aceh. Other countries, both in Europe and the Muslim world, have passed laws banning some or all types of hijab in public or in certain types of locales.
On the aspect of body positivity, the Indian beauty queen said, "I'm one of those individuals who was first bullied that 'she's too skinny' and now they bully me saying 'she's fat.' Nobody knows about my Celiac disease. That I cannot eat wheat (barley/rye) flour, and many other things."
"Celiac disease is a digestive and autoimmune disorder that can damage your small intestine," the Cleveland Clinic explained.
"People with celiac disease might experience symptoms like diarrhea, bloating, gas, anemia and growth issues. Celiac disease can be triggered by a protein called gluten. Gluten is found in grains, like wheat, barley and rye."
Haarnaz is India's third Miss Universe titleholder, winning the crown 21 years after Lara Dutta in 2000. The country won its first crown in Manila when Sushmita Sen was declared Miss Universe in 1994.
Haarnaz will be gracing the Miss Universe Philippines 2022 coronation night on April 30 at the SM Mall of Asia Arena.
RELATED: Catriona Gray defends Miss Universe 2021 Harnaaz Sandhu from people commenting on her weight