How Davao Conyo and Yumi make their content viral and relatable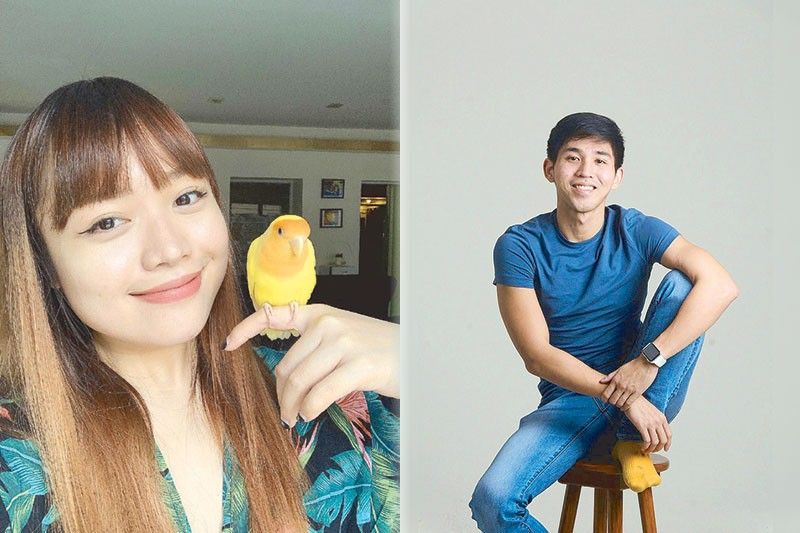 The social media generation has indeed been making many ordinary people into the most viral sensations. All it takes is they either bank on their talent or do something catchy and funny.
Yumi and Phillip Hernandez, a.k.a. Davao Conyo, are among today's popular Filipino social media personalities who bring nothing but good vibes to netizens through comedy skits and engaging activities.
At present, Yumi, with handle name itsyumi_, has a massive 4M followers on TikTok; 86.1K, Instagram; and 99.5K, YouTube; while Davao Conyo (@davaoconyo) enjoys 2.5M followers on Facebook; 1.3M, TikTok; and 60.7K, Instagram.
During the recently-held SKY Fiber's Swak na Swak media conference to drumbeat its new Super Speed Plans, Yumi and Davao Conyo shared their journey to fame and factors that became their ladder to success.
Both social media stars have been creating content for over four years now with themes that can easily tickle one's funny bone. Yumi gives netizens a glimpse of her everyday life apart from sharing videos of her sweet time, taking care of six adorable lovebirds. Philip, on the other hand, displays his gift of gab through his humorous take on real life situations everyone can relate to.
According to Davao Conyo, even before he made his presence felt on the digital space, he would often perform in front of his classmates and make them laugh.
"Papansin talaga ako ever since, tapos bakla pa ko, so 'yung combination na 'yun parang ingredients," he began. "Gusto ko talaga kahit nung student pa 'ko, mahilig talaga 'ko mag-perform, parang lider-lideran talaga 'ko sa plays."
He, too, revealed that he finds TV commercials interesting. "Bata pa lang ako, mahilig na 'ko manood ng commercials talaga at hula-hulaan kung anong brand ng product. With Internet access, I started experimenting on how to create videos on FB."
It was in 2017 when Davao Conyo initially uploaded a video which was a funny "conyo" Bisaya dub of the hit movie, Four Sisters And A Wedding. "I was then too shy to show my face, so I decided to start with just my voice."
Netizens were hooked to watching his version of the movie, where he changed its Tagalog dialogues into Bisaya. After that, there was no looking back for him. "Doon ko na feel na ito pala gusto ng tao, so tinuloy-tuloy ko na."
His other dubbed video clips that gained positive results were the scenes he did from Wildflower, Labs Kita, Okay Ka Lang, Taken, among others.
For Yumi, little did she know that her boredom would lead her to the exciting world of TikTok. She recalled scrolling on her phone when the musical note logo of TikTok caught her attention. "I found it cute, so I downloaded the app and then, I learned that I could use it to share 15-second videos. I told myself, 'May potensyal, i-try ko nga.'"
She didn't expect that her first video, which she uploaded in 2018 — a relatable rant about her love life — would gain attention from netizens. The said video, Yumi amusingly shared, also led her to find her special someone.
Equally bringing joy to her audience are her fun moments with her stocky parrots. In fact, most of her videos with them gained over half a million views.
No wonder, Yumi and Davao Conyo have become familiar faces. But both swear that whatever popularity they are enjoying now won't definitely make their heads too big for their hats.
"For me, normal lang s'ya (posting videos). It's like updating my friends about me and then, I post it online. I don't expect people to recognize me kaya nagugulat ako biglaan sa mall nakikilala nila ako. And that's when I realized na meron pala talagang nanonood sa akin and it feels good," said Yumi, who is also one of TikTok's biggest bird moms.
The same goes for Davao Conyo, who gets conscious when people request for a photo op with him.
"Hindi kayo maniniwala pero may pagka-introvert ako talaga, kaya 'pag may lumalapit sa akin sa mall, naiilang pa rin ako kasi sobrang hindi ako people person, " he humbly said. "In terms of popularity, I don't feel any difference because I know that every day, there are many content creators appearing online, so I need not be super special. Everyone can do videos and upload them online. 'Yung parang edge ko lang ay nakikilala lang ako, pero normal pa rin buhay ko, may privacy pa rin."
Several days ago, Davao Conyo put a lot of netizens in stitches anew via a TikTok video with the caption, "'Yung nagsimba ka, tapos biglang may tumabi na TNT hurado." The video shows him singing inside the church and then suddenly becoming conscious upon seeing Jed Madela sitting beside him. It gained a whopping 4.1M views.
He expressed delight over the overwhelming support of people these days. "Dati, 'pag gumagawa ako ng video, masaya na ako kahit 300 lang 'yung views sa FB. So, you can just imagine what more now. I'm so thankful."
Apart from the videos, Davao Conyo's Facebook is filled with stuff that can easily crack up online viewers — from random thoughts about things around him to witty memes.
Creating content, Yumi and Davao Conyo said, can be likened to the things you are passionate about.
"I started with my hobbies and content about my daily life because it's easy when you show what you really do. Plus, new trends that I love to follow," told Yumi to The STAR on how they make content relatable to everyone.
For Davao Conyo, observing humans and looking at situations that happen in everyday life can best make a relatable content.
"As an introvert, I love to spend time alone pero kahit wala akong masyado kausap mahilig ako mag-observe kasi judgmental talaga ako by nature, pero 'yung mga thoughts na 'yun nasa utak ko lang, tapos bubuuin ko na 'yung script."
He added, "Sometimes, nakukuha ko lang sa mga real-life situations para maging relatable din 'yung content ko, like for example, mga away ng pamilya, 'yung mga conversation ng mag-kakapatid. Mahilig kasi ako mag-observe ng mga micro details na parang gagawan ko s'ya ng kwento at pagdating sa mga audience, ang masasabi nila, 'Oo nga ano, ganun nga si Mama' or 'Ganun nga si kuya.' That's the kind of element that the audiences really feel when they watch the skits. May element of surprise and at the same time, there's humor."
Both Yumi and Davao Conyo also stressed the importance of getting an Internet plan that will suit one's lifestyle and career. Thus, SKY Fiber's Super Speed Plans are for people looking for Internet plans with the right mix of affordability, ample speed and seamless connectivity.
SKY's head of Consumer Product, Programming and Airtime Group James Dumlao said, "The Internet has woven itself into our daily lives. Hence, a good quality Internet connection has become a necessity. 'Internet is life,' as many would say, and because of this, we, at SKY Fiber, have committed to continuously deliver better products and services for the markets that we serve."
Also present at the virtual conference were SKY head of consumer broadband Alan Supnet and head of Research and Product Development Joevel Rivera.
(For details on affordable fiber-fast offerings, visit www.mysky.com.ph/skyfiber.)