Tanned? Kisses Delavin ends Miss Universe Philippines 2021 journey at Top 10
September 30, 2021 | 11:25pm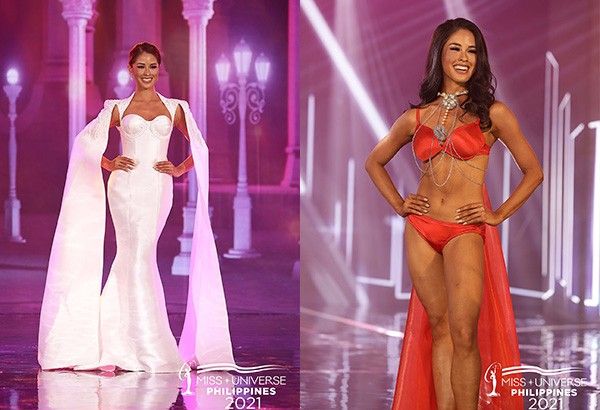 MANILA, Philippines — Actress Kisses Delavin fell short in winning the Miss Universe Philippines 2021 crown after she finished the prestigious pageant in the Top 10.
Though eliminated in the semifinals, Kisses shone all the way through, not bad for a 22-year-old first-time MUPH candidate.
Kisses, who many Internet users noticed to have been tanned for the competition, won special awards such as Miss Photogenic, which includes a P100,000 cash prize; as well as Miss Lazada Philippines, for which she bagged P50,000 worth of shopping credits.
Kisses was one of the candidates who entered the Top 16 competition after getting the highest votes in Lazada. She also won the Ms. RedFox award for having the highest online votes, winning $2000 cash and another $2000 for her chosen charity.
Related: Cebu City's Beatrice Luigi Gomez is Miss Universe Philippines 2021; full list of winners, special awards
During the pageant, her voice overs divulged that as a "miracle baby," she woke up from a coma at six years old and is a "proud probinsyana."
In the preliminary round, the former "Pinoy Big Brother" housemate said in her preliminary interview that she was embracing the moment during the past week.
"I think it's embracing the moment. I really enjoy that I met so many people the past week that I really treasure. Of course, it's in my dream, the Miss Universe crown, but I also just embraced the moment and that's one of the best parts of it," she said.
Related: 'Embracing the moment': Kisses Delavin on her Miss Universe Philippines journey
When asked, "If you have the power to do one of the following: Eliminate poverty and hunger, a government with no graft and corruption or solve all environmental problems, which would you choose?"
Kisses answered poverty because it is close to her heart.
"I think the closest thing to my heart is eliminating hunger because there are a lot of places out there that children are malnourished. And I think that that's one of the biggest things that I need to focus on as a privileged person. I am not ashamed of my privilege but I think that I should do more in my whole life," she said.
Kisses also slayed the runway of the Miss Universe Philippines 2021 evening gown and swimsuit preliminary competition.
Related: Kisses Delavin drops bombshell abs, parasela at Miss Universe Philippines 2021 preliminaries
In her Tourism video, Kisses not only donned a costume from the Lapay Bantigue Dance Festival but also performed street dancing moves with a troupe at the opening of her montage.
"Hello there, I present to you, Masbate! When you open the map of the Philippines, right at the heart of the archipelago is where you can find my hometown. I'm proud of this fact! Like a heart, in this place really does come so much joy and life to us Masbateños and Masbateñas every day. Of course, we have pristine beaches, with crystal clear waters, outstanding marine life, postcard-worthy views, and rodeo action," she said in the video.
RELATED: Miracle in Masbate: Kisses Delavin shows hometown beauty in Miss Universe Philippines 2021 video
FULL TEXT: Miss Universe Philippines 2021 Q&A segment