Rayver Cruz has found a creative place where he belongs
September 17, 2021 | 12:00am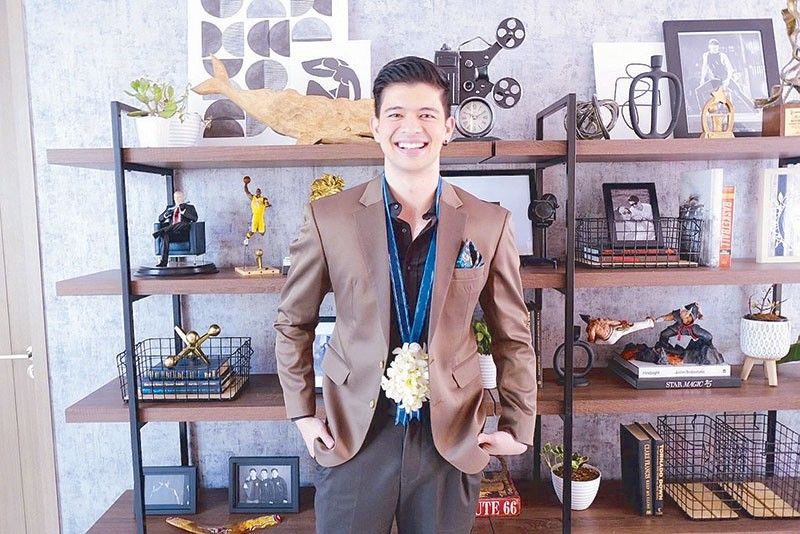 Every artist needs a platform to showcase their talents and creativity. Rayver Cruz has found a supportive and generous one in GMA. His partnership with the network moves forward after the GMA Artist Center talent recently renewed his contract. Rayver returned as a Kapuso talent three years ago.
"For me, (the people behind my career) were able to unleash my other capabilities na alam ko na kaya kong gawin (that I knew I could do)," answered the Nagbabagang Luha lead actor when asked about the highlight of his career in recent years during a virtual media call. (By the way, his Afternoon Prime drama series, also starring Glaiza de Castro and Mike Tan, airs after Eat, Bulaga.) "Na nakita nila at pinapakita nila sa viewers na kaya ko rin (They saw these talents in me and they're showcasing them to viewers). Like for instance, (my knack for) singing and I didn't expect that I could be a host through The Clash." The talent reality competition has witnessed Rayver's gift of gab, along with fellow hosts Julie Anne San Jose, Ken Chan and Rita Daniela. Hats off to GMA for tapping this side of Rayver.
"Ang galing lang ng GMA… binigyan nila ako talaga ng mga projects na ma-tra-train yung skills ko na hindi ko napapamalas noon (It gave me projects that would train me and enhance my skills that were not known to me before). Ngayon ay nagagawa ko na nang husto (Now, I'm able to do them well)." If one may add, Rayver does singing and hosting with gusto and confidence.
"I can say now that I'm really confident," added he. "When they gave me a hosting project, I was really nervous. I knew in myself that I could but I had doubts. Paano ba 'to? Paano ang ganyan? Hindi ko naman ito ginagawa. Nahasa nang husto dahil sa The Clash." What also brought out this potential in him was Rayver's intention to widen his horizons and better himself. "Iba yung confidence level ko pag dating sa hosting, parang alam ko na kayang, kaya ko na," he said.
Rayver definitely had meaningful three years with GMA and looks forward to more successful years. The network exceeded his expectations.
"They showered me with so many blessings, maraming projects since I returned (in 2018)," he looked back on. "Nakakatuwa nga, time flies. We used to do this (media conference for contract renewal) in person, now we're doing this via Zoom. Sobrang saya ko, sobrang thankful dahil up to now tuloy, tuloy yung projects ko with (GMA), lahat pinagawa nila sa akin. Nakakatuwa yung tiwala nila."
Without or with pandemic, Rayver remains visible on TV and is trying his hand at other areas of entertainment. He said he also misses movie-making and would love to do grey, meaty roles. His Bernabe in On The Job (OTJ), directed by Erik Matti, is seen in its series format (from the early parts to the new episodes) aired on HBO Go Sundays. The theatrical version On The Job: The Missing 8 graced the recently-concluded Venice Film Festival and its male lead John Arcilla won the Best Actor award.
"Classic yun, my character is Bernabe. I will never forget that I was part of a movie like OTJ, I'm proud of being part of it," shared Rayver of his participation in the movie. "Napaka-solid nung movie na yun. To be able to do something like that in the Philippines, a movie like that, was really amazing. I'm also excited to watch it. With OTJ part 1, nakasama pa ako sa Cannes (I attended the Cannes Film Festival). My experience was very unforgettable… sobrang astig."
Prior to the pandemic, Rayver said that he and Julie Anne San Jose were doing a rom-com for GMA Films. Its shooting was halted because of the global health crisis. The production team, according to him, already filmed a lot of scenes and is checking the date when shooting can be resumed.
"Maganda yung gumagawa ng isang role na malayo, na hindi mako-compare masyado sa'yo in person (I welcome the idea of doing a role that is far from who I am)," said Rayver. "Si Bernabe kasi maangas na pulis. I'm willing to do characters that have a twist to them, na medyo iba sa personality ko in real life. (A bit of a) bad boy na maangas (arrogant)." Partner-wise, the actor is game to work with any female actresses.
Asked about his reaction that many consider him a well-rounded artist, Rayver said: "I'm happy, it feels good when (you hear people say) that. It really inspires me. Mas lalo gusto ko pang matuto, lalo ko pang gustong galingan sa ginagawa ko (It motivates me to learn more and do better). Kahit sa pagsasayaw na sobrang sanay na ako, I still do research kung ano yung pwedeng gawing maganda, to become a more effective (performer) on stage… As for my singing, GMA Artist Center made an arrangement for me to do voice lessons para mahasa pa rin, ganun din ang ginagawa ko. (Learning and improving your craft) is continuous, I just want to learn more and better myself. Learning, hindi talaga matatapos yan (It is a continuous process)."
Given his disposition, Rayver will always have something new to offer that will delight audiences. He is on a roll and willing to explore because the actor has found a creative place where he thrives and belongs.