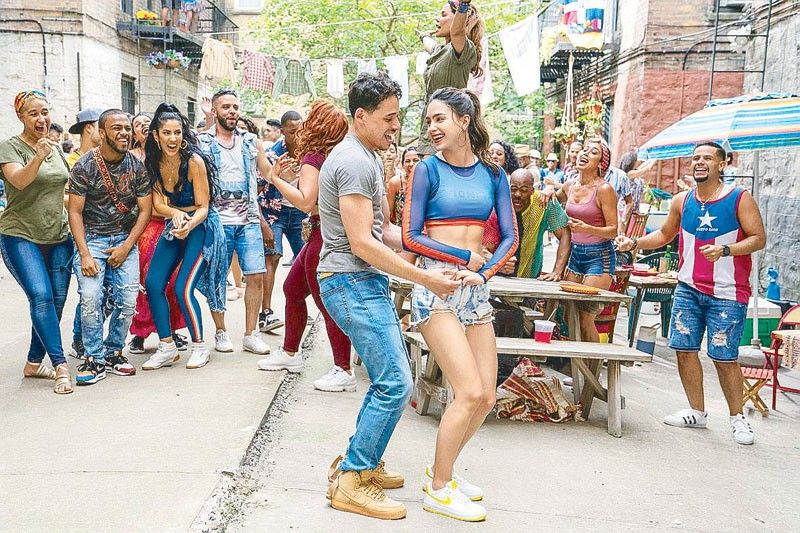 The movie, adapted from Lin Manuel Miranda's Tony Award-winning musical and directed by Jon M. Chu of Crazy Rich Asians fame, paints a rosy picture of the immigrant experience. If you want to fi nd out what is happening at the borders and what America is doing about it, go watch something else.
STAR/ File
In The Heights takes a look at the American dream
Some books or at least a paper or two about the successful marketing of the American Dream must exist somewhere. I want to know who is the genius who created this campaign.
After all, aside from religion, the idea that mankind has been enamored of for ages is that living in the U.S. of A. will be paradise. Many have discovered that it is not so, but the dream refuses to die and this continues to fuel the aspirations of countless people all over the world.
In The Heights, the Tony Award-winning musical now turned motion picture, takes a look at this dream. This is an early work by Hamilton sensation Lin Manuel Miranda with book by Quiara Alegria Hudes and film direction by Jon M. Chu of Crazy Rich Asians fame. Its focus is on Latino immigrants who remain hopeful even if their dreams are becoming elusive.
Usnavi de la Vega's father was so caught up in the American dream that he named his son after a U.S. Navy ship. Usnavi, U.S. Navi. Get it? That was part of the preparation for the time when his family would leave the Dominican Republic to build a better life in the new world.
And so Usnavi grew up in this place in New York City called Washington Heights or simply the Heights. He is now American and he has this bodega where the neighborhood comes to buy their needs. But like everybody around him, he still has to find that paradise where he would be happy because he has fulfilled his dream.
The dreams around him are all in pursuit of being successful the American way. For Kevin, it is risking his taxi business to be able to afford college for his daughter Nina. After all, she is the first in the Heights to be accepted at Stanford, the one who got out.
For Vanessa, it is having her own studio downtown so she can establish herself as a fashion designer. She religiously saves her earnings from her beauty salon job and scours trash cans for retazos she can work with. But all to no avail.
But that salon is also leaving, owner Daniela is moving to the Bronx because of the rising rent. And what can you say about Sonny, so optimistic about college only to find out he can never be accepted because he is an undocumented immigrant. And so forth.
Usnavi though has a different dream or as he likes to call it, his suenito. He wants to go back home and hopefully take care of the land his father left behind. Maybe if he is lucky, he will find the money he needs and he can convince Vanessa to join him.
There is no way for any of them to find that kind of cash, save for the lotto. Every day, they go to Usnavi's bodega to buy their tickets. Then they wait for the results. One day, one of them won $96,000.
This movie paints a rosy picture of the immigrant experience. If you want to find out what is happening at the borders and what America is doing about it, go watch something else. All of the problems in In The Heights are resolved to a happy, satisfactory end. It is how it gets there that makes the difference.
This begins with Anthony Ramos as Usnavi spinning a manhole cover on the street. I do not think manhole covers can move, let alone spin, but Ramos makes this believable. He follows this up with a cheery good morning to the camera. Not many actors can pull that off but this guy is so natural, so charming and sexy, too, calor, calor, that you end up rooting for him.
Not only him. Chu has assembled a most talented cast. Casting is perfect. No misfits here. How nice to see Corey Hawkins of Out of Compton in a romantic role as Benny; to discover a golden voice in the beautiful Melissa Barrera as Vanessa; dramatic actress potential in Leslie Grace as Nina; the incredible Olga Meridez as the Abuela Claudia, with her show-stopping number Paciencia y Fe; Gregory Diaz IV a young actor to watch out for as Sonny; even Jimmy Smith of Law and Order sings for the first time as Nina's dad, Kevin Rosario; and everybody else. They all sang, hip-hopped, merengued, salsaed and more to Miranda's wonderfully diverse music.
Now, I have a feeling that Chu put his movie memories to excellent use in the stunning musical numbers. Think Eljoras waving the flag in Les Miz? Alza la Bandera; what about Ester Williams in a Busby Berkeley-choreographed swimming pool ballet from Million Dollar Mermaid for the 96,000; and Usnavi and Vanessa kiss while getting drench. Not from the rain but from a fire hydrant. But still wet. Also, not very original. I have never seen dancing wigs in the salon though for No Me Diga.
Original or not, I am so glad that In The Heights came along. It is such a joy, an exuberant expression of hope to get lost in during this difficult time. Dreams do come true. Though not necessarily the American one.