Harry speaks to Charles, William after bitter TV interview: friend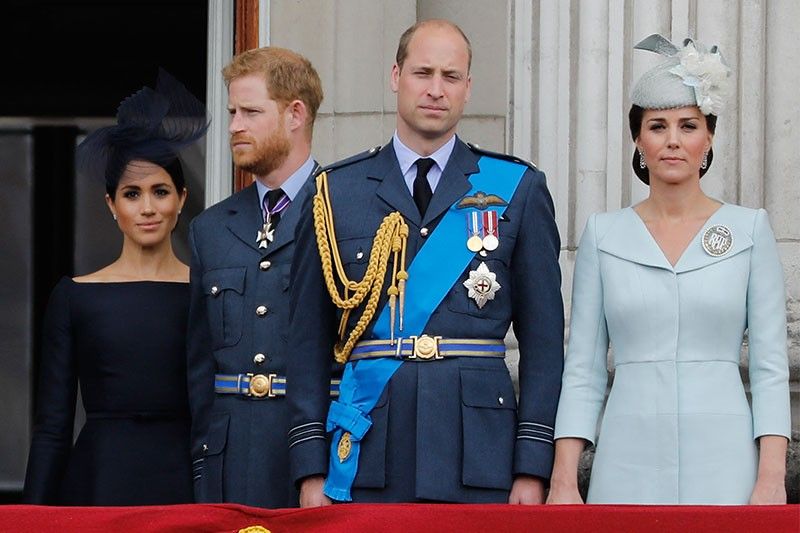 WASHINGTON, United States — Prince Harry has spoken to his father and brother after he and his wife Meghan Markle raised allegations of racism in the royal family during an explosive TV interview, a friend said Tuesday.
In the interview, Harry said that his father Prince Charles had cut him off financially and at one point stopped taking his calls, and he also described his damaged relationship with Prince William.
Harry and Meghan, whose father is white and mother is Black, now live in California after stepping away from royal duties.
The British monarchy has been rocked by the couple's allegations that an unnamed royal asked how dark their child's skin would be before he was born.
"I did actually call them to see how they were feeling, and it's true Harry has talked to his brother and he has talked to his father too," Gayle King, a US television presenter and friend of the couple, said on CBS.
"The word I was given was that those conversations were not productive, but they are glad they have at least started a conversation."
King said the couple were "frustrated" that alleged racism in the royal family had dominated the news agenda since the interview was broadcast on March 7.
"All they wanted all along was for the royals to intervene and tell the press to stop with the unfair, inaccurate, false stories that definitely have a racial slant," King said.
She added that Harry and Meghan wanted "healing" in the family, but that Meghan had "documents to back up everything" she had said in the interview with Oprah Winfrey.
The allegations, which the royal family said would be investigated, have plunged the monarchy into its biggest crisis since the death of William and Harry's mother, princess Diana, in 1997.
Meghan, a former actress, told Winfrey she was "naively" unprepared for life as a royal and had contemplated suicide while pregnant with their first child.
As It Happens
LATEST UPDATE: March 11, 2021 - 9:10pm
Follow this thread for updates on Prince Harry and Meghan's interview with Oprah. Main photo: Joe PUGLIESE / HARPO PRODUCTIONS / AFP
March 11, 2021 - 9:10pm
Prince William on Thursday defended the British royal family after his younger brother Harry and wife Meghan accused them of racism in a bombshell interview watched around the world.
"We're very much not a racist family," William told reporters during a visit to a multi-racial school in a deprived area of east London.
The Duke of Cambridge, son of heir-to-the-throne Prince Charles, added that he had yet to speak to Harry in California since the interview first aired in the United States on Sunday.
"No, I haven't spoken to him yet, but I will do," he said. — AFP
March 10, 2021 - 7:27am
Queen Elizabeth II is saddened by the challenges faced by her grandson Prince Harry and his wife Meghan, and takes their allegations of racism in the royal family seriously, Buckingham Palace says Tuesday.
"The whole family is saddened to learn the full extent of how challenging the last few years have been for Harry and Meghan. The issues raised, particularly that of race, are concerning," the palace says in a statement released on the queen's behalf.
"While some recollections may vary, they are taken very seriously and will be addressed by the family privately. Harry, Meghan and Archie will always be much loved family members." — AFP
March 8, 2021 - 11:20am
Prince Harry says during a tell-all interview Sunday that he and his wife Meghan Markle "did everything we could" to stay in the royal family.
"I'm sad that what's happened has happened, but I know, and I'm comfortable in knowing that we did everything that we could to make it work," he tells Oprah Winfrey during the two-hour CBS spot.
"Oh my god, we just did everything we could to protect them," Meghan adds.
Harry and Meghan announced in January 2020 that they were stepping back from royal duties. Buckingham Palace announced earlier this month that the couple had permanently quit. — AFP
March 8, 2021 - 11:16am
Prince Harry says he felt "really let down" by his father as he and wife Meghan open up about quitting Britain over her harsh treatment by the British press and the lack of support from the royal family.
Celebrity interviewer Oprah Winfrey asks Harry during a two hour CBS interview with the couple how his relationship had been with Prince Charles since they moved to the United States.
"There's a lot to work through there, you know? I feel really let down, because he's been through something similar. He knows what pain feels like," an emotional Harry says. — AFP
March 8, 2021 - 10:52am
Harry says he feels 'really let down' by Prince Charles — AFP