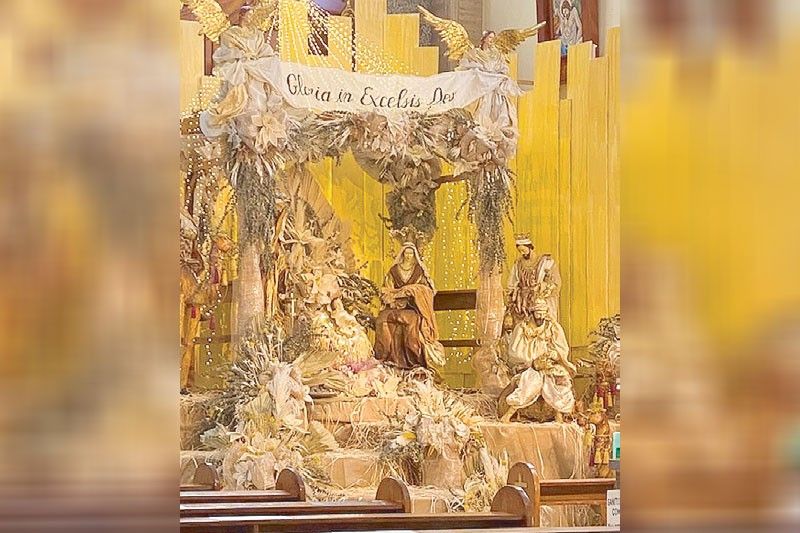 Beautiful nativity scene in Santuario de San Jose.
Praying for a peaceful, healthy & happy 2021
RAZZLE-DAZA
-
Pat-P Daza
(The Philippine Star) - January 4, 2021 - 12:00am
I made an effort to hear Mass in a church after experiencing the 6.3 magnitude earthquake that was felt in parts of the Philippines (including Metro Manila) on Christmas day. For a few seconds at 7:42 a.m. on Dec. 25, I couldn't move and was too stunned and frightened to react. As I held on to the doorknob, lots of thoughts ran through my mind: Should I wake up my kids and go under the bed? Run down to the lobby from the 24th floor or go up to the rooftop, six floors above? Thankfully, the shaking stopped after half a minute or so. Thank God this was not "The Big One."
The night before, I was feeling melancholy because my Christmas was hardly merry. There was no noche buena at the home of Mike Planas (my ex-husband and the father of my kids) because he's been in the US for the last two months. Cancelled too was the annual Christmas lunch Daza reunion held in the home of Nina Daza-Puyat, where my cousin Fr. Fidel Orendain, SDB, would celebrate Mass with my cousins, nephews and nieces present. We scrapped the reunion because large gatherings are a bad idea because of COVID. Luckily, my kids and I were still able to have lunch with my mom and siblings on Dec. 24. For good measure, I even took an antigen test the day before because my mom is a vulnerable senior citizen. But that lunch was also relatively quiet because my nephews and nieces weren't around.
And so, to thank God for sparing us from "The Big One" and to greet the Christ child a Happy Birthday in an extra special way, I decided to hear Mass in a church on Christmas day.
It was my first time to be in a church after nine months, and I had no idea how somber the experience would be. I went to the church I usually go to, only to find out that I should have made an online reservation ahead of time. And because it was Christmas day, the church was full and walk-ins like me were turned away. I tried another nearby church, Santuario de San Jose, and got lucky because they had a 10:15 a.m. Mass that was open to non-residents of Greenhills.
To me, it didn't look as if a Christmas Mass was about to be celebrated. The church was almost empty and except for the nativity scene, one would think it was a weekday Mass in ordinary time. Before the Mass began, an attendant distributed a piece of paper to all the churchgoers for contact tracing purposes. I wrote my name, contact details and seat number (only two people were allowed in each numbered pew). The priest then made his entrance, and a very small choir group sang the entrance hymn.
The priest had a mask on, which he wore the entire time. In his short, simple and resonant homily, the priest reminded us that the King of Kings, our Savior, was born in a humble manger, far from the ostentation befitting kings. And yet, He had everything He needed in His loving parents who stood by His side. And aren't family and love the true essence of Christmas?
It felt good to receive communion once again after a couple of months. It is the one thing which online Masses can't provide. Receiving the body of Christ triggers a psychological effect in me that simply makes me feel better.
I hope we will all be allowed to go to church every Sunday again very soon. For me, nothing beats the solace and sanctuary of being in the house of God even if it's only for an hour a week.
I continue to fervently pray for a peaceful, healthy and happy 2021 for all.