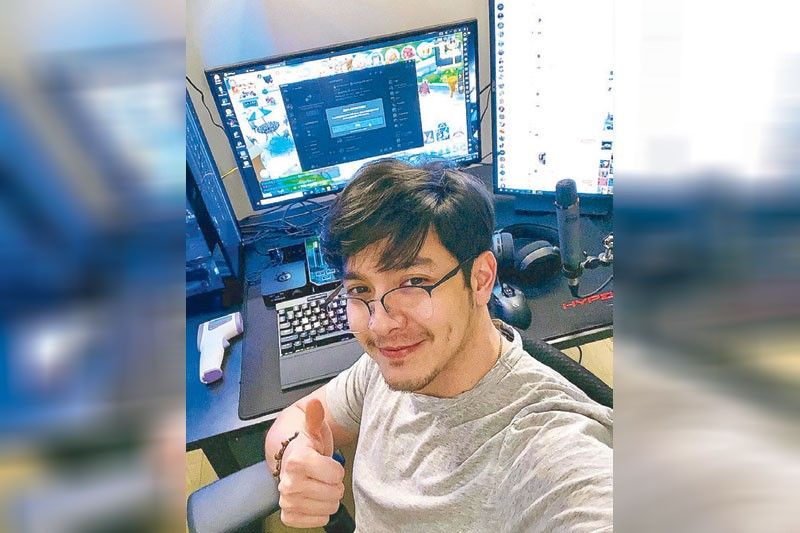 Why livestream gaming is more than a hobby for these Kapuso stars
KAPUSO DAY
-
Angel Javier Cruz
(The Philippine Star) - November 11, 2020 - 12:00am
Over the past few months, we have all been in search of something to do, something to keep us sane, and something to keep ourselves entertained during this quarantine. While others kept themselves busy by baking, or by becoming a plantito/plantita, others stepped into the rapidly booming digital realm of livestream gaming.
Briefly defined, livestream gaming means broadcasting a game as one plays it via different platforms, such as Facebook, YouTube or Twitch — unfiltered and without any major editing cuts. Viewers and followers are able to interact with the streamer through the comments section even while game play is ongoing, and people enjoy watching streamers because they are able to learn something new and get better at their favorite games.
Here in the Philippines, the gaming community grows larger by the day. Below, we asked some Kapuso stars why they started streaming and what are some of their favorite games.
What made you want to start streaming online?
Alden Richards: "Ever since talaga mahilig na ako sa games, kami ng kuya ko. Kumbaga I consider games to be a different world, kahit ano pa composition niyan na-e-enjoy ko talaga mag-immerse sa laro. Nitong quarantine, medyo may oras ako sa bahay, naisipan ko why not try it for myself kasi mahilig din naman ako manood ng streamers."
Christian Bautista: "I really love playing computer games since way back. When I found out that there's a big gaming community here, I just really wanted to try it out and maybe get a new gaming support group. And that's why I established the XtianBautista gaming page on Facebook."
Rayver Cruz: "Matagal ko na talaga gusto magsimulang mag-stream, pero siguro na-push ko siya talaga dahil sa mga nangyari nitong quarantine. Mostly nasa house tayo and working from home kaya mas nagkaroon ng oras. Matagal na kasi talaga akong gamer at I'm happy na nakakapag-livestream na ako ng games ko."
Rocco Nacino: "I enjoy video games and being competitive. I felt that I could relate and connect to my audience through streaming."
Myrtle Sarrosa: "I started streaming three years ago when I first got really into PUBG. I competed in some tournaments online till I got scouted to go to Thailand for the PUBG Tournament. It was fun to have that experience which is what inspired me to share my game play with viewers."
Shaira Diaz: "My brother who loves watching live game streams suggested it to me. I thought to myself, 'Yeah, why not?' It can be a good way to reach out to my fans so they can get to know the other side of me, and to share my gaming skills and play the game with them as well."
Kristoffer Martin: "Sobrang hilig ko kasi talaga maglaro ng games, lalo na mobile games. Then dumating nga 'yung pandemic, so I decided to start streaming. In that way din kasi nakakapag-interact din ako with the viewers. Mas organic kasi 'yung ganon."
What are some of your favorite games? What do you like about them?
Alden: "Sa ngayon ang madalas kong nilalaro ay Valorant, Genshin Impact, Mobile Legends at Ragnarok Mobile: Eternal Love. Fan na kasi talaga ako ng Ragnarok dati pa. It's also fun to get to connect with fellow gamers and guilds."
Christian: "Mobile Legends, Call of Duty, StarCraft is an oldie but goodie, and Total War."
Rayver: "Marami, mostly sa consoles, sa PS4. Pero lately kasi talaga ang sini-stream ko ngayon is mobile games, especially Mobile Legends."
Rocco: "Definitely Call of Duty Mobile and Warzone. Also a little bit of mobile legends because my audience guides me and teaches me how to play."
Myrtle: "At the moment, my favorite game would be Ragnarok M: Eternal Love. I think this would be the longest game that I have ever played."
Shaira: "I'm into Mobile Legends and DOTA 2 because I like games that require strategic skills and team plays. I also love playing CSGO. Sometimes, I play Call of Duty, it depends on my mood."
Kristoffer: "Mobile Legends and Call of Duty lang nilalaro ko. When you master the game kasi, it's all about mind games, timing and teamwork lalo na if I'm playing with friends."
How does gaming help your quarantine situation now?
Alden: "It gave me something fun to do, habang nasa bahay lang, especially early into the quarantine. It was something I looked forward to, some of my fans as well, and other gamers who also watch my streams."
Christian: "Gaming helps me in my quarantine situation to de-stress and sometimes to earn a bit as well. But mostly, to also connect to other gaming fans."
Rayver: "Malaking tulong ang gaming ngayong quarantine kasi pampalipas-oras and you get to play with your friends."
Rocco: "It definitely helps pass the time, and also helps relieve any kind of anxiety."
Myrtle: "Gaming is a great way to pass time with friends. It challenges your mind to think and strategize. It helps me by making me develop teamwork, leadership, gameplay, and it exposes me to experiences and adventures that I never would have imagined."
Shaira: "Gaming diverts my mind away from anxieties. It calms me and helps me forget my problems even just for a while. It helps me have fun during these stressful times."
Kristoffer: "It helped me a lot. Ang routine ko kasi every after workout, I play my games kaya it helps to pass the time."