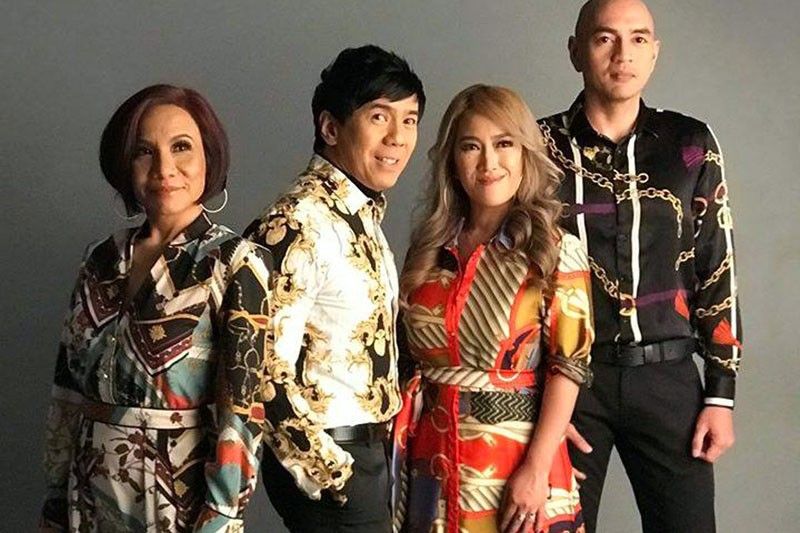 Vocal group The CompanY.
The CompanY Facebook page
Exciting new Pinoy releases
The CompanY is known for sleek pop harmonies with jazzy undertones. The Itchyworms makes guitar-driven rock music that harks back to the garage bands of the '60s. These two groups make an unlikely pair but for some strange reason, The CompanY got a big hit out of singing the Itchyworms tune Akin Ka Na Lang.
So, one day, they thought, why don't we collaborate? Why not indeed, collabs are the in these days. Most of the big stars are doing it. The CompanY and the Itchyworms together in one song, would be a powerhouse pairing. So, a few months ago, they agreed on the song and the result is, would you believe '70s disco?
It turned out that both The CompanY and the Itchyworms are big fans of '70s dance music, most especially Pinoy disco. And when you say Pinoy disco, two iconic bands instantly come to mind, Hotdog and VST&Co. Enduring is the only way to describe songs like Bongga Ka Day, Annie Batungbakal, Awitin Mo at Isasayaw Ko, Tayo'y Magsayawan. So, Itchyworms songwriting partners Jazz Nicolas and Wally Acolala got to work.
The song is titled I-Boogie Mo Ako Baby and it made quite a splash when it was released a few days ago. The CompanY and Itchyworms got what they wanted, a song that sounds like it could have come from Hotdog or VST&Co. Hopefully, it will also be as enduring.
I do not know why the band chose to call itself, the vowels they orbit, but it is an interesting name and easily grabs attention. Members are Nikka Melchor on lead vocals and guitar; Jeremy Sayas, drums and back-up vocals; Hannah de la Cruz, keyboards and back-up, Gene Santiago, lead guitar and Patch Javier, bass.
They also make interesting music that commands listening, more so the new single Pasa. That is not pasa as to pass or ipasa. It is pasa with a diacritical mark like those painful discolorations you get on your skin after you get hit by something or someone. Worse yet, if it is by someone you love.
The song goes Pasang-pasa na ako, which is how people in an abusive relationship can describe themselves. Melchor sings Pasa in an easy matter of fact style and it comes across as honest resignation that makes it doubly painful. Ouch!
Pasa is part of the group's first EP release. Titled ang unang ikot, it includes the songs that made the vowels they orbit a big favorite in the indie circuit. Selos, Kiliti and Kaya Ko.
Bless U is a new single by the juan karlos band. That is the band fronted by Juan Karlos Labajo. He was the kid from The Voice Philippines, who grew up to be a tall, attractive rocker. He made it big three years ago with the massive hit song Buwan."Sa ilalim ng puting ilaw, sa dilaw na buwan."
He has since then released two albums JK and JKL. His latest is DIWA with the single Sampaguita about Overseas Filipino Workers (OFWs). Bless U though is not part of the album. It is a one-off release whose revenue streams will be donated to the battle against the coronavirus. More R&B than rock, it has an inspiring message. "Just hold on tight/ for in the end of every tunnel, Baby, there's light."
To close, here is a familiar one. Well, it is not a Pinoy original, but it might as well be given how it is such a huge favorite out here. This is I Will be Here, a song written and recorded by Stephen Curtis Chapman. It was successfully covered by Gary Valenciano over 30 years ago.
So, how come it is once again an "exciting new single"? I Will be Here was used in the soundtrack of the movie, Through Night and Day. Starring Alessandra de Rossi and Paolo Contis, the bittersweet love story was released in theaters two years ago. It was picked up by Netflix, where it premiered a few weeks ago.
Viewers instantly fell in love with the picture and made it the No. 1 Pinoy flick in the streaming platform. They have since then been singing I Will be Here aloud or in their heads while getting misty-eyed. For those who want to get into the mood even without Netflix, the song performed by Alessandra and Paolo is available online. Enjoy.