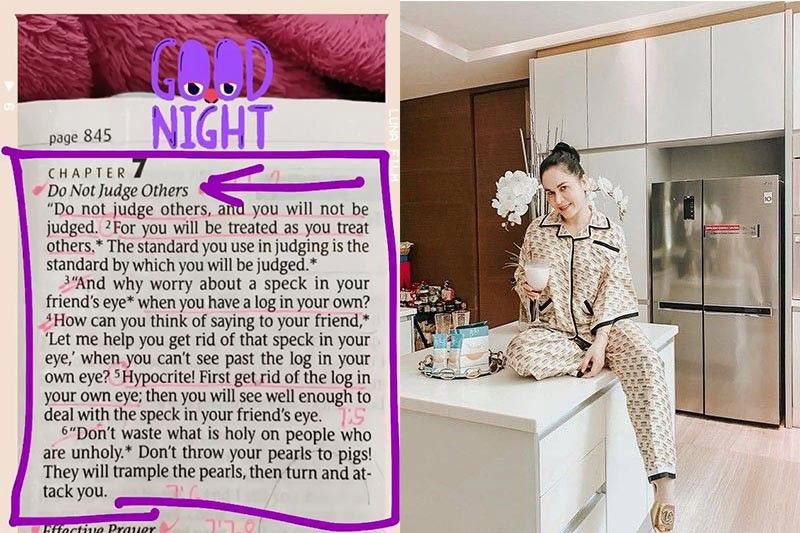 From left: Jinkee Pacquiao's Instagram story containing a Bible verse. Jinkee is seen wearing Gucci pajamas and Chanel sandals.
Jinkee Pacquiao via Instagram
Jinkee Pacquiao posts cryptic 'Do Not Judge Others' verse after Agot Isidro's 'nouveau' rant
MANILA, Philippines — Socialite Jinkee Pacquiao is keeping it classy after actress Agot Isidro responded to her social media post containing luxury "his and hers" Louis Vuitton and Hermès bicycles.
Rather than responding directly to the actress after her remarks asking for sensitivity from the Pacquiaos, Jinkee merely posted an excerpt from a book — the Bible's New Living Translation of Matthew 7:1-6 (Do Not Judge Others).
Related: Agot Isidro pleads 'sensitivity' from Jinkee Pacquiao after luxury bikes post
While the Pacquiao matriarch made no mention of any name, her supporters on social media speculated that this was addressed to Agot considering the timing.
The highlighted portion as seen in Jinkee's Instagram story posted last night read:
"Do not judge others, and you will not be judged. 2 For you will be treated as you treat others. The standard you use in judging is the standard by which you will be judged.

3 "And why worry about a speck in your friend's eye when you have a log in your own? 4 How can you think of saying to your friend, 'Let me help you get rid of that speck in your eye,' when you can't see past the log in your own eye? 5 Hypocrite! First get rid of the log in your own eye; then you will see well enough to deal with the speck in your friend's eye.

6 "Don't waste what is holy on people who are unholy. Don't throw your pearls to pigs! They will trample the pearls, then turn and attack you.