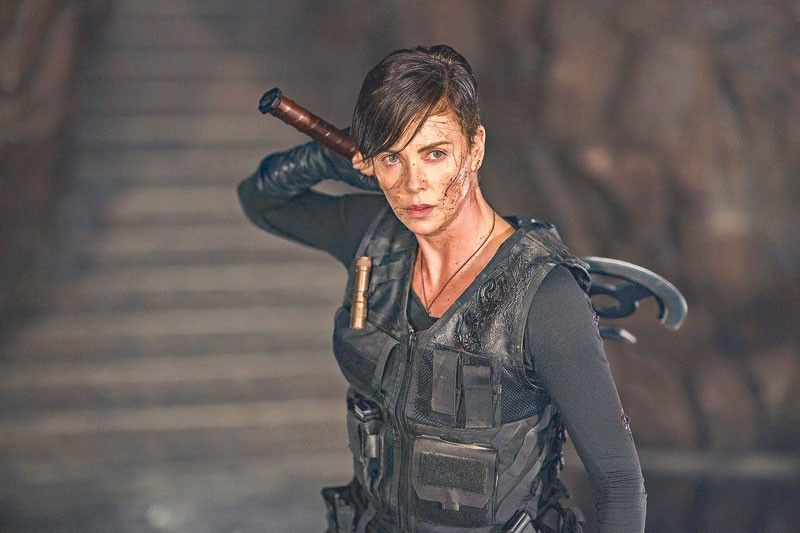 Charlize on taking the lead in the female-centric action film, The Old Guard (premiering on Netflix on July 10): 'If we're going to make these movies, we should make them in a way where we're pushing the envelope. I want to, honestly, reflect what women can do physically. So, I put a lot of pressure on everybody to be able to step up and raise the bar.'
Charlize Theron to young women: Don't be afraid of aging
MANILA, Philippines — Oscar-winning actress Charlize Theron topbills the female-centric action movie The Old Guard set to premiere on Netflix on July 10.
Charlize's newest addition to her diverse filmography is a continuation of what she has done to challenge, if not shatter, stereotypes and rules in the action genre. To recall, she has played such badass characters as the war captain Imperator Furiosa in Mad Max: Fury Road (2015) and the spy Lorraine Broughton in Atomic Blonde (2017).
Ahead of the movie premiere, The STAR along with three other Philippine press members got to do a virtual roundtable interview with the 44-year-old Hollywood star.
In the Skydance and Netflix adaptation of Greg Rucka and Leandro Fernadez's graphic novel series The Old Guard, Charlize is Andy, the longtime leader of a tight band of warriors (played by Marwan Kenzari, Luca Marinelli and Matthias Schoenaerts) whose inability to die enables them to protect the mortal world and survive the ages secretly — or so they thought. An "emergency mission" threatens to expose their extraordinary abilities by people looking to replicate and monetize their gift — or curse — of immortality.
Meanwhile, a new, female, immortal soldier named Nile (KiKi Layne) emerges. Her presence brings in questions, as well as a new purpose for Andy and her army, now growing weary of "doing good" for centuries and losing the will to live.
Charlize is not just the star of the film but also one of the producers, saying that her company Denver & Delilah Films has been "looking for a project like this for a while."
And there's no other person who can be Andy but Charlize.
Essaying the lead required so much physicality. She revealed to us she sustained an injury, tearing a ligament off a bone during a fight scene, with still two huge action scenes and three weeks of filming to go. After wrapping the shoot, she underwent some surgery on her wrist and elbow. "It kind of comes with the territory. You know you're gonna get hurt," she said matter-of-factly.
In a statement, director Gina Prince-Bythewood said of the actress: "There are very few women in our industry who can play and act a hero like Andy and be believable in that role. Charlize is at the top of her game. She wants each scene to be great, and she won't stop until it is. That spilled over to the rest of the cast. I'm very excited for people to see what she has created."
Learn how involved and committed Charlize can get on a movie set, among other revelations, in these excerpts from our virtual roundtable with her.
On why the film appealed to her:
"I think the first thing that really grabbed me, that got me excited, was the world. I really love this juxtaposition of big sci-fi, but intimate emotion. There was something grounded in the characters, not just Andy but all of the characters. I really, really loved the relationship between Andy and Nile. I felt like there was a real excitement for me and getting a chance to work with KiKi and the actress who just absolutely blew me away... So, I just feel like there was so much potential to go and explore there with some really great actors, and that was really the first thing, more than just the character of Andy."
On doing and staging her own stunts:
"I tend to have an initial meeting with the team in the sense of just kind of like talking about the broad strokes of intent, what you want to get across, things that are important to you, things to kind of think about.
"I'm not a stunt or fight coordinator. And so I know my place. So, I try to work with the best in the business and I've been so fortunate to have worked with some incredible talent when it comes to that field. Once that initial conversation has happened and they really understand what's important, I really leave it up to them to work on those things. By the time I get into the gym, they have really thought about it.
"You will run through some things because a lot of the movement is really kind of indicated by what the narrative is at that moment, what the scene is about. And if something doesn't feel right, we talk about things. If there's an ability issue that you can't do certain things, then you have to kind of redesign the fight.
"But it's a really interesting process. It is! It is so creative because you really are creating something that's constantly evolving and changing. And up until the day that you're actually shooting it. You know, there were scenes where we ended up on location or on sets that kind of threw us off a little bit. Or, there would be a corner in a building that would get in the way or something. So, you're constantly kind of reevaluating, up until the moment that you're actually shooting these scenes.
"I mean, obviously, I demand a lot. I feel like if we're going to make these movies, we should make them in a way where we're pushing the envelope. I want to, honestly, reflect what women can do physically and so I put a lot of pressure on everybody to be able to like step up, and let's raise the bar. That's exciting."
On what messages can young girls can take away from The Old Guard:
"Young girls, don't don't be afraid of aging. It's great that a 20-something and a 40-something get to tell the story. I think there's something really powerful and, you know, I want young girls to not fear getting older.
"I think that there's a great amount of ageism in this world and it's really fantastic that two characters could go head to head in the way that Andy and Nile go at each other in this film, but still have this incredible camaraderie.
"There's also an incredible moment of reverse mentor and student (relationship) in this film. The idea that the older generation knows more is not necessarily the one that we apply in this film. And the third act of this film, it really is Nile's character. It is this young spirit who shows and educates Andy on, you know, what it really means to live and the value of not stopping the fight. And so I love that concept — I want young people to feel empowered by this film."