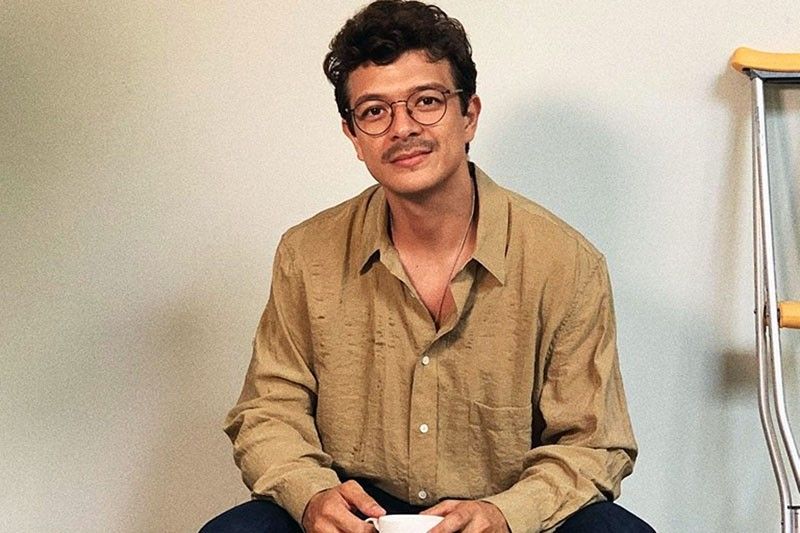 Once a week, Jericho Rosales goes live and engages his followers in a free-wheeling talk. True to his promise that #GabiNaNaman With Jericho Rosales is all about having a good time, Echo knows how to put everyone in stitches. Once you get to see his funny side, you would probably forget that he is one of showbiz's finest dramatic actors.
Jericho gives followers nothing but good vibes in #GabiNaNamandirect line
Boy Abunda
(The Philippine Star) - May 28, 2020 - 12:00am
While Bernadette Sembrano-Aguinaldo begins the day by reading the Gospel to her sunshine friends and together, they reflect on the Word through her Instagram account, Jericho Rosales makes use of his Facebook page to entertain netizens, who take time to relax before bedtime.
The actor is giving his almost two million followers on his Jericho Rosales Official Facebook page nothing but good vibes every time he goes live for his "talk show," dubbed as #GabiNaNaman With Jericho Rosales.
"Talk to me," was how Echo expressed his eagerness to connect with his viewers and honestly told that it's his first time to go live on his FB page "out of pure boredom." That was a month after we were put on an enhanced community quarantine (ECQ) due to the COVID-19 pandemic.
He was amazed to see how, within only a few minutes, his page started to flood with comments from people here and abroad. Echo didn't even expect that his interaction with his virtual audience would turn out amusing and fun. Their exchange of pleasantries was seemingly endless and with Echo obliging to do shoutouts was sincere. He made them feel comfortable about sharing how another day had passed or what they had for dinner. Those small talks were interesting.
No wonder, #GabiNaNaman with Jericho Rosales has become a regular habit. Once a week, Echo goes live and engages his followers in a free-wheeling talk. True to his promise that #GabiNaNaman is all about having a good time, Echo knows how to put everyone in stitches. Once you get to see his funny side, you would probably forget that he is one of showbiz's finest dramatic actors.
His "studio" is right inside his home and, apart from netizens, he also has a live audience (members of his household). Try visiting his FB Live page and you'll see how Echo makes an effort to include videos of his "kakwelahan," that are actually appropriate to the show's off-the-cuff tagline, "Kulitness is the key and mokong is the way!"
His videos also revealed the kakulitan of his wife Kim Jones and on- and off-screen pal Sid Lucero, who was shown imitating what Echo did in the shower in his previous post. His celebrity friends Drew Arellano, Paolo Abrera and Ryan Agoncillo with wife Judy Ann Santos also appeared as "guests."
Echo's conversation with Drew and Paolo was pure fun and full of laugh-out-loud moments. They call their group Brat Pack "because we all like motorcycles," as how Echo put it. He then asked what Paolo and Drew have been doing now that everyone is advised to stay indoors.
"Well, eto sa bahay lang, hahahaha," began Paolo. "But I think after the first few days, after initially trying to get used to just being at home, you'll begin to make yourself busy around the house. Alam mo naman 'yung hilig ko na kung ano pwede kalikutin ko dito sa bahay. So, I am fixing things, all sorts of things and just generally staying out of the way of the woman of the house and if you want to survive ECQ basically you stay out of the way of the woman in the house (laughs). As the most senior member here, please learn from me. Okay?"
"Okay, kuya," agreed Echo and asked Paolo to confirm if it's true that he cleaned a canal.
"Yes, medyo nagkaproblema and I have a lot of problems in the kitchen which led me towards the outside of the house; towards the grease trap and I fished out all the solidified grease. Who you gonna call to do that nowadays?"
Echo then turned to Drew and asked, "Papi Drew, what about you, man? Ano pinagkakaabalahan mo lately? How long has it been? How many weeks have we been at home? Seven weeks?" (At present, some areas are either under GCQ or MECQ.)
"Seven weeks, brother," replied Drew and continued, "(at) pareho din siguro kay Pao, kanal. And aside from that, sa pag-aalaga you know pagbo-bonding time kasama ng mga kids (Primo and Leon) pati ang aking asawa (Iya Villania). Like what Paolo said, it's impossible to get bored kasi parang ang dami mong pwedeng gawin sa bahay at unti-unti itong lumalabas dahil nga nandito tayo ngayon sa bahay na parang biglang, 'Oo nga pala pwede ko nga pala gawin 'yon.' 'Teka, pwede ko palang ayusin 'yon.' 'Teka lang, pwede ko pala i-organize 'yon.' So, you know, parang it's hard to be bored. You just have to be really creative at the same time, you really have to be beside your wife na nakaganyan lang (he made a gesture) at nagsasabi lang na, 'Come on, clean your office and your closet.'"
Echo butted in and asked if Drew actually mentioned his closet.
"I'm actually a closet queen and then right now it's my perfect time to tell everyone. Thank you so much for guesting on your show," laughed Drew and added, "Para sa mga hindi nakakaalam, Drew's Closet is like I mean walang kakwentang show na ako lang talaga 'yung nagmamando, ako lang 'yung admin at sa show na yon binebenta nga namin 'yung mga bagay-bagay na nandon sa closet, nasa closet ko, closet ng mga guest natin at lahat ng profits na nabebenta natin ay binibigay natin sa charity of choice."
Drew's Closet is Drew's online auction for a cause where he is selling his pre-loved items for charity. Recently, Dingdong Dantes joined Drew in his charity work. The actor gave away his motorcycle gear and other pre-loved items. Part of Drew's recent post on his Instagram read, "We are excited to auction off Dingdong's pre-loved motorcycle, cycling gear and other cool stuff. All in mint condition."
Other celebrities are showing their support. Echo said Drew's Closet is a good avenue to lend a helping hand. He explained, "Sobrang ganda nun kasi sobrang daming tao ngayon talaga na nahihirapan and 'yung mga hindi napapansin kasi nasa film and TV industry. Di ba parang sinasabi nila na hindi masyadong importante yan, alam mo yon? But it's really important na, you know, pagdating ng mga special moments sa buhay natin, nandyan 'yung entertainment, nandyan 'yung TV, nandyan 'yung media… So yes, Drew's Closet kung meron kayong mga sobrang gamit na di na ginagamit pwede dito."
So, before you hit the sack, try visiting Echo's FB page for more of his funny videos and amusing online conversations with celebrities.