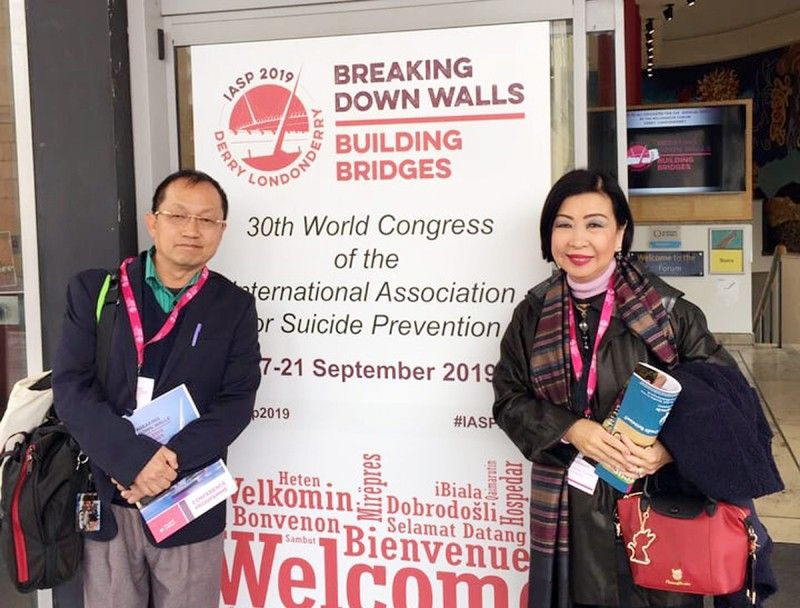 Hopeline's Jeannie Goulbourn with Dr. Romeo Enriquez, former president of the Philippine Psychiatric Association (PPA) and chairman of the Natasha Goulbourn Foundation (NGF)/Mindstrong Foundation: So many things to do in the current situation
How to keep your sanity in the time of COVID-19
FUNFARE
-
Ricky Lo
(The Philippine Star) - March 25, 2020 - 12:00am
They call it cabin fever, that feeling of being suffocated while quarantined in your room, totally isolated from the rest of the family who are themselves quarantined in other rooms at home. The situation can be maddening. It is harmful not only to your physical health but also, more so, to your mental health.
So how can you keep your sanity in the time of COVID-19? Funfare sought the advice of Jeannie Goulbourn of Hopeline Philippines that helps those suffering from mental illness. (Note: Numbers to call are landline 02-8804-4673, Globe 0917-558-4673, Smart 0918-873-4673 or Globe/TM subscribers 2919. Hopeline is open 24/7, ready to listen. Its blurb is: One LIFE. One LINE. One CALL.)
"Hopeline has shifted its service," said Jeannie. "We are here to help and guide those who are in fear of anxiety and having sleepless nights and not eating properly."
According to Jeannie, lack of sleep, sunlight and good nutrition can move anxiety to depression.
"Hopeline is not only a portal for intervention, added Jeannie (who lost a daughter to depression). "We join hands to support health and preserve our mental health through understanding that a healthy mind is connected to a healthy body."
Jeannie gladly shared "double relaxation techniques for anxiety."
•BREATHING
"Those who do Yoga, Taichi and regular meditation are familiar with this technique," explained Jeannie. "And those who don't can learn how to do it by starting the process slowly."
Here's how: Inhale for five seconds, hold breath for five seconds, then exhale for eight to 10 seconds. Repeat six times and gradually increase to 12 times until you reach 10 to 15 minutes.
"It's better if you play soft music while seated on a comfortable chair in a quiet place," reminded Jeannie. "While breathing, visualize sunrise or sunset or an ocean or any other soothing scenery."
•AROMATHERAPY
Here's how: Place a hot (tolerable heat) bag on your stomach and take five sips from a glass of warm water every half an hour. Put two drops of lavender oil, two drops of eucalyptus oil and two drops of tea tree oil in a small basin of steaming hot water. Put a towel or shawl over your head and breathe in the steam. Once the steam decreases, add more hot water. Do it gently for at least five seconds each time for 12 to 15 minutes.
"Do not throw the water away," said Jeannie. "Dip a hand towel, wring dry and place on your chest. The heat must be tolerable. Lie down with a towel on your chest. Repeat three times."
•SLEEP
"Anxiety worsens with lack of sleep," warned Jeannie. "Your immune system drops if you sleep for only four hours every night during the period of anxiety. Not having enough sleep for three weeks can lead to depression."
Tips on promoting good sleep: Lights completely out. Playing soft music can help.
"There are many other things to do in the current situation," added Jeannie. "You can learn how to dance or a new language, write a journal, fix photos in an album or a scrapbook, take stock of your life, exercise for at least one hour daily or prepare food for distribution among the frontliners."
(E-mail reactions at rickylophilstar@gmail.com. For more updates, photos and videos, visit www.philstar.com/funfare or follow me on Instagram @therealrickylo.)