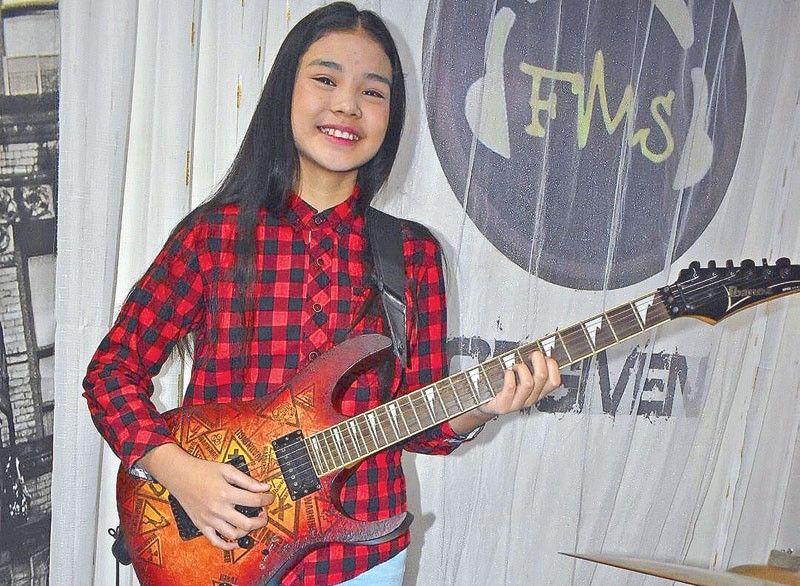 The Voice Kids alumnus Angel Andal's debut song Sandalan might be bound for the hit parade in this difficult time caused by the COVID-19 pandemic.
Angel's Sandalan hits right home
FUNFARE
-
Ricky Lo
(The Philippine Star) - March 24, 2020 - 12:00am
The Voice Kids alumnus Angel Andal's debut digital single Sandalan might be bound for the hit parade in this difficult time caused by the COVID-19 pandemic. One Facebook post of her performing the master track has continuously been viewed by netizens even without the backing of a mainstream record label or influential talent managing group.
In this time of pandemic and community quarantine, listening to music online may perhaps be one of the most rewarding pastimes for everybody, well, at home. The song hits home, especially with its empowerment of true love and togetherness, which applies to every home fighting off the effects of social distancing and public fear brought about by the COVID-19 crisis.
The song's writer, Yugel Losorata (this section's contributor), likens his fortune of finding Angel to sing his composition to a moment when a long-lost package is delivered back to the rightful owner. He recalls seeing Angel sing her take of Mon Del Rosario's Sino Ang Baliw during her stint at The Voice. Months later, he contacted Angel's parents and sent the demo of the song.
Yugel said, "Some years back, I was involved in a band project and had been asked to write a song to be sung by a millennial girl. The plan didn't push through but I did write one to cheer up my wife Kaye (Villagomez, a publicist for Smart Communications) who was dealing with a personal problem at the time."
Sandalan was released in digital stores last Feb. 21. Angel's father Mike Andal noted, "The song is destined for Angel. It waited so long to find her voice."
Sandalan is a pop-rock ballad with Angel's voice running through a solid bedrock of drums, electric bass guitar and an electric guitar exchanging emotionally charged words with her in the bridge part. Interestingly, the instrumentalists are all, technically, past members of the band Syato, including Yugel himself who played bass. The band's lead vocalist relocated to another country and perhaps it sounds poignant that the remaining members got back together to support a young girl's crucial recording.
"Congrats Angel Andal, ganda ng song!" reacted a listener.
Another who watched a teaser of the track pointed out, "Wow Pinoy na Pinoy! Saludo tayo."
Somebody praised, "Galing! Parang classic song ang tunog."
Proof of its charm is the fact it was chosen by Spotify editors for its New Music Friday list.
Good news from all over
Lea Salonga is joining an online fund-raising show led by Rosie O'Donnell, along with other Broadway stars.
Karylle and Spongecola are joining Bayanihan, Musikahan, an online OPM concert initiated by National Artist Ryan "Mr. C." Cayabyab. More OPMers are expected to join.
Gal Gabot renders an inspiring version of the John Lenon classic Imagine, joined by Coldplay's Chris Martin and Chris Puth while John Legend entertains also via social media direct from home singing his hits, including All Of Me, accompanying himself on the piano.
Three cheers for the following kind-hearted and generous stars: Pokwang for distributing sandwiches and other food stuff among the frontliners that included policemen, soldiers, nurses and doctors; Angel Locsin for donating relief goods; and Bela Padilla for also donating relief packs after raising P3-million funds from equally charitable people.
A beautiful message from Pope Francis
Here's an inspiring, beautiful message delivered by Pope Francis (photo) in Vatican two Sundays ago, forwarded to this corner by film director Romy Suzara:
Rivers do not drink their own water; trees do not eat their own fruit; the sun does not shine on itself and flowers do not spread their fragrance for themselves. Living for others is a rule of nature. We are all born to help each other. No matter how difficult it is…Life is good when you are happy; but much better when others are happy because of you.
Let us all remember then that every changing colour of a leaf is beautiful and every changing situation of life is meaningful, both need very clear vision. So do not grumble or complain, let us instead remember that Pain is a sign that we are alive, Problems are a sign that we are strong and Prayer is a sign we are not alone!
If we can acknowledge these truths and condition our hearts and minds, our lives will be more meaningful, different and worthwhile.
(E-mail reactions at rickylophilstar@gmail.com. For more updates, photos and videos, visit www.philstar.com/funfare or follow me on Instagram @therealrickylo.)