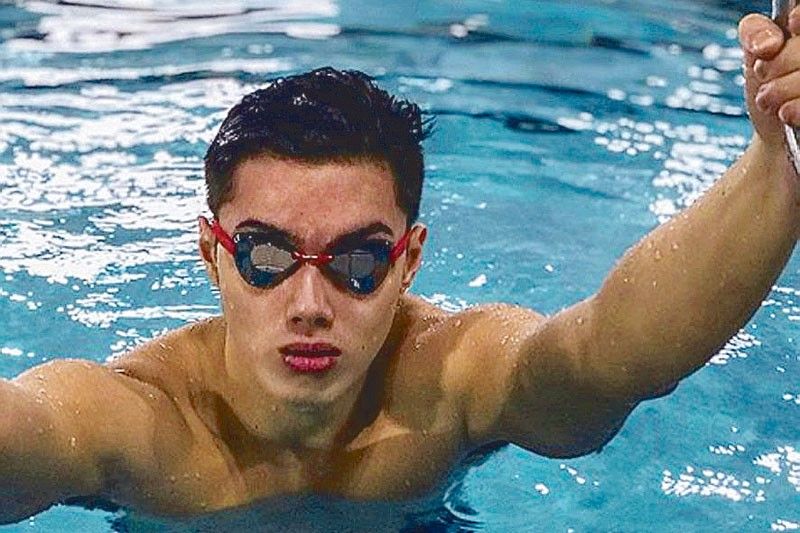 What turns you on and off in a girl? "It has to be the disposition. A turn-on is if she is approachable, and a turn-off is if she gives me the attitude."
Veronica Cruz
Swimming his way to the top
FUNFARE
-
Ricky Lo
(The Philippine Star) - March 20, 2020 - 12:00am
When he was six years old, Christopher Sebastian Fernandez Wong, Seb for short, was enrolled in a basic swimming class, meant to "waterproof" him in case of emergencies. But when he turned 12, Seb was introduced to basketball and played for the school team until he finished high school.
Now 20, Seb realized that his first love is swimming. He's now with the Blazing Torpedoes swimming team of the De La Salle-College of Saint Benilde where he's enrolled as an Export Management Program (EMP) student.
It was one summer vacation when Seb felt where his heart is. He chanced upon a swim class of kids and decided to become a coach. In this same club, he met the QC Buccaneers, a local swim team that pushed him to explore swimming as sport. Seb continued to train with them until he was equipped enough to be part of the team.
Seb confessed that he used to only place fourth in rank in every training and was not really able to compete in his first year. With a burning desire to improve, he doubled his efforts through trainings twice a day from 5 to 8 a.m. with Benilde, plus an additional session with the QC team from 5 p.m. onwards.
Eventually, his sacrifices paid off and he earned a 25 percent grant, which turned into a 50 percent scholarship the following term, and soon attained a full athletic grant offered by Benilde, which waived his tuition fees and provided benefits. He has so far garnered four gold medals, two silvers and six bronzes from individual events, and two golds and two silvers for the relay event from the National Collegiate Athletic Association (NCAA).
Off the pool, Seb moonlights as a model, one time walking the ramps of the Philippine Fashion Week and the Philippine Fashion Revolution for Bench's summer collection.
"I know can't swim forever," he stated. "I have always been really interested in export management and after swimming, that's the career choice I want to focus on."
At present, Seb is busy training for the Singapore National Swimming Competition, the Asian Swimming Competition, and the Southeast Asian (SEA) Games 2021.
Seb stands 6'2"; weighs 175 lbs; and wears extra-large shirts and size-12 shoes.
How do you keep yourself in tip-top shape?
"I don't really do anything because the trainings are actually enough to keep my body in good shape. One session in swimming can burn a lot of fat; it transforms into muscle."
How's your diet?
"I usually eat anything I'm in the mood for. For breakfast: pasta, especially lasagna. For lunch: I prefer beef caldereta – 'yung saktong spicy lang kasi I am not really a fan of super spicy food. (Laughs). For dinner: I usually order stuff like pizza. Pepperoni is my favorite! For drinks, it's always water."
Vitamins that you're taking?
"I take creatine."
How much water do you take per day?
"As much as I can. I need to stay hydrated."
What workout do you do?
"We do circuit training. If I miss the conditioning in the morning because of my academic priorities, I head to the gym after class and lift weights."
What part of your body needs improvement?
"My legs. They tend to get tired easily, especially when I run or squat."
What part of your body is your favorite?
"I have a solid back. It looks really attractive in the mirror!" (Laughs)
What part of a girl's body do you notice first?
"The face. What about the face? All the details and its entirety."
What turns you on and off in a girl?
"It has to be the disposition. A turn-on is if she is approachable, and a turn-off is if she gives me the attitude'."
What is your ideal girl? Mysterious, party-goer, or serious?
"Serious! Well, someone who gives me space to still pursue my swimming activities."
How much sleep do you get per night?
"At least seven hours, especially when we have trainings. If I don't have any classes, I get to sleep up to 10 hours."
How many pillows do you sleep with?
"I sleep with two: one for my head and a body pillow for hugging."
Favorite sleepwear?
"Joggers and shirt."
Do you ever sleep in the nude?
"Nope."
Last thing that you do before you go to sleep?
"I brush my teeth, then I scroll through social media until I fall asleep."
First thing that you do as soon as you wake up?
"Check my phone for notifications."
When did you lose your innocence?
(Smiles)
To an older woman, younger woman or a woman your age? (Smiles some more)
Lights on or lights off?
(Looks at the ceiling)
How's your love life?
"Hmmm…"
How's your sex life?
(Silence)
How's your nightlife?
"I go out to have dinner with my friends and teammates."
How do you cope with stress?
"I stop for a minute, lie down and then I organize the things I have to prioritize. I ask myself…which is more important? I start with that."
Outlook in life?
"You won't get anywhere if you quit early. It's okay to get tired – rest up and continue. That's what I do in swimming."
Three women that you think have nice bodies?
"Hmmm…"
Using only body language, how would you make a woman know that you admire her?
(Smiles)
What ice cream flavor would best describe your relationship?
"Uhm, siguro avocado flavor ice cream. Why? Some people prefer it, and some people don't and that's okay."
Where is your favorite hangout place?
"Either dinner at home or at restaurants with my family, or at a bar with my friends. After every season, the swim team goes on an outing and we sometimes visit the beaches of Batangas."
Beach or pool?
"I would prefer the beach. You see, because I'm already always in the pool." (Laughs)
Beach or mountain?
"Beach talaga! I really like it when we go to Batangas."
(E-mail reactions at rickylophilstar@gmail.com. For more updates, photos and videos, visit www.philstar.com/funfare or follow me on Instagram @therealrickylo.)