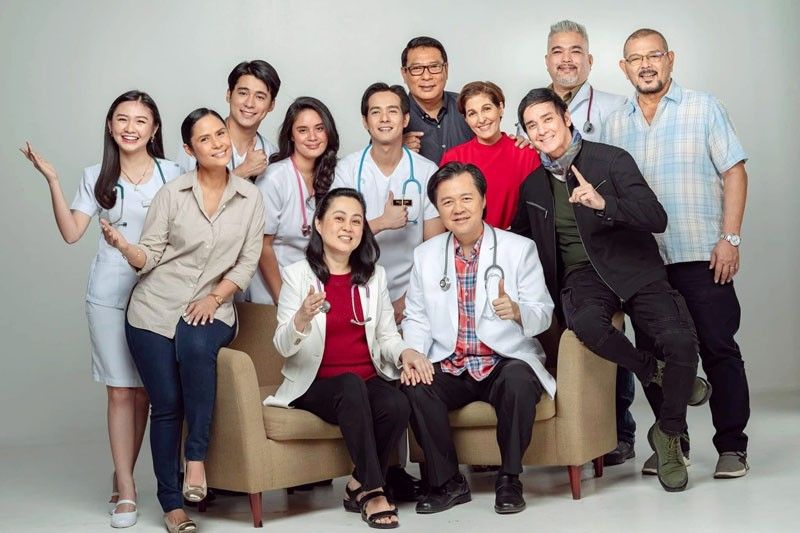 Doc Willie and Doc Liza with the other members of the cast (back row, from left): Reuzchelle Fernandez, Mariz Ricketts, JC Alcantara, Raechelle, Hero, Efren Reyes Jr., Jackielou Blanco, Ronnie Ricketts, Jeffrey Santos and Rez Cortez
Doc Willie's story can help people with depression
FUNFARE
-
Ricky Lo
(The Philippine Star) - March 10, 2020 - 12:00am
Do doctors also get sick?
The misconception is that, no, they don't (they shouldn't!) get sick because, well, they are doctors and they know the anatomy and all the illnesses in the medical book and what medicines to cure them with.
But the truth is that, yes, doctors do get sick simply because they are, just like any ordinary people, human and are therefore not immune to ailments. To put it in a syllogism: All humans get sick. Doctors are human. Therefore, doctors get sick.
Dr. Willie Ong agreed. He's the cardiologist STAR columnist and a good senator we were not destined to have (he placed No. 18 among the senatorial aspirants in the 2019 mid-term elections).
Willie didn't reveal his "secret" during the campaign and he's now doing it in a movie titled I Will: The Doc Willie Ong Story.
"When I was in college taking up Medicine," Willie told Funfare, "I suffered from depression for 13 years. I spent Christmas and New Year all alone, away from my parents and my siblings (who had gotten married), and I was even asking God, 'Mabait ako, why is this happening to me?' Some people in the same condition think of taking drastic steps but thank God, I didn't."
Willie was into his fourth year of medication when he met Liza, then also a medical student, who became his girlfriend and wife.
"We got married six months after we met," said Liza who was a big support in Willie's struggle against depression. "Depression is caused by chemical imbalance and other factors such as stress and heredity."
The movie ("I will" could mean "I will follow…I will survive…Thy will be done," etc.) is about overcoming fear, anxiety and depression using the most powerful medicine in the world, unconditional love. An inspirational movie for a cause.
Only one-third of the movie is about the Willie-Liza love story and how it's intertwined with Willie's experience grappling with mental illness…a story of perseverance, pursuit of purpose-driven happiness, and about the importance of holding on to faith.
In an essay he sent to Funfare, Willie recalled that as a child, he wrote in the school's time capsule that he wanted to help thousands…nay, millions…of people.
"My parents wanted me to pursue a career in business," confessed Willie. "Despite having a stutter, I believed that my purpose on Earth was to be an instrument of hope for the less privileged. So even if I got bullied along the way, I held on to my dream."
In college, he questioned his value, capabilities, and purpose. Little did he know, he had also started going through major depression. All these predicaments made him drop out of school for three years. Luckily, he met a dying retired military man who made him realize that he should keep on believing in himself.
In medical school, he experienced several trials and tribulations. In his darkest days, a school psychiatrist pushed Willie to stay on track while medicating him for his depression, which lasted for 13 years.
A big help was the arrival of Liza in his life. Willie found a validation in the form of a renewed faith in his motivation for pursuing medicine — the genuine fulfillment he would get from helping poor patients.
With all the challenges of maintaining a promising career, helping out in the community, and the resurfacing of his depression, Willie started to face the biggest question in his life – can he actually accomplish his dream of helping millions of people?
The movie is directed by Ronnie Ricketts (who does a "special participation" with Nora Aunor), and original songs and musical scoring are by Vehnee Saturno. Singers are Martin Nievera and Richard Reynoso.
The cast includes: Hero Angeles as Doc Willie; Raechelle Ricketts as Doc Liza; Jackielou Blanco as Doc Willie's mother; Efren Reyes Jr. as Doc Willie's father; Stanley Abuloc as young Doc Willie; Rey PJ Abellana as a psychiatrist; Rez Cortez as Colonel Ouano and mentor; Jeffrey Santos as a consultant doctor; JC Alcantara as Doc Willie's best friend; Mariz Ricketts as Doc Liza's mother; with Anton Capistrano, Hermie Esguerra, Luigi Fernando, Donald Reluya and Reuzchelle Fernandez.
According to PhilRaCom commissioner Aurelio "Reli" De Leon, the movie's executive producer, "The movie should be an inspiration to everybody, especially to people suffering from depression. It will show them that depression is not the end, that life is a blessing, that they can still be winners. Tomorrow when they become successful, they too can share their blessings with other people."
When Reli broached the idea to him, Willie said that he was reluctant, until he realized that his story could encourage people suffering from depression and make them see that there is a way out of it, that there is hope.
"I know that once out of depression, people don't want to remember the past," stressed Willie. "It can really be painful. When I saw the movie, everything came back to my mind. Masakit but the bottom line is that dapat hindi mawalan ng pag-asa ang mga taong depressed. They just have to have faith in God and, most important of all, in themselves."
(E-mail reactions at rickylophilstar@gmail.com. For more updates, photos and videos, visit www.philstar.com/funfare or follow me on Instagram @therealrickylo.)