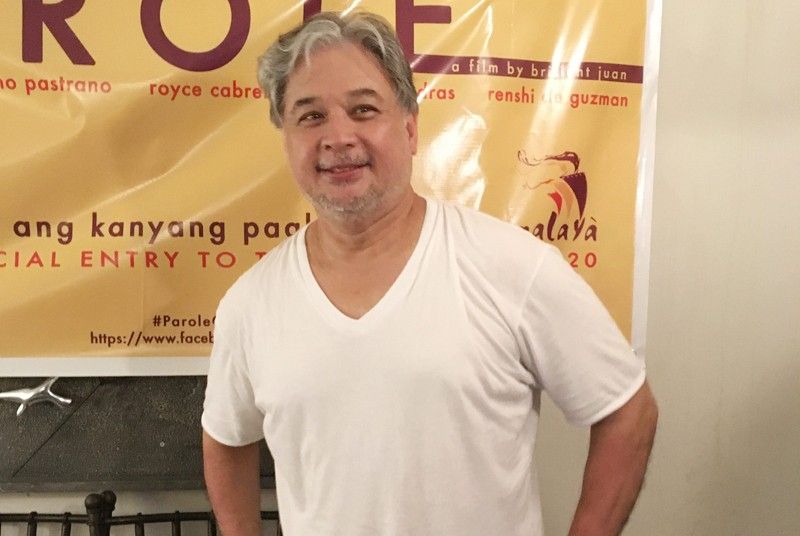 Ricky Davao plays the lead character Mang Jose in Parole, one of the 10 entries to this year's Cinemalaya Film Festival
Ricky topbills Cinemalaya entry
Bot Glorioso
(The Philippine Star) - March 4, 2020 - 12:00am
MANILA, Philippines — Clad in plain white shirt and dark gray cargo pants, Ricky Davao was visibly in character when he appeared at the recent storycon-cum-intimate presscon of Parole, one of the 10 entries to this year's Cinemalaya Philippine Independent Film Festival. He walked into the room with a warm smile plastered on his bearded, unshaven face.
The award-winning actor-director plays the lead character Mang Jose in the story written by its director, Brilliant Juan, with co-writer Lora Cerdan.
"I read the script two months ago and I'm excited for this not just because the story revolves around my character but it's also been a while since I had this kind (of story)," said Ricky on accepting the role, adding that he is about to show a different personality.
In Parole, Mang Jose is an ex-convict who had been granted a parole after being imprisoned for 30 years for a crime he did not commit. He tries to adjust living his life in a society that is now completely "new" to him while looking for his long-lost friend.
"Based on my initial reading, Mang Jose is sad and he is in search for acceptance in a society that is completely different than what he expected kasi matagal s'yang nakulong; maraming nagbago, may mga skyway na. I've done films in Muntinlupa (prison) and some would tell that they don't want to go out anymore because they were abandoned by their families. Meron din na maswerte na up to now nasa tabi pa nila yung mga mahal nila sa buhay but most of them, especially those who are already in their 70s, ayaw na umuwi. Si Mang Jose, pag labas, na-culture shock."
Last year, Ricky won the Cinemalaya Best Supporting Actor award for his acting performance in F#*@ BOIS (formerly known as Fuccbois) where he portrayed a closeted town mayor who tries to blackmail two male bikini pageant contestants with a video scandal.
This time, the actor returns to Cinemalaya as lead character whose personality is his complete opposite. "And there lies the challenge because as I understand, Mang Jose is an introvert but not sure yet if there is still something to my character as we shoot the material. If not, it's tougher to do subtle acting because I am his opposite; maingay talaga ako, bangka ako lagi (laughs) and here, I couldn't be so loud as my character in F#*@ BOIS, hahaha."
He continued, "The whole thing is challenging because the story will flow based on my character and with direk Brilliant's guidance, for sure, aayusin namin yung pupuntahan ng kwento. We have to be consistent especially on my part. It's different when you're the bida dapat lahat ng pinanggalingan ng kwento alam mo and you are required to show it through your nuances."
But whether his acting assignment is for TV, mainstream or film festival circuit, Ricky believes an actor must act out a role according to the material. "For me, it's all the same kasi yung iba sinasabi ito pang TV acting, ito hindi. For me, dun muna tayo sa truth and then it depends on the story how you will play your part. In one of my past interviews, somebody asked me what kind of roles I'd like to do para daw mabuo yung pagiging aktor ko.
"I said I'm not choosy with roles because I think if the material is well-written and well-directed, then the actor will shine through his own take. Ang hirap namang sabihin, ah gusto kong maging Joker but without a good material baka maging joke lang ako (laughs)," he said.
(Parole also stars Kent Gonzales, Royce Cabrera, Richard Quan, Dino Pastrano, Migs Almendras and Renshi de Guzman.)