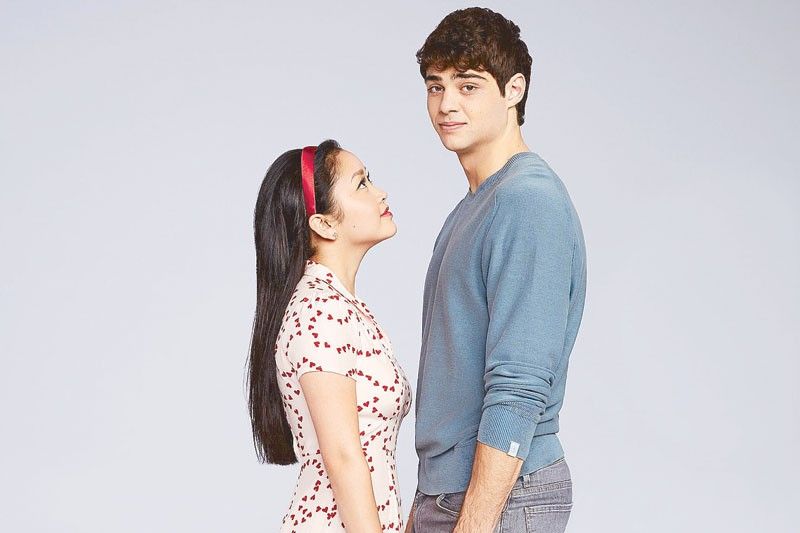 Lana and Noah feel 'lucky to have each other and work together' in To All The Boys films
Lana Condor and Noah Centineo are back as Lara Jean and Peter in Netflix's To All The Boys: P.S. I Still Love You. It's the highly-anticipated sequel to the teen-oriented romantic-comedy To All The Boys I've Loved Before, which became one of the "most rewatched" Netflix original movies in 2018.
The second installment in the big-screen adaptation of the best-selling trilogy of the same title is now streaming on Netflix. Too bad, Lana and Noah couldn't talk about the film themselves before their Filipino fans in the supposedly post-Valentine's fan meeting in Manila. Just like other February events featuring foreign artists, it got cancelled amid the coronavirus disease 2019 (COVID-19) threat.
In P.S. I Love You, Lara Jean Covey and Peter Kavinsky are no longer faking it — they are a real couple. Lara Jean navigates several official firsts in her relationship with Peter — first real kiss, first real date, first Valentine's Day — while still figuring out her authentic self. But John Ambrose (Jordan Fisher), another recipient of one of Lara Jean's old love letters, reappears in her life and leaves her torn: Could one possibly love two persons at the same time?
The STAR recently had a phone chat with Lana, 22, and Noah, 23, about the sequel and how life has changed since the first film. According to reports, Lana is next starring in the comedy Girls Night, while Noah has been cast to play He-Man in the Masters of the Universe reboot. They also gave a special message for their Pinoy followers.
Here are excerpts from the 10-minute exclusive interview:
How are you feeling now that the sequel is out?
Lana: Oh man, I just feel so relieved! I feel like, we've been talking about it for so long. So now, I'm just excited for people to actually just see it. I'm excited for all the viewing parties people are having. It just makes me, whew! Just so much weight off my shoulders.
Noah: Yeah, I'm so glad it's out and I can't wait (for people to see it).
How much did life change after the first film?
Noah: Professionally, it opened up room for opportunities — being able to meet people I look up to, people who have been in the industry much longer than I am and able to learn from them, which is just super exciting.
Lana: Yeah, it just opened so many doors for us, which is so awesome, and ultimately, for me, I'm just so proud of the movie and the world that we created. And it's really great to be part of a project that you genuinely love. You know, there are pros and cons to the exposure, but for the most part, I just love the project and everyone has been really loving.
How was it working together again?
Lana: I feel like, I put my feet back into it pretty easily. I think that we both got very lucky to have each other and work together because it's just easy. So, I think we stepped into it very well.
Noah: Yeah, I agree. I really agree. I still feel very lucky to be able to work with someone like Lana who is a giving actress but is just a lovely human being, first and foremost. You know, it wasn't just us. It was Michael Fimognari (director and cinematographer), it was Matt Kaplan (producer), it was Jenny Han (author of the To All The Boys I've Loved Before book series), our script supervisor and our camera ops...
Lana: You can tell that the people, the filmmakers on the movie, cared about it just as much as the cast did....
Noah: Yeah, it was amazing. And we used a lot of the same crew as in the first film as well as the second, third, which made it more familiar.
What are your thoughts on how your characters developed in the sequel?
Lana: I'm really proud of Lara Jean. The sequel is about, I think for Lara Jean, she needed to learn how to use her voice a little bit more. She needed to take up a little bit more space. And I think that she does grow a lot, she is so much more confident at the end of the movie than she was at the beginning. And it makes me excited for people to see the first movie because ultimately, I think, it's so satisfying because she truly kind of develops into the woman I know that she could always be. So I'm very proud of the character, how much she's grown.
Noah: For me, Peter is clearly like, he wants to sugarcoat everything at the beginning of the film and towards the end of the movie, he can't do that, he needs to face his problems head-on and communicate about them. He's always been a guy and now, he's just even more compassionate towards the end.
What's your favorite scene from the sequel and why?
Lana and Noah: The Tree House scene.
Lana: Because we got to be with our friends. It's very rare that there's more than like two people in a scene because it's (always been) Lara Jean and Peter or Lara Jean and John Ambrose or Lara Jean with one of the family members, so it was really nice to work with a bunch of co-actors and see what they were doing with their characters. And the energy was just different because there were more people.
Noah: I completely agree.
Well, my favorite scene was the exchange of Valentine gifts. So, if you were to give your respective characters a V-day gift, what would that be?
Lana: If I were to give Lara Jean a Valentine's Day gift, it would be a pendant in the shape of a heart.
Noah: Well, if I were to give Lara Jean a gift, it would be an arts and crafts thing… (Oh, for Peter?) I think I would just honestly give Peter... like I'll get him a free membership to the gym and I'd get him a couple of books that I think he should read that would help enrich his life... I give people books I don't know but I think everyone should read hahaha. Books that people can read in a public place and then start talking, you know what, you should probably read this book that I'm reading and I should just give it to them. I did Conversations with God four times to get through it.
Lana: I totally, truly believe this!
Last question, can you say a few words to your Filipino fans who were hoping to meet you last Feb. 15?
Lana: We love you guys so so much and we hope that you're staying safe and we're thinking about you guys and we're so, so grateful for your support. Save some room for us because this will not be the only opportunity that we will be able to meet.
Noah: That's right! We're so sorry that we can't make it out to see everybody and hug you all, and experience the food and the lovely energy over Twitter and Instagram in person. You guys are such an incredible group of people, with your energy and support for us. We're really sorry we can't make it out there but we will, whether it's for the third film or for another project. Yes, stay safe out there, we know it's super, super sketchy right now. So, our hearts are with you all, be mindful.