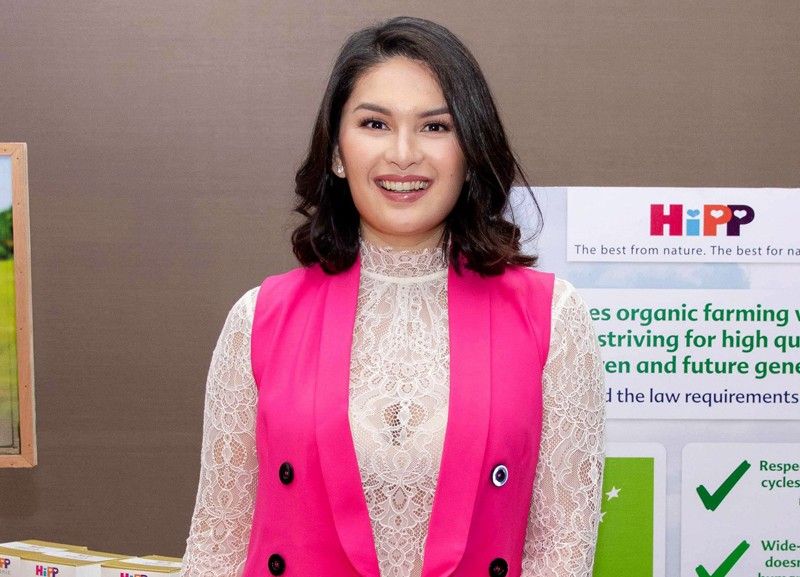 Pauleen Luna-Sotto: I'm kind of a strict mom. But I'm also a fun mom. It's Vic who's the spoiler.
Pauleen, Nikki and Andi on the art of motherhood
FUNFARE
-
Ricky Lo
(The Philippine Star) - February 18, 2020 - 12:00am
What do Pauleen Luna-Sotto, Nikki Gil-Albert and Andi Eigenmann have in common, besides being moms?
They advocate for living free from chemicals that don't belong in their children. They were recently introduced by HiPP Organic, the organic baby food brand/organic milk formula brand, as holistic-living HiPP Mom Ambassadors.
According to Andi, her daughter Ellie grew up with HiPP Organic and now loves the natural taste of HiPP Organic Kindermilk which is free from added artificial sugars. Meanwhile, Nikki and Pauleen said that they have done their own research, and when their little ones, Finn and Tali respectively, reach three years old, they can finally introduce HiPP Organic Kindermilk to them.
HiPP has been an established German baby food company and recognized as Baby Food Experts for more than 120 years.
The event graced by the three moms was attended by Stefan Hipp, the Owner of HiPP, and Edwin Feist, the chairman and CEO of Advanced Nutritional Technologies, Inc. (ANTECH).
How is your parenting style (spoiler or strict with/do's and don't's)?
Pauleen: I'm kind of a strict mom. But I'm also a fun mom. My husband (Vic Sotto) is a bit of a spoiler. Hahahaha! We both make sure that we teach our child the right values. Of course, I teach our child with a sense of right and wrong. That's very important. Our child needs a good balance of fun and discipline and I make sure she has a very happy childhood and that she is loved.
Nikki: The do's and don't's change every day because Finn is a toddler. Even if I give him do's and don't's, hindi pa niya talaga nasusundan 'yun. But his "do" is…follow what Mama says. And just don't be sutil.
Andi: I'm a new age Mom. I think that my parenting style is not strict at all. I believe that anything can be done through proper communication.
How careful are you with the diet of your kids ?
Pauleen: I make sure that she eats healthy but I give her the occasional treat once in a while because it's also not good to deprive a child right? It's important that I teach her early on to eat healthy and that healthy can be actually be very delicious. I support the organic movement but I do not impose that on other moms. I try to balance everything when it comes to the food that my child eats.
Nikki: To be honest, I'm more careful now after having discovered the real potential damage that toxins and pesticide residues in food can affect my child. Mr. Feist mentioned that our grownup bodies are better able to handle the toxins and rid ourselves with it. Kids don't have that function yet. I'm very mindful of what I feed my child especially now that pollution is everywhere and it's getting into our water, it's getting into our lungs, and it's getting into our food.
Andi: My daughter is a picky eater and it's so hard to handle her diet. It was my mom (Jaclyn Jose) who really spoiled her and gave her anything. Now I have to be strict but I need to make it fun for her to eat healthy so she enjoys the food that she eats. I make sure that healthy food is equal to good, delicious food. I make sure that she eats yummy healthy food. I don't want to make her feel that it's a punishment to eat healthy food.
How often do you have your kids checked by their pediatrician?
Pauleen: I take her to the doctor regularly for regular check-ups to make sure that she is well and healthy and thankfully, she's fine and very healthy.
Nikki: Thankfully, I take my son just when he needs to get his shots and just when my pedia requires me to bring him. Other than that he really hasn't gotten sick. Thank God, he has never been confined. He's pretty healthy.
Andi: I used to take Ellie every month to the pediatrician. I made sure that she is done with all her vaccine. I take her whenever needed. I was 21 when I had Ellie and stepping into that new chapter in my life and fully embracing it happened was a wonderful experience to me.
(E-mail reactions at rickylophilstar@gmail.com. For more updates, photos and videos, visit www.philstar.com/funfare or follow me on Instagram @therealrickylo.)