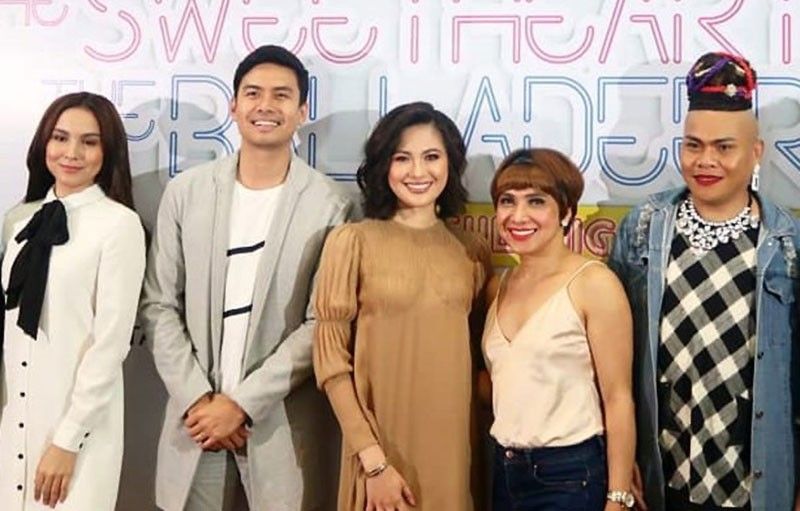 Julie Anne San Jose and Christian Bautista (third and second from left) with (from left) Kyline Alcantara, Donita Nose and Super Tekla will treat fans to a night of music and fun on Feb. 8 at the Urdaneta City Cultural and Sports Center
Christian, Julie Anne to Pangasinan
MANILA, Philippines — The Sweetheart and The Balladeer (Fun Night Only), headlined by Julie Anne San Jose and Christian Bautista, goes to Urdaneta City Cultural and Sports Center in Pangasinan on Feb. 8.
Now on its third leg after last year's sold-out shows in Iloilo City and Cagayan de Oro City, the pre-Valentine concert also features Kyline Alcantara and the comedic duo of Donita Nose and Super Tekla, who will treat fans to a night of music and fun through medleys and performances that express different stories about love.
Produced by GMA Network under Kapuso Live, The Sweetheart and The Balladeer is a joint project between the network's regional arm GMA Regional TV and GMA Entertainment Group. It is also part of GMA 7's 70th-anniversary celebration. Concert director is Paolo Valenciano.
Asked how will the show be different from its previous legs, Christian replied, "That's why it's the third leg because the repertoire works. We can't really change the entire sequence of the show, maybe change one or two, kasi nga it means the show is effective. We will tweak a few songs para lang mas maging current as they (Donita Nose and Super Tekla) would tweak their comedy rin para mas current. We just want to show at Urdaneta kung ano ang nag-work sa other provinces, yun din ang ipapakita namin. Same energy, same beautiful songs but updated of course, and it will always be updated as the show progresses."
Donita Nose and Super Tekla, on the other hand, have prepared comedy skits that tackle today's dating trends and their own experiences about the joys and pains of being in a relationship.
According to them, never did they think about upstaging one another on stage.
"This is our third show so we don't think about upstaging anyone so talagang tulungan lang," Christian replied. "Kung kelangang mag-back-up sa isa, mag-ba-back up, if there's a need to fill in the void, magdadagdag kami so yeah, no upstaging for this show."
Julie Anne, who was recently named as one of NCCA's newest ambassadors for music, agreed, "No upstaging, no outshining kasi we all help each other and I think that's what's more important sa isang teamwork sa kahit anong aspeto. We're very happy and we're very blessed because we have each other. It has been a breeze working with them and we're more comfortable now. And I'd like to believe that isa yun sa mga factors why we are comfortable on stage and it all comes out naturally."
(Tickets to The Sweetheart and The Balladeer are available at GMA Dagupan Station, all Addessa outlets in Pangasinan, Ticketworld outlets or via online. For details, call 0975-5220077 or 0915-4223393.)