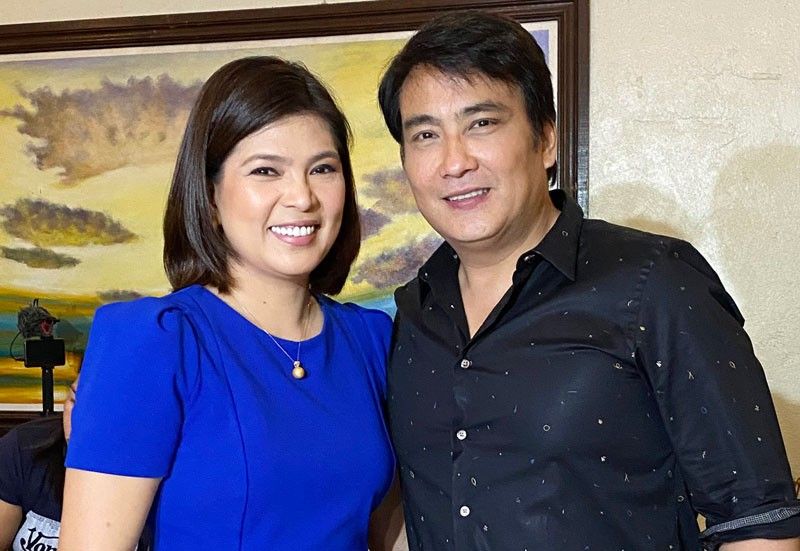 Sen. Bong Revilla and wife, Bacoor City Mayor Lani Mercado, during a friendly meeting with movie writers.
Sen. Bong reflects on the Kobe Bryant tragedy
FUNFARE
-
Ricky Lo
(The Philippine Star) - February 4, 2020 - 12:00am
His four-year-plus "staycation" at Camp Crame has radically changed the way Sen. Bong Revilla looks at life. When he met the movie writers Thursday last week at Annabel's restaurant, he looked brand-new (physically), far younger than he was before his prolonged forced "absence."
With his wife Bacoor City Mayor Lani Mercado beside him, Bong set the tone for the get-together which was more thanksgiving than a press conference. As usual, he was more at ease (no "defenses") with the movie press with which he can freely talk about anything without reminders what is off the record and what is not.
The tragic death of Black Mamba Kobe Bryant in that helicopter crash in California last Jan. 26 came as a shock to Bong, as it was to everybody else, and he reflected on the temporariness of life.
"In a snap," Bong said, "you can lose everything…popularity, money, lahat-lahat na. Look what happened to Kobe Bryant. So young to be gone so soon, he was only 41, the idol and hero of everybody around the world. Sa isang iglap, puedeng mawala sa'yo ang lahat. With the many trials in life, we should always be ready for any eventuality; kelangan nandyan ka. Do good for other people, for your family, for your friends, for everybody. And, most of all, always remember Him. Only God can tell when your time is up…tomorrow, day after tomorrow…only God knows when."
He also mentioned what happened to the people around Taal Volcano. Also "in a snap," added Bong, "they lost their livelihood, they lost everything."
In what he described as "in our own little way," Bong and Lani (a Batangueña from Lipa City) distributed relief goods (including those from DSWD) in several Batangas towns (Talisay, Sta. Teresita, Lemery, San Luis, etc.).
"It was Lani who went there ahead of me and she came home running a fever, nagka-flu siya," related Bong who thanked friends and other generous souls who gave donations. The Taal eruption was a great equalizer. "Walang sinisino…rich or poor pare-parehong biktima."
On a lighter note, Bong allowed a glimpse of Alamat ng Agila, his comeback project for GMA calculated to start airing sometime late March or early April. Shooting reels off on Feb. 8.
"The kids will like it," assured Bong. "Na-i-iba, especially the special effects," adding as an afterthought, "I'm thankful to GMA who has stood by me. Despite what I have been through, sa mga pinagdaanan ko, andyan sila, hindi ako pinabayaan."
Alamat ng Agila is directed by Rico Gutierrez who has worked with Bong in Kap's Amazing Stories, his last TV series before he took a "leave of absence." It was also Rico who directed Bong in that Budots commercial that, according to Bong in jest, "helped me get elected" (in last year's mid-term elections). There might be last-minute changes so Bong didn't reveal who his co-stars will be.
Also being planned is his entry for this year's (December) Metro Manila Film Festival (MMFF). Would he hire either or both Misses Universe Pia Wurtzbach and Catriona Gray as leading ladies?
"We haven't discussed the details yet," said Bong.
But he said that he's willing to work with anybody, even Janine Gutierrez who bashed Bong about his comeback and took GMA to task for making it possible. Or Jodi Sta. Maria, ex-girlfriend of his son, Cavite Vice Gov. Jolo Revilla, who married beauty queen Angelica Alita in California late last year.
"Jodi used to visit me at Camp Crame," noted Bong. That was during his early years "inside" when Jodi and Jolo were still okay.
The bottomline is that, according to Bong, we should be positive.
"Huwag magsiraan, huwag mag-upakan, gawin kung ano ang makakabuti sa bayan at sa kapwa."
Well said…from somebody who has survived what could be anyone's greatest challenge in life.
(For more updates, photos and videos, visit www.philstar.com/funfare or follow me on Instagram @therealrickylo.)