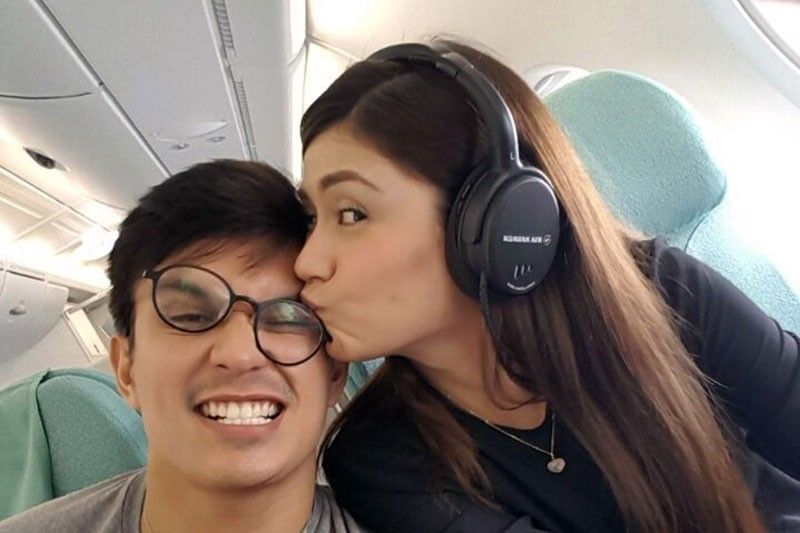 'We're definitely not letting ourselves be affected by what's happening around us… we don't want to be pressured…'
Tom & Carla not jumping on the marriage bandwagon
FUNFARE
-
Ricky Lo
(The Philippine Star) - February 3, 2020 - 12:00am
Just because every (showbiz) couple seems to be in a rush doesn't mean that Tom Rodriguez and Carla Abellana are going with the flow. No, they are not jumping on the marriage bandwagon.
In an exclusive two-on-one, the sweethearts opened up about everything that people want to know about them. They lead the all-star cast of Love of my Life which premieres tonight right after the Alden Richards-starrer The Gift.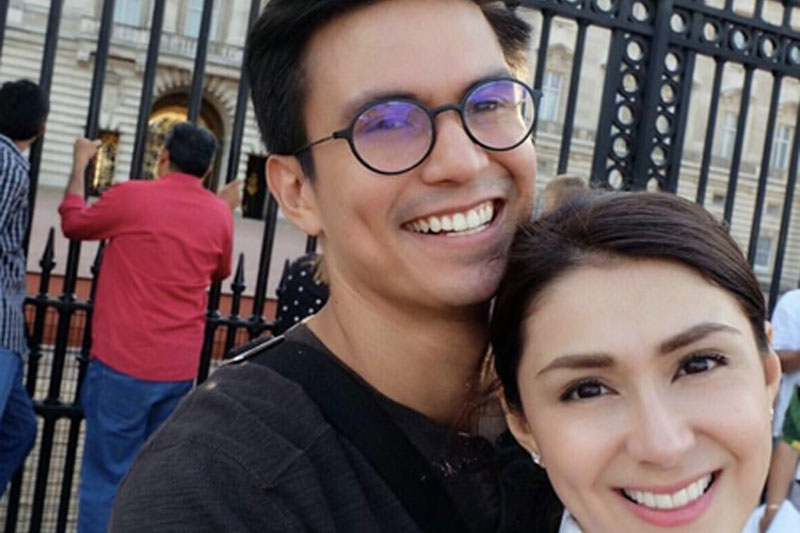 There's a bandwagon of gaya-gaya getting engagement and getting married. What about you, any plan of settling down, when and where?
Tom: There is naman but we don't want to be pressured by other people doing it and we don't want it to be a trend. It has to really be on our own time kaya siguro nagkakataon na everyone's times are syncing up. Maybe that's indicative of something bigger than all of us pero kami ni Carla naman, we're not trying to pressure ourselves with that so whenever the right time comes, that will be the right time for us.
We're definitely not letting ourselves be affected by what's happening around us when it comes to that kasi ultimately the relationship is between the two of us and kami yung makakapagsabi at makakapag-decide nun. We also don't want to hide it from the public kasi we owe a part of our relationship to them sa pagtangkilik sa amin.
Carla: Actually, Tom and I have plans naman po. But our plans are not definite, kumbaga we don't go into detail po. We haven't discussed the timeline, 'yung date po, church, who will we be inviting, ano 'yung theme, 'yung mga ganun po, wala pa po kaming pinag-uusapang details. But it's really part of the plan po talaga to settle down, hopefully soon po.
If ever, what kind of wedding would it be?
Tom: Carla wants a simple one. I want one where she's there next to me. Nasa sa kanya pero it's not going to be a secret but very intimate and something very family-centered.
Carla: Definitely, it's going to be an intimate wedding, romantic and elegant, church definitely kasi pareho kaming Catholic. We'll see kung saan.
How long na ba have you been going steady and how has it been so far?
Tom: Magsi-six years na rin siguro…since 2014. That's when we got together. June 18 of 2014. It's been the most amazing relationship I've had. Previous relationships were both good and bad that I've learned and grown from. This one is the one I could truly say that I've found a partner, hindi lang girlfriend, that the problem doesn't lie between the both of us. I feel like I grow more as a person with her and I feel more of a complete person. We face external problems together.
Carla: Five years na po. Everything's okay although not a year has passed with any challenges, lagi naman pong meron. Honestly, Tom and I have been through a lot together and individually. Safe to say, we've seen the worst and best in each other so going strong and happy pa rin po.
Any "LQ" (Lovers Quarrel) and what usually causes it, how do you sort things out?
Tom: It's not usually an LQ. It's usually either an external problem we both face pero minsan hindi pa rin maiiwasan na may konting tampuhan. Buti na lang I'm blessed to have a partner who's very patient so if there's anything, I learn and I grow more from her. I take the leap.
Carla: Sometimes, we do argue, especially about something that I don't understand. Si Tom po kasi, ang daming topics na alam, whether math, physics, health, Internet, technology. Very petty fights lang naman po. Usually, Tom is the first to apologize even if at times I should be the one who should apologize.
How compatible are you; has your relationship been put to the test?
Tom: I think so. Even our start was very turbulent. Like I said, even then, it was external. People were implying things that weren't really going on. I had a hard time having a relationship that was out in the open kasi it's my first relationship that's very public. I was having a hard time adjusting. That was a very monumental time for me and especially when I had to go through my Dad's passing. I felt like I was deteriorating as a person and I didn't know how to handle it.
That wasn't an LQ. I wouldn't have been able to go through that without Carla so in a way, being with her has enriched my life and I think that's our compatibility. It's indicative of the challenges that we've gone through. Hindi siya 'yung away na kami 'yung muntikan nang maghiwalay.
There were moments that I didn't think I could survive as a person without her help and vice versa. She went through things din personally na I'm glad I was able to lend some support and help. That way, we have become each other's rocks.
Carla: Definitely, it's been put to the test many times through the years. Compatibility…we are both introvert, although people might see us very bubbly, very energetic and very lively. Tahimik lang po kami, we are the homebody type. We'd rather not go out and just watch TV or DVDs.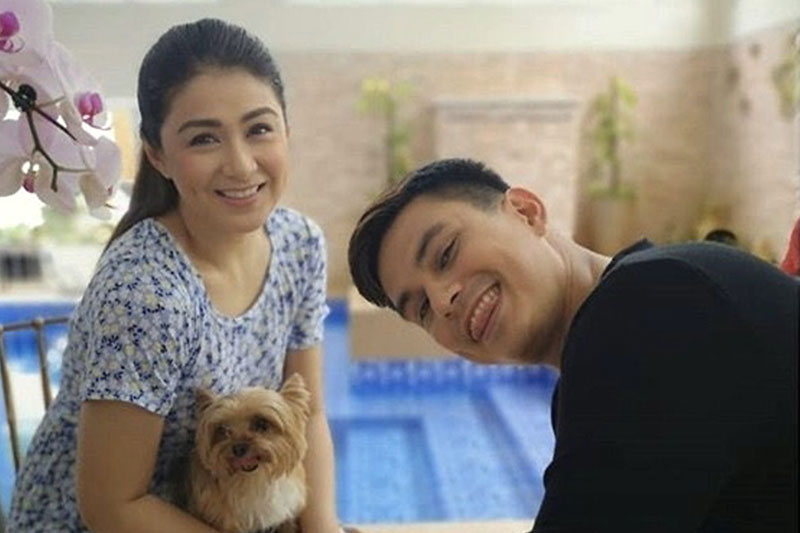 Are you okay with each other's families?
Carla: Definitely. Napakabait po ng pamilya ni Tom. Si Tom is well-accepted by my family.
What do you like about each other?
Tom: For me, the way she loves me is complete, hindi 'yung superficial. It's a real type of love, real type of support that I feel nurtured as a person and I feel free, especially, I am an INFJ (Introverted, Intuitive, Feeling, and Judging). I don't know if people know about the Myers–Briggs Type Indicator (MBTI). I'm outgoing to an extent whether moments na I need solace or solitude to recharge. Before I didn't know much about it. Buti na lang Carla is a Psychology major and she's into enlightening within certain things. She's able to nurture that side of me. She doesn't make me feel guilty whenever I recharge in solitude. She's very nurturing as a person. I can't thank her enough for allowing me to spread my wings.
She doesn't stop me from doing any of my interests even if we don't have any shared interests sometimes. 'Yung biggest lesson na natutunan ko sa relationship ko with Carla: You don't have to have things in common to be a perfect pair. She doesn't have to share my love for drawing or for video games; all she has to do is encourage me and let me spread my wings.
Carla: Tom's family is closely-knit and very humble. Because of their humble beginnings, they are God-fearing, mababait at masisipag.
And what don't you like about each other?
Tom: Ako, honestly, nothing because the problems we have or whatever personality flaws, I think all of it can be ironed out just through consistent dialogue and just really opening each other up without judging each other. There's nothing that I could say. I love everything about her.
(To Tom) Are you faithful; do you still look (with interest) at other women?
Tom: She's the only apple of my eye. I'm an artist so I always appreciate the human form but it goes as far as being an artist whenever it comes to being a romantic and when it comes to being someone's partner. I don't overstep those boundaries and I wouldn't want to. In my younger days, I wouldn't have known how to appreciate such a relationship that I have with her. I wouldn't trade 'yung sabihin na nating panandaliang aliw para sa lifetime happiness.
(To Carla) Are you convinced that Tom is faithful; are you the possessive-jealous type?
Carla: I am not possessive, not the jealous type. Wala po akong dapat ipag-alala. Tom is very faithful. There has never been any worry on my part in terms of his commitment to me.
(For more updates, photos and videos, visit www.philstar.com/funfare or follow me on Instagram @therealrickylo.)