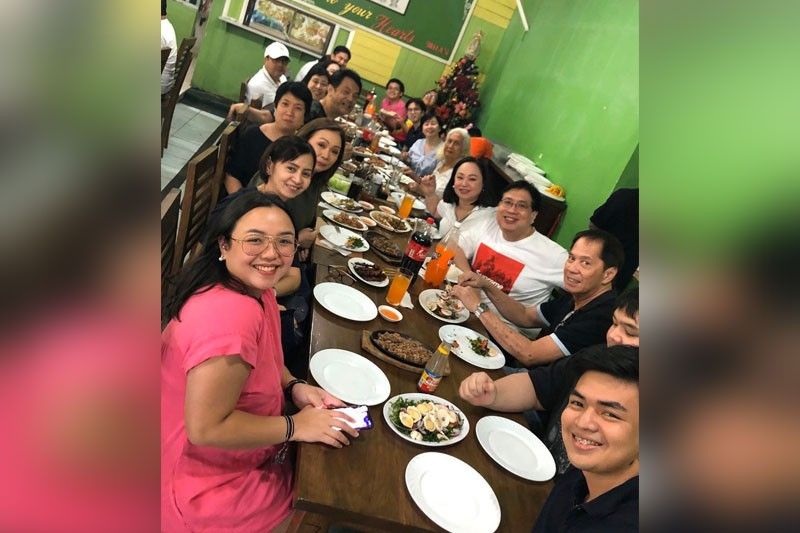 That's me with my cousins including Sandy (third from right) and Cory Vidanes (third from left)
Food tripping with my cousins
RAZZLE-DAZA
-
Pat-P Daza
(The Philippine Star) - January 27, 2020 - 12:00am
What do Filipino families enjoy doing the most? I'm sure most will agree that we Pinoys love to eat, and that food no matter how simple tastes so much better when we're with our loved ones.
Weeks ago, some of my cousins and I went on a food trip to Angeles, Pampanga, to Mila's tokwa't baboy restaurant. The 50-minute drive from Balintawak toll plaza was worth it because the food was truly delicious and affordable, and the restaurant itself was simple but air-conditioned. We got there around 11:30 a.m. and already the place was packed that Sunday. Good thing my cousin Sandy Daza had made reservations since we were a party of 20 adults.
As soon as we were seated, we ordered the house specialties and our favorites: sisig (which was not oily at all and perfectly seasoned), chicharon bulaklak (also not oily and so crispy it crackled with every bite), BBQ tocino which was nice and tender, tokwa't baboy with its special sauce, pako salad and inihaw na bangus. The last two dishes balanced the meal, otherwise it would have been a pork festival for us! Served with steaming rice, every dish was so masarap! Another reason to rejoice was the bill. For our party of 20 hungry adults, the total was P7,200. Divide that by 20 and it's P360 each with lots of leftover for all to take home.
As we devoured the food, many stories were exchanged, my favorite being cousin Nina Daza Puyat's announcement that she received a letter (via snail mail) from Buckingham Palace complete with letter envelope and letter head! In light of Prince Harry and Meghan's decision to step back from their royal duties, I thought I'd write about this today.
I asked Nina what made her write to Queen Elizabeth, and she replied that she simply wanted to congratulate the Queen on the newest addition to the royal family, Archie, son of Prince Harry and Meghan. Nina also expressed her fascination and admiration for the Queen, which started when her mom, the late Nora Daza, told her kids about how much she enjoyed reading stories about the English monarchy even when she was a young girl. I guess Nina inherited this fascination, which was later supplemented by shows like Netflix's The Crown.
So what happens now to the Duke and Duchess of Sussex? First, they had to give up their HRH titles (His/Her Royal Highness). Second, they agreed not to receive public funds, though Prince Charles will continue to give them "private financial support" for a year. And third, they will move to Vancouver where they hope to lead happier, more peaceful and more private lives. But what compelled them to do a "mini" abdication? Was it because Prince Harry feels that since he will never be King anyway (he's sixth in line to the throne), he has no reason to be controlled as rigorously as other royals? As we Pinoys say, abangan ang susunod na kabanata…