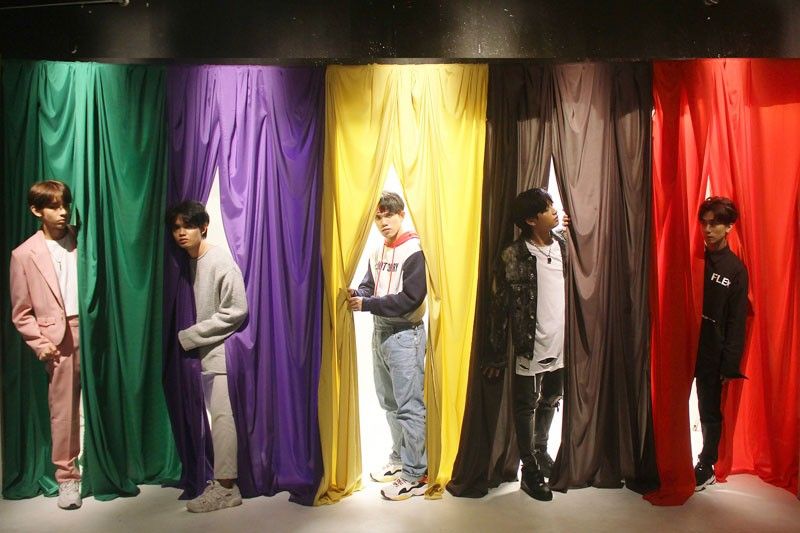 The all-Filipino idol boy group, trained under Korean entertainment company ShowBT, is composed of Sejun, Josh, Stell, Ken and Justin
SB19 has a good reason to smile
Bot Glorioso
(The Philippine Star) - January 21, 2020 - 12:00am
MANILA, Philippines — The boys of SB19 are smiling from ear to ear these days. And why shouldn't they be when their millennial music fans continue to grow in numbers since their formal launch in 2018 as the first all-Filipino idol boy group trained under the Korean entertainment company ShowBT.
The sing-and-dance quintet, composed of Sejun, Josh, Stell, Ken and Justin, also enjoys a massive following on social media. Apart from their impressive dance moves and excellent vocal tones, the K-Pop-inspired look (from hairstyle to outfit) probably makes SB19 more appealing to its fans known as the A'TINs.
At the presscon held recently and also attended by ShowBT Philippines CEO Charles Kim, Ken expressed delight at the success of their music videos that also earned them a spot on the Billboard Social 50 recently. In fact, the boys didn't expect that the music video of their latest single titled Alab will hit half a million views just 24 hours after it was uploaded on their YouTube channel. As of this writing, it already reached almost two million.
"We are very thankful because this won't be possible if not for the support of people who are there since the beginning (of our career). Until now, they're trying to introduce us to other people — parang 'yung sa friends nila, 'yung sa family, talagang pinapakilala nila (kami)," said Sejun.
Justin agreed and added that all the hard work and determination really paid off. "The long hours of shooting for the music video (which lasted for 27 hours), 'yung pagod, puyat at gutom lahat sulit 'yun."
According to ShowBT exec Robin Geong, who also acts as the manager of the group, the music video had been conceptualized with "a heart" with the boys displaying their different personalities through colors.
In the music video, red strings surround Josh while singing his part in Alab.
"Ako 'yung tao na dominant 'yung personality ko. I don't want anyone to control me, except when I fall in love, parang nako-control ako nung kung kanino man ako na-i-in-love," explained Josh.
Stell said yellow best represents his personality. "Our fans said that it is me who is like a ray of sunshine in the group. Well, I admit that I am very vocal with my feelings and I am also talkative. Sobrang showy ko din na kung ano 'yung nasa loob ko sinasabi ko po. 'Yun din po ang pinapakita sa music video."
For Ken, the black box speaks well of his character. "The box represents my comfort zone because I also have this character na tipong I don't want to look vulnerable in front of people. I don't want to look weak. That's why, I am not that vocal with my feelings because I don't like being rejected kung magsabi ako or ma-disappoint lang so I don't want others to think that I am weak.
"But in love, I've come to realize that I have no choice but to get out of that box; break that box to express my feelings," Ken added.
Justin, on the other hand, believed green is for him. "'Yung story po n'ung zone ko na parang I don't want to show my true self. It's as if I'm pretending; faking my emotion or feelings towards the girl like, maybe I should look tough or it's better if I look just pa-cute. In the end, I realized that I just needed to show who I truly am."
Violet is for Sejun "because I think it's the most dominant in the color palette but I cannot say that it fully represents my personality (in the music video) kasi sobrang cute ng pinag-gagawa na kahit ako naiilang (laughs)."
In the coming days, SB19 will be busy touring malls around the metro aside from prepping up for a regular TV show and series of concerts.