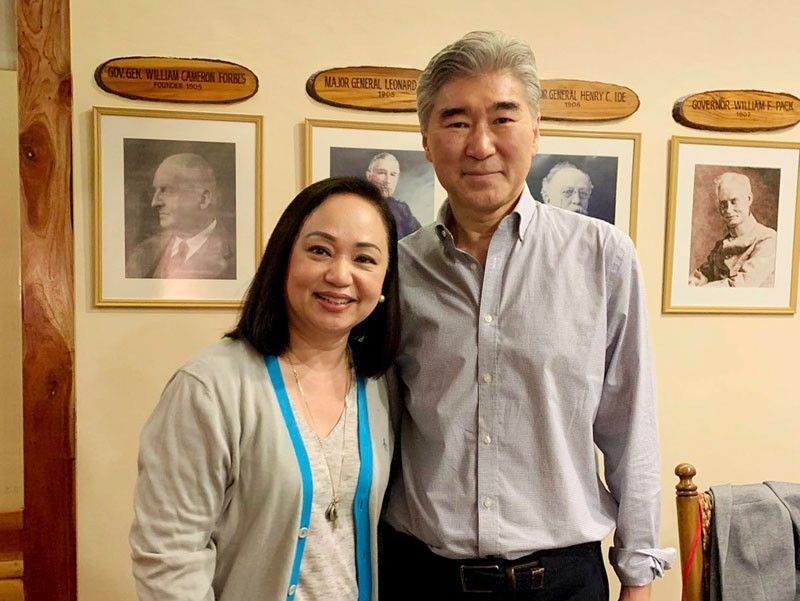 That's me with US Ambassador Sung Kim…
A memorable dinner in City of Pines
RAZZLE-DAZA
-
Pat-P Daza
(The Philippine Star) - January 13, 2020 - 12:00am
During my last trip to Baguio City after Christmas, my mom and I were invited to an intimate dinner party hosted by the ever gracious and hospitable Lin Illusorio Bildner and her handsome son, Max. The dinner was held at the President's Room of Baguio Country Club for US Ambassador to the Philippines, Sung Kim (ASK). He brought along his lovely wife Jae, their two beautiful daughters Erica and Erin, and his brother, lawyer Joon Kim. Also joining us were Allen Macasaet of Business Malaya and his children Monica and Toby, and Sec. Francisco Duque who joined us for dessert because he had a previous dinner engagement.
Before we sat down for dinner, Lin introduced us to her four lovely and friendly pet dogs (their names escape me now) which were adorably dressed for the cool climate. One was a golden retriever, the other a Welsh corgi, while the other two were cute white balls that looked like bichons (according to Allen). The ambassador's family immediately took to the dogs, especially his daughters.
The dinner was sumptuous. To start, we had kimchi soup. There was also a salad station with assorted lettuce and watercress (my favorite!), and a variety of appetizers like jamon Iberico, assorted sushis and sashimis. For the main course, there was a carving station with roast beef and roast duck, and a grill station with New Zealand scallops and gindara. For dessert, among the many pastries, I opted for the mango and strawberry jubilee (yum!).
Even the drinks were overflowing. Though there was wine and champagne, the ambassador insisted I try the soju, a Korean rice wine similar to sake that's best taken chilled. Surprisingly, I liked it!
Since I was seated next to the ambassador, I couldn't help but ask him what he will miss most when he leaves the Philippines for Indonesia, his next assignment (no date has been announced). He quickly replied he will miss the people the most. He added that he had been assigned to many Asian countries prior to the Philippines, yet he has made more friends here than in all those other countries combined. The ambassador said that he enjoys the parties in Manila since they are casual, informal and relaxed. For food, he also loves adobo and Cebu lechon. Among the places he visited, it was Amanpulo that took his breath away. For him, it was heavenly to just lie on the beach with a good book and an ice-cold drink. He also mentioned that he was looking forward to watching his first cockfight derby this month at the Araneta Coliseum. We also exchanged notes on the best places to eat in Baguio City and agreed that Hamada Japanese restaurant at Baguio Country Club and Lemon and Olives for Greek cuisine were tops on our lists.
The table conversation was juicy, but most of it was off-the-record, unfortunately. We covered showbiz (I was surprised the ambassador was updated on the latest gossip and scandals), health (because Sec. Duque was the most trusted cabinet secretary according to the latest Pulse survey), and of course, politics.
We ended close to 11 p.m., which is way past my bedtime when I'm in Baguio. But this was a nice way to end our last night in the City of Pines. Thank you again, Tita Lin, for a fun evening. Till the next visit.