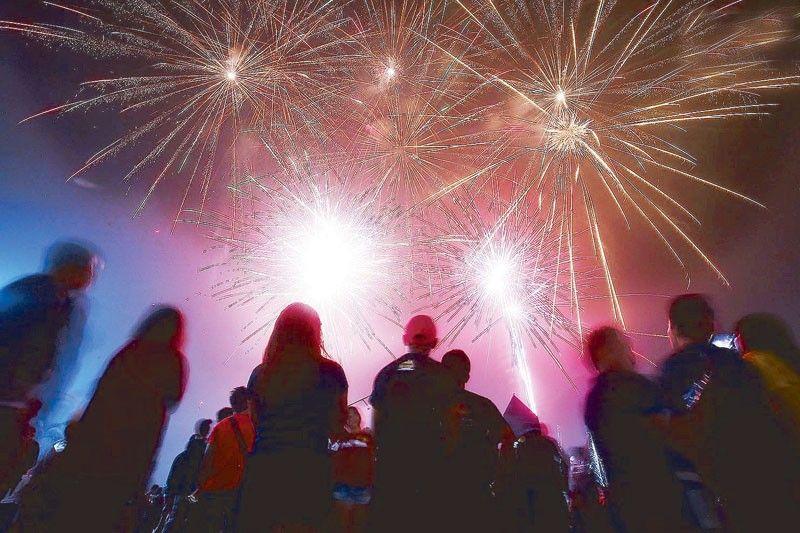 RAZZLE-DAZA
-
Pat-P Daza
(The Philippine Star) - December 30, 2019 - 12:00am
For many, New Year's Day takes a backseat to Christmas. They (including myself) look forward more to Christmas than New Year. Christmas is synonymous to gift-giving, shopping, endless Christmas parties, kris kringle, etc… while New Year is about the fireworks, countdowns, getting older and the proverbial New Year resolutions which we never seem to keep.
From the time I was a child up to my young adult years, I reveled in the fun of those New Year's Eves. The only bummer was waking up the morning after and blowing my nose, the inside of which been blackened by soot the night before. New Year's Eve at the Daza compound was always loud, fun and celebratory. My siblings and cousins would save our allowances so we could buy firecrackers (back then it were legal; these days they only allow fireworks), five-star or labintador and sinturon ni Judas for the boys while the girls settled with watusi, luces and fountains.
Before midnight, we would set up our loot, combining our arsenal and piling them accordingly. Cousins Louie, Susan, Maridol, Junie, Liloy, Joey and Robby (the kids of my Tito Rudy Daza) would always have pork BBQ and cold beer ready. A few minutes before midnight, we would start lighting our fireworks, and there was usually a drum or an old burning tire where we would throw the firecrackers into.
While the boys bravely lit their loot, the girls would be cowering in a corner lighting sparklers or doing the twist with watusis. At the stroke of midnight, we would all jump up and down, inhale and exhale in the hope that the New Year would make us taller and thinner! By around 1 a.m., our fireworks would be gone and we would retreat to our houses for Media Noche. I usually went to the Baltazar household because Tita Tessie would always prepare a spread and we'd stay up till the wee hours of the morning just talking and exchanging jokes with my cousins Risa, Dondi, Maya, Milen, Yappi and Bindoy Baltazar.
When I became a mom, New Year's Eve celebrations became tamer. Since I live in a condominium, I would go up to the roof deck with my kids before midnight and watch the fireworks display of the neighboring villages or go out of town to avoid the smog. I've also added more rituals just for the fun of it to "ensure" prosperity for the New Year.
I also practice these on Chinese New Year's Eve:
Wear something with polka dots, get new underwear and buy a new pair of slippers.
Turn on all your lights and open all your cabinet doors before midnight.
Put fresh flowers, a bowl of coins and round fruits (oranges, grapes, grapefruit, pineapple, etc.) on the dining table
Tape money to all your doors (I use P1,000 or US$100) until Jan. 1.
Make sure you have cash (the more, the better) in your wallet. But more importantly, pay off all your debts to start the New Year debt-free.
Happy, Happy New Year, everyone! And may 2020 bring us renewed hope, countless blessings, good health and prosperity!