Romance rumors add to onscreen chemistry of Crash Landing On You stars Hyun Bin & Son Ye-jin
December 18, 2019 | 12:00am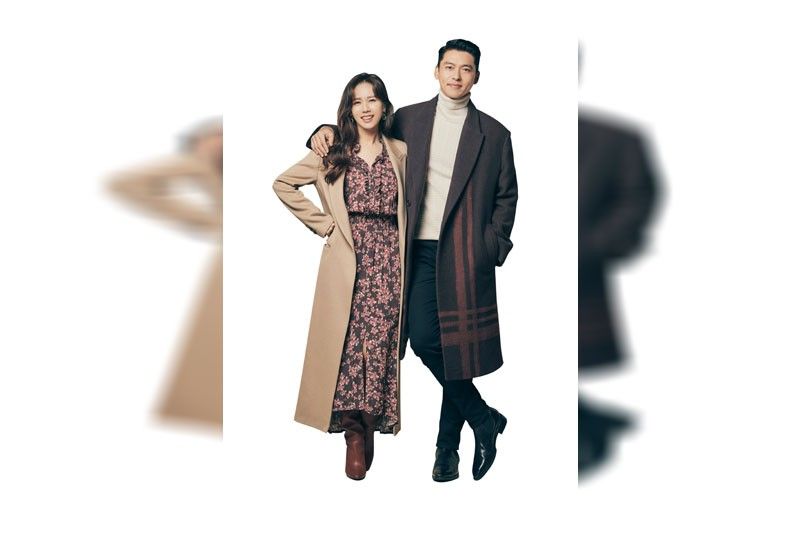 SEOUL — South Korean stars Hyun Bin and Son Ye-jin are two completely opposite people who fall in love with each other in the romantic comedy-drama Crash Landing On You.
Set against the backdrop of the inter-Korean relations, it tells the story of Yoo Se Ri (Ye-jin), a rich South Korean heiress who gets into a paragliding accident and crash lands in North Korea, where she meets Ri Jung Hyuk (Hyun Bin), a North Korean military officer who ends up rescuing and protecting her.
Crash Landing On You is their second time of working together after co-starring in the 2018 movie The Negotiation, which saw Hyun Bin as a weapons smuggler and Ye-jin as crisis negotiator. As the two moved forward from that crime thriller and are partnered anew, but this time in lighter fare, romance rumors have followed them as well.
During a presscon last week at Four Seasons Seoul, the stars addressed the dating rumors (again, as they've previously denied it, according to the Korean press) after being asked if all that talk had put any pressure on them to star or not in a romantic series.
Said Hyun Bin, "I couldn't control the way things happened. But we laughed it off. I don't think it affected my decision in any way nor did I feel uncomfortable joining the project (because of the rumors).
"Rather, I thought it was good that we knew each other because we worked together on another project. Like I said before, Ye-jin is someone I wanted to work with again, and I gladly chose this series when the opportunity came."
The actor had hoped for a different genre for a follow-up project with the actress. "Even though I was working on the same film with Ye-jin, I wished I could share scenes with her, and I thought it would be fun to do that in a project that is different from The Negotiation in genre and that is more light-hearted and fun where the audience can see various aspects of her strength.
"Luckily, the opportunity came along earlier than I expected, and Ye-jin is such a great partner to work with. I've been learning a lot working with her and seeing things that I probably wouldn't have been able to see. She has a lot of great ideas as an actor, and that inspires me as her co-worker. All in all, I'm having a great time filming the series."
Ye-jin echoed what her leading man said. "I feel the same way. I think he explained it pretty well. Working on the previous project with him, I wanted to do a good romantic comedy or romance with Hyun Bin."
She explained, "In the previous project, we didn't really get to act in the same space. But for this series, we have a lot of scenes together where we actually act with each other and we get to show these characters falling for each other and their relationship develops."
In Crash Landing On You, Ye-jin also noted that viewers can see them in various settings as they filmed not only in South Korea but also in Switzerland and Mongolia.
She also believes that the project was meant for them, noting that it's very rare for actors to co-star in a project so soon after. "In that sense, I feel like this project is meant to be for us, and as I read the script, I thought he would be 100 percent perfect fit for the role."
As for director Lee Jeong-hyo, he said he just looked at the "bright side" of having to cast two stars rumored to be romantically involved.
"With the rumors about them being in a relationship, I actually saw it as something positive and thought, 'Their chemistry will be great,'" he mused.
"I thought the chemistry would be great between the two actors (laughs). Anyways, as they said, I wasn't concerned either and only thought about the positive aspect of them starring in the series. And the two stars are working very hard to make the series great," the director also said.
Meanwhile, in a roundtable interview with Philippine press after the main presscon, The STAR further sought Hyun Bin and Ye-jin's thoughts about Crash Landing On You's main story arc about a North Korean officer falling in love with a South Korean heiress.
Ye-jin: "I think it's something that could happen. I mean, why not? You know, if it weren't in North Korea, of course, maybe a third country, if it were, maybe they could fall in love. Who knows? I think life is like that. It doesn't always go as we planned and you know, it's always unpredictable. So, I feel that life is also marked with destiny and coincidences and serendipity. I feel that it's something that could happen."
Hyun Bin: "I also feel the same way and, of course, once we are reunited, it would be a greater possibility."
(Crash Landing On You world-premiered on Netflix last Dec. 14, with new episodes to be released weekly.)