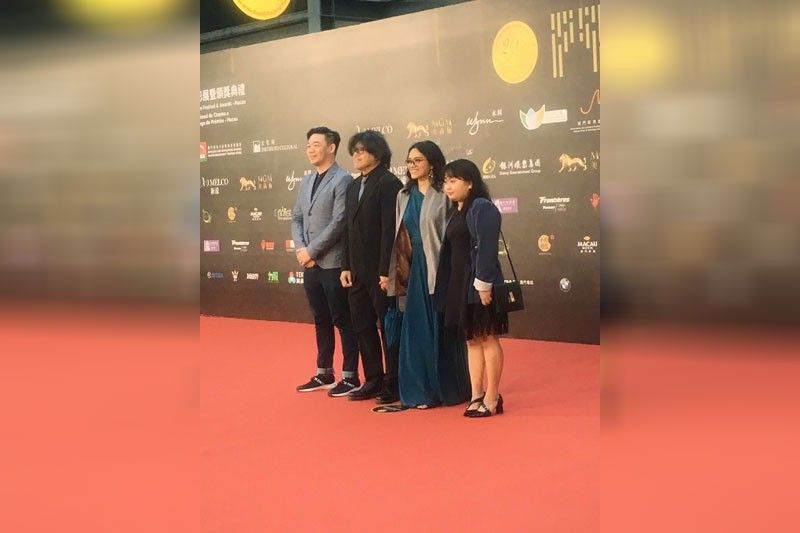 Dear Wormwood and Everybody Leaves producers and directors.
Philippine wins Macau Project Market award
MACAU — A Filipino film project has bagged a major award at the fourth International Film Festival and Awards Macao (IFFAM) that took place Dec. 5 to 10 at the Macao Cultural Center.
Besting 13 other global film pitches, Dear Wormwood won the Best Project Award worth US$15,000 or nearly P800,000 at the Industry Hub Section of the week-long Macau film festival. The upcoming movie is directed by Eduardo "Dodo" Dayao, produced by Patti Lapus and Bradley Liew of Epicmedia Productions.
Dear Wormwood is a body horror film with elements of the supernatural, gore and nature striking back at humans. Dayao described the movie "as a dark fairy tale backdropped by the currently environmental disaster we are facing right now."
"This is my take on a dark fairy tale. It is about how we're killing our forests and eventually destroying our own planet. It's going to be a film filled with strange flowers, icky transformations and a monster or two!" he said.
"We are planning to make this film an international co-production and we're here in Macau looking for international partners, co-producers, sales agents and financing," the director added.
The team plans to start filming end of 2020.
IFFAM Project Market is a venue for filmmakers to make a public pitch, to secure funds to complete their film and to fund post-production expenses. It is an opportunity for filmmakers to "meet with industry figures to discuss partnership opportunities; providing a platform for top-level talents and rising stars from around the globe to showcase future projects and encourage international collaboration."
Other winners of the competition include Sheetal Magan's The Day and Night of Brahma which won Creative Excellence Award; Natalie Erika James' Drum Wave for the Best Co-production Award; and Leonor Teles' Uk Kei for the Macao Spirit Award.
Another Filipino entry that made a bid at the IFFAM Project Market this year was Phyllis Grae Grande's Everybody Leaves.
Everybody Leaves is a story "about a Filipino exchange student in Japan searching for her Japanese father while cleaning houses of people who died. Her search leads to uncomfortable truths about life and death."
"Inspired by the aesthetics of the novels of Japanese author Haruki Murakami, the film wants to question, rather than answer, the vulnerabilities of disappearing," Grande said.
Grande has a personal take on the story as she relates her not-so-good memories with her father who almost died.
"When I finished this film, I hope that I can finally go back home, look my father in the eyes and tell him how happy I am that he is alive," she told the audience during the public pitching.
The film's producer is Alemberg Ang and they plan to shoot the film mid-2021.
Film Development Council of the Philippines (FDCP) chair Liza Diño, who was also present at the event, said, "Project Market is very important for Filipino films to break into the global market. A lot of international bidders look into the project, and they give their comment and inputs on how you can make sure na hindi lang local yung makaka-appreciate nung film but also going to global scene."
When asked about what insights the Philippine film industry can learn from IFFAM, she told The STAR, "That it's very competitive, we can't be complacent with the projects we made… If you want to think bigger, look at the bigger picture, you have to understand how the films are made outside the country. So that you can challenge yourself. You can really think big. You can put more effort in the quality, development and production value of your projects kasi doon tayo kulang. The stories are there, but when it comes to crafting films, lagi tayong may budget constraints."
Bea awarded at Macau filmfest
Bea Alonzo joined other Asian celebrities in receiving Variety's Asian Stars: Up Next award at the recently concluded fourth International Film Festival & Awards Macao (IFFAM) last Dec. 10.
Bea stood out at the closing ceremony of the star-studded event along with Girls' Generation Im Yoon-ah.
"It's a huge privilege for me to be awarded by Variety as one of the Asian Stars: Up Next," shared Bea who was elated upon receiving the international recognition.
Other Asian celebrities who also received the award were Indonesian actress Asmara Abigail, Indian Bollywood star Bhumi Pednekar, Thailand's girl group BNK48 members Jennis Opraset and Praewa Suthampon, Vietnam's rising star Liên Binh Phát and Japanese musician and actor Ryota Katayose.
"We are extremely pleased to welcome some of the brightest upcoming talents from Asia to be presented on the international stage at IFFAM. Asia is one of the most important film markets with many exciting new talents. We are proud to offer this platform from which to share our admiration and enthusiasm for this amazing collection of Asian Star Up Next 2019 and showcase them internationally," said Lorna Tee, head of festival management for IFFAM.
Patrick Frater, Asian editor of Variety, echoed, "Three years ago, the IFFAM and Variety had the idea to use their respective strengths, as a festival showcase and as a global media organization, to do something that promotes and develops the film industry in Asia. To help carry the cream of the Asian industry to foreign shores, the Asian Stars: Up Next Awards then do not seek to discover the very newest actors. Rather they aim to acknowledge performers who may well be on an upwards trajectory at home, but have not yet become household names across the whole planet."
Piolo Pascual and Anne Curtis were also honored as top Asian stars at the IFFAM in 2017 and 2018, respectively.