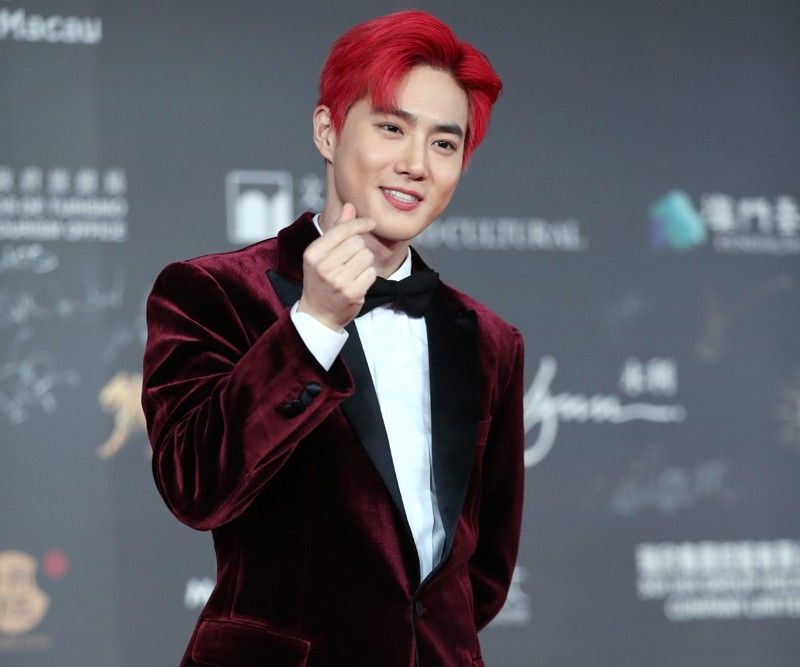 Talent Ambassador Kim Jun-myeon (Suho) waves to the crowd during IFFAM Red Carpet event held at the Macau Cultural Center on Dec. 5.
4th Macau Film Festival: Cultural exchange between East and West
Macau – Despite a chilly weather, Asian stars, filmmakers and professionals heat up the Red Carpet at the opening ceremony of the 4th International Film Festival & Awards - Macau (IFFAM) held at the Macau Cultural Center on Dec. 5.
The festival kicked off with a dazzling parade of stars rounded up by Talent Ambassador K-Pop band EXO member Kim Jun-myeon (SUHO) who received the loudest cheer from the crowd. The red hair SUHO was awarded by the organizing committee along with Actress In Focus Zhou Dongyu.
IFFAM Ambassador Kim Yong-Hwa and IFFAM artistic director Mike Goodridge led the filmfest's roster of rockstar guests that included film stars Song Yang, Sun Zhangjian, Zhao Xiaoli, Yemas Wiczo Yann Yann, Koh Jia Ler, Wu Xiaoliang, Sarm Heng, Alejandro Russek, Tomas Wicz, Laila Maltz and Putri Ayudya.
The brilliant dark comedy "Jojo Rabbit" which won the covered People's Choice Award at the Toronto International Film Festival, was the first film shown after the red carpet.
Fifty international films and six short films will be exhibited at various locations in Macau in line with the film festival that runs from Dec. 5 to Dec. 10.
The competing films under the International Competition category are: Bellbird by Hamish Bennett New Zealand); Bombay Rose by Gitanjali Rao India/France/UK/Qatar; Buoyancy by Rodd Rathjen Australia; Family Members by Mateo Bendesky Argentina); Give Me Liberty by Kirill Mikhanovsky USA); Goldie by Sam de Jong USA/Netherlands; Homecoming by Adriyanto Dewo (Indonesia); Lynn + Lucy by Fyzal Boulifa UK/France); Two Of Us by Filippo Meneghetti France/Belgium/Netherlands/Luxembourg); and Two/One by Juan Cabral UK/Mainland China/Canada.
"Diversified development in the fields of tourism, leisure, culture, events, MICE, entertainment and more has enabled Macau to progress steadily towards its goal to become a world center of tourism and leisure," said Maria Helena de Senna Fernandes, president of the 4th IFFAM Organizing Committee.
She underscored that the annual film festival that started in 2016 allows the special administrative region of China to present its charm to participating film industry professionals around the world.
"IFFAM seeks to build a platform for cultural exchange across the East and West. The organizing committee expects Macau could deliver a positive impact as a melting pot in the cultivation of Asia's next generation of film directors and film talents, and provide a key exchange platform for international professionals," Fernandes added.
She is confident that with their experiences in the first three editions of IFFAM, it is steadily developing its positioning, unique characteristics and elements to achieve its goal.
Around 200 film industry professional from approximately 30 countries are expected to attend the film festival.
On the sidelines of the film fair, interview sections with professionals and celebrities are also scheduled, including those with Lily James, Kim Yong-Hwa Masterclass and Juliette Binoche.
Kapamilya actress Bea Alonzo and K-Pop group Girls' Generation member Lim Yoona are expected to attend the closing ceremony which will be held on Dec. 10. Both are recipients of the Asian Stars Up Next Awards, that recognizes the "brightest upcoming talents from Asia and who will be presented on the international stage at IFFAM."
They will be joined by other Asian celebrities namely Indonesian actress Asmara Abigail, Indian Bollywood star Bhumi Pednekar, Thailand's girl group BNK48 members Jennis Opraset and Praewa Suthampon, Vietnam's rising star Liên Binh Phát and Japanese musician and actor Ryota Katayose.