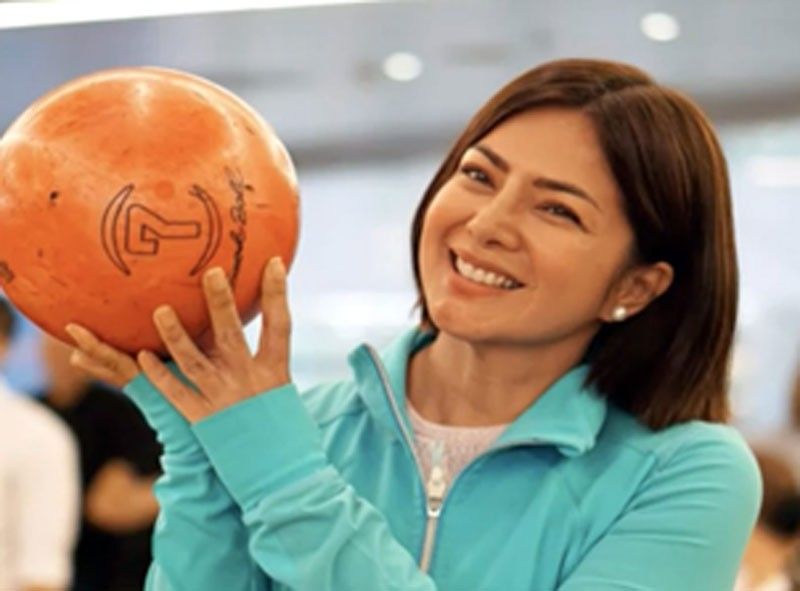 Alice Dixson finds time to lend a helping hand to our kababayan
Alice Dixson's heart of gold
It is always admirable to know how some celebrities find time to go out of their way to lend a helping hand to our kababayan during troubled times. Alice Dixson is one of the many showbiz gems who have a heart of gold.
The actress spearheaded a celebrity bowling tournament two years ago to raise funds for Kalipay Foundation in Bacolod, an orphanage for children who were abused, abandoned and victims of human trafficking. The foundation gives the children a place to study with social workers who teach kids apart from the school in the compound where they can learn and play.
"Two years ago, when I first guested here, it was our first year to do it and we raised P250,000 for Kalipay," said Alice who was on the hot seat of Tonight with Boy Abunda a couple of nights back. "And then last year, we raised P750,000. So, this year, we're hoping to make a good result again." Of course, it won't be too much to wish for the tournament to raise more so that many children could benefit from it.
"Whatever amount is a big deal because in actuality, it only costs P8,000 to sponsor a child — to shelter them, to feed them and to educate them for a whole year," she declared.
The third Alice Dixson Celebrity Super Bowl was held recently at the SM Megamall Bowling Center. Participants played and became part of the celebrity teams for a day of fun, sports and charity.
Besides organizing a charity event, Alice has also started her own vlog on her YouTube channel showcasing the beauty of our country. "I vlog about Philippine tourism because I want to show people na napakaraming pwedeng gawin dito sa Pilipinas not just to Filipinos but also to foreigners because we subtitle all my vlogs so they can reach to our foreigner friends."
What happened to her in Cebu was caught on video and went viral when a horse suddenly bit Alice's chest after a horse ride. The video showed Alice introducing the horse named Blue Moon and then she was cut off when the horse bit her boobs. But Alice stressed she wasn't hurt.
"Actually, horses are very gentle, they will never, never bite you pero katatapos ko lang mag-ride ng horse and I didn't have a treat for the horse because after a ride you give him a treat. Nakita n'ya 'yung T-shirt ko which has a leafy design na mukhang damo so he thought ito 'yung treat kaya kinagat n'ya, hahahaha. Later on, I realized, hindi dapat mag-T-shirt ng may dahon and you have to give a horse a treat."
In another vlog, Alice and Dina Bonnevie were having a conversation in a safari village in Vigan with the latter telling the former, "May pagkamaldita ka noong bata ka pa." Alice related how Dina used to "hate" working with her.
"I was 17 when I first met her and then 30 years later, eto pa rin kami we're very close, we're very good friends. Ayaw n'ya dati sa akin kasi lagi akong late sa set noon kasi teenager ako, medyo matigas ang ulo ko. Even Mother Lily, nag-aaway kami. I'm very stubborn and sometimes if I didn't get my way, nag-rerebelde ako."
She narrated how she wanted to be late simply because she felt like a primadonna at that time.
"I was doing a lot of things and I got famous too fast so lumaki ang ulo ko. From that experience, a lot of people got very upset with me. Because of my unprofessionalism, I lost a lot of work. And so that taught me, 'Hoy, mag-ayos-ayos ka naman diyan.'"
She appreciated how her ex-husband Ronnie Miranda helped her get her feet back on the ground. He's being non-showbiz actually helped Alice to learn things from him. They migrated to Canada where Alice learned to apply for jobs. Now, she knows how to negotiate her own contracts, to review legal stuff and represent herself. "I can talk frankly to someone where my yes is yes and my no's are no."
With her beauty, it is not surprising why she's the ultimate crush of men. But Alice just smiled upon learning some of the showbiz guys who reportedly have a crush on her and then she quipped, "So, all of you who have a crush on me, you are invited to the Alice Dixson Celebrity Super Bowl."