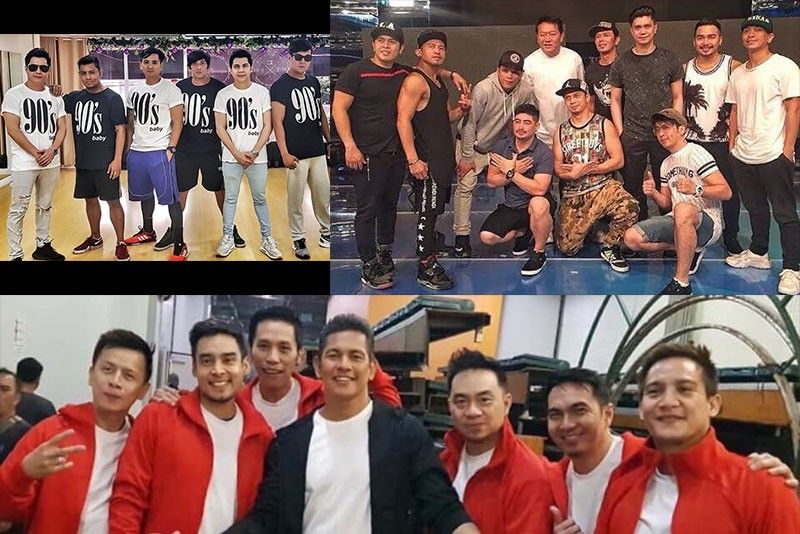 Streetboys, Universal Motion Dancers and Manoeuvres
JS Management Co. and SOL Aces Unlimited Co./Released
Streetboys, Universal Motion Dancers, Manoeuvres come together in one dance concert
MANILA, Philippines — Popular '90s dance groups Streetboys, The Manoeuvres and Universal Motion Dancers (UMD) will come together in one stage to celebrate the year 2020 in a dance concert on January 31, 2020 in ABS-CBN Vertis Tent.
Presented by JS Management and SOL Aces Unlimited Co., the dance concert titled "90s Dance Concert: Panahon Ko 'To" aims to transport the concertgoers back in into '90s in one massive concert.
Joshua Zamora, Jason Zamora, Michael Flores, Jon Supan, Reden Cruz, Jhon Cruz and Rene Sagaran will represent Manoeuvres; Wowie de Guzman, James Salas, Jim Salas, Gerry Oliva, Marco McKinley and Norman Santos for UMD; and Jhong Hilario, Vhong Navarro, Danilo Barrios, Chris Cruz and Nicko Manalo for Streetboys.
UMD is known for their take on the popular songs "Always" by Erasure, "Stars" by Simply Red, "Dying Inside" by Timmy Thomas, "How Gee" by Black Machine and "Close To You" by Whitfiel, while Manoeuvres is known for their dance "Macarena" by Los del Rio and "Tubthumping" by Chumbawamba.
Streetboys, meanwhile, is known for their acrobatic dancing. Some of the songs they popularly danced to in the '90s are "MMMBop" by Hanson, "Beautiful Life" by Ace of Base, "Tootsie Roll" by 69 Boyz and "Renegade Master" by Wild Child.
Apart from the three popular dance groups, other performers include Xpeople, Kidz at Work, Abztract Dancers, Andrew E and Lei Bautista of the '90s all-girl band Prettier Than Pink.