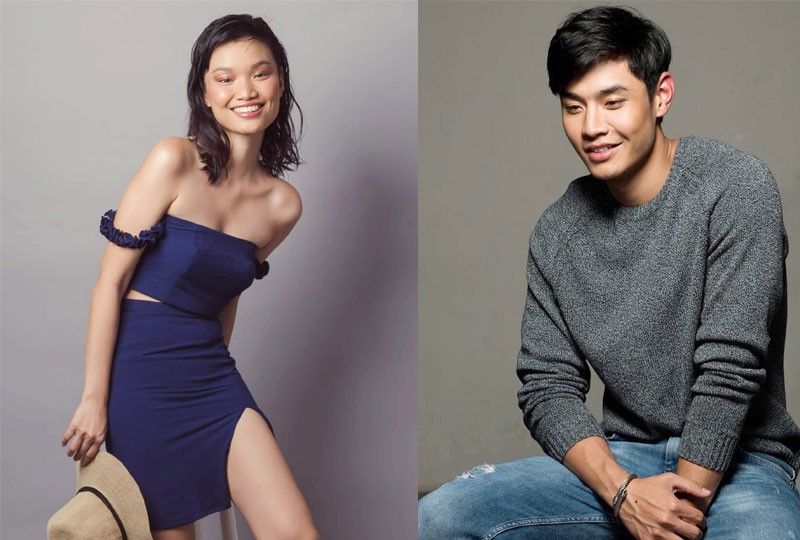 Ella Lubag and Vince Marcelo
Ella and Vince's Instagram
Ella Lubag & Vince Marcelo Philippine bets to first Global Asian Model Search
Thirty-eight candidates from 20 countries are vying to win in the first-ever Global Asian Model World Finals on Nov. 21 at Okada Manila. Representing the Philippines are Global Asian Model Philippines 2018 winners, and rising print and runway models Ella Lubag and Vince Marcelo.
Ahead of the culminating event at Okada's Cove Nightclub, the contest kicked off its weeklong activities last Saturday with a press presentation. The candidates are also expected to take part in a photoshoot, fashion film shoot, trainings, workshops and fittings, among others, this week.
The man behind Global Asian Model Search is Empire.ph and Mercator Artists and Talent Agency head Jonas Gaffud. In a statement, he said he mounted the contest to discover fresh talents for the entertainment, pageant and fashion industries, but with emphasis on the latter.
"We're looking for the next Asian superstar because, I think, it's time for us, Asians, to believe in our heritage, our ancestry. I don't want to call it race, but maybe our (Asian) looks. So, we have to build ourselves up and I think we're the biggest market now in the world," he told The STAR and other reporters in a recent interview.
One of Gaffud's foremost goals for the search is to find the next supermodel with the Asian look.
"This market, we also need to tap our service industry through modeling na di masyadong napapansin ever since. Meron man, mangilangilan. Like when you say, who is the Filipino supermodel? Anna Bayle, siya pa rin ang sinasabi. You also have Kelsey Merritt and she's mixed, same with Miss Universe winners Pia Wurtzbach and Catriona Gray, who are half-German and half-Australian, respectively. So, I think the Asian look is not only the oriental or Malay, Indian or Arabian, there's a lot of mix. I think, it's just about time to put a spotlight on Asian models."
There are already countless of competitions out there, what makes Global Asian Model different? "It's totally different from other competitions. Most contests are beauty pageants. When I was presenting Global Asian Model to a lot of national directors, I was having a difficult time at first because what they really wanted a pageant. (I remember telling them) 'Bakit ba pageant ang gusto niyo, yung nanalo, pag-uwi sa inyong bansa, wala namang ginagawa?' I know someone pagka-uwi niya dito (sa Pilipinas), di naman binigay yung cash prize," he explained.
As for the winners of the Global Asian Model, they will each receive a cash prize of US $10,000 and another US $10,000 guaranteed income for the whole contract year.
Judges are comprised of industry experts, including representatives from top international modeling agencies.
Headquarters of the winners is in Manila but they should be "willing to work around Asia and hopefully (get) the opportunity to break into the modeling capitals in the world like Paris, London, Milan, New York and L.A."
He continued, "All national directors will have 10 percent of the income of their models who signed up with Empire.ph and Mercator just like what we do with agencies, for example, in Brazil and Europe whenever they send their models to the Philippines. We provide airfare, accommodations, allowances, then the mother agent or scouter will get their 10 percent. I want to give incentives to national directors or franchise holders."
When asked about the chances of the local bets to win the Asia-wide competition, Gaffud admitted that it will be a tough experience for them since other countries have also sent in their best models. Homecourt advantage might work or not for them with the international judging panel, and he was upfront enough to tell them to expect worst but "do best your best" nonetheless.
Ella and Vince look every inch ready though going by their Instagram posts. Ella also reflected on her modeling journey, as someone who at first imagined herself in the field of chemical engineering, but discovered her passion while already close to finishing her course at UP.
"On my last two years in college, I realized that it wasn't for me and discovered my love for modeling. After graduating, an opportunity came up (GLAM Philippines 2018) and I did not hesitate to grab that chance. From that day on, I decided to make modeling my career. It was risky! And yes, it may not be practical for others but I chose to pursue what I'm passionate about. Being part of the new faces of Philippine fashion is such a 'kilig to the bone' moment. It gave me motivation to keep that passion burning!"
After the Global Asian Model World Finals on Nov. 21, 8 p.m. at the Cove Nightclub of Okada Manila, the Global Asian Model Philippines will take place in December to search for candidates to field to the following competitions: Global Asian Model International 2020; Miss Charm International in Vietnam in January 2020; 20th Manhunt International in Manila in February 2020; Supermodel International World Final in Thailand in February 2020; and Mister Global International 2020 in Thailand.
Gaffud has been tagged as the top queenmaker for producing (under Aces & Queens, the pageant camp he used to head) the likes of Miss World 2013 Megan Young, Miss International 2016 Kylie Verzosa and Miss Universe 2015 Pia Wurtzbach. However, it's not because of his proven track record in pageants that he decided to mount the Global Asian Model. "Since 2012 ko pa naisip ito, pasalamat ako kay Pia nagkaroon ako ng break. But also, I'm doing this because I started as a model agent. I just want to go back to my roots. My co-workers have been telling me to scout for newer models to build up and the best way really is to put up a contest," said Gaffud.
He recalled his beginnings as a pageant enthusiast who used to scout talents for free while taking his masters at UP. He remembers doing these studio pictorials at PHILCOA in Diliman and then religiously sending these photos to agencies. The first beauty queen he discovered was Bb. Pilipinas Universe 2001 and now lawyer Zorayda Andam. For modeling, it was Atom Araullo, then a student and currently a journalist.
Today, Gaffud runs the digital-only channel Empire.ph and the Mercator Artists and Talent Agency. Among the titleholders, talents and actors under his wing include Bianca Manalo, Maxine Medina, Shamcey Supsup, Winwyn Marquez, Venus Raj, Katarina Rodriguez, Kaila Estrada, Benjamin Alves, André Brouillette, among others.