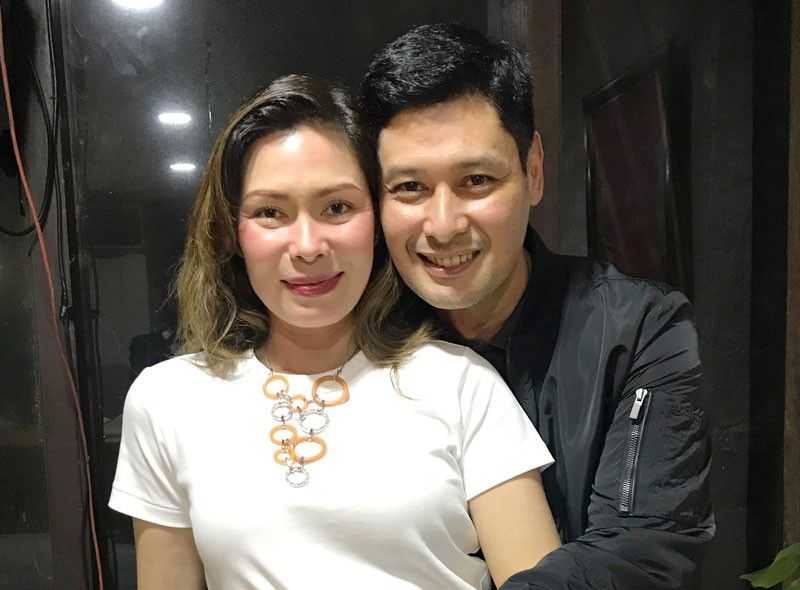 CONVERSATIONS
-
Ricky Lo
(The Philippine Star) - November 17, 2019 - 12:00am
They are in showbiz and yet they are out of it. Isn't it a contradiction?
"No," clarify Tonton Gutierrez, 51, and Glydel Mercado, 45, "it's correct. Showbiz is our bread and butter so that makes us what they call 'public figures' but our private life is our own."
It's possible, according to the un-showbiz couple, and that has been their lifestyle for 21 years - "Six years as boyfriend/girlfriend and 15 years as husband and wife." Their very private life is confined to them and their daughters Aneeza, 15, and Aneeka, seven years old, who attend different schools.
"Simpleng buhay…tahimik," is how the couple sums up their married life.
No, ehem, temptations?
"I must admit that when I was single, I also had fun," confessed Tonton who has been linked to several actresses, one of them told him that she would have been happier if he was the one she married. "Been there, done that. Tapos na ako sa ganoon."
Named after his father (Eddie Gutierrez), Eduardo Antonio married Flordeliza Sanchez in 2004 at the Santuario de San Antonio in Forbes Park, Makati City, witnessed by principal sponsors that included Charo Santos-Concio, former First Lady/Rep. Imelda Marcos and Lolit Solis (the couple's manager).
"They are very religious," said Lolit. "They attend Mass seven days a week. Kapag Monday, St. Joseph; Tuesday, St. Anthony; Wednesday, Mother of Perpetual Help; Thursday, St. Jude; Friday, Black Nazarene in Quiapo; Saturday, St. Theodore; and Sunday, Mass with the kids."
Even their friends are non-showbiz.
"Our circle of friends doesn't include anybody from showbiz," shared Tonton. "They are mostly our golf buddies."
When free from work, that's what keeps them busy golf. Or, they shoot the breeze together with the kids, stroll at the mall, eat out and watch movies together. Otherwise, they stay home and watch or downloaded movies together.
"We watched all the episodes of The Assassination of Gianni Versace in one sitting," said Tonton.
Conversations sat for an easy-breezy time with the couple several weeks ago when they renewed their contract as star-endorsers of Beautederm.
"I love the couple," said Beautederm president/CEO Rhea Anicoche-Tan. "Look at their complexion. They are perfect for my products."
Glydel has her own health regimen mixing five fresh greens (ampalaya, green apple, green pepper, celery and cucumber) and taken in the morning before breakfast.
"It was actually Glyds who introduced me to Beautederm," said Tonton. "I tried the item she uses on her face and it was effective on me."
Would you believe that in all these 21 years, they never had any, to quote Venus Raj, "major, major" fight? Oops! They actually had, not "major, major" but only a "major" one (over something, they refused to reveal) when they were just going steady. They broke up but soon got back together.
"Boring kami," said Tonton tongue-in-cheek.
"Oo nga," agreed Glydel who is close to her mother-in-law Liza Lorena.
That is, boring in the sense that, unlike most showbiz couples, they don't wash their dirty linen on social media (they've never been enmeshed in ugly issues, have they?), they avoid lavish showbiz parties (unless very necessary), they conduct themselves with propriety whether in private (their neighbors in New Manila can attest to that) and in public (they don't call attention to themselves but gladly oblige with requests for selfies) and they don't flaunt showbiz airs, not even a trace of it.
Oh yes, they fight but only over petty things.
"Such as what channel to watch," admitted Glydel. "Sometimes, gusto niya sports at ako naman teleserye. I would end up sleeping in another room overnight. Ganyan lang. O kaya kung sino ang tutulong sa mga bata sa homework nila, so we decided to hire a tutor na lang."
(Trivia: Glydel is part-Waray on her maternal side, from Guiuan Eastern Samar; other Warays are Manila Mayor Isko Moreno whose mom hails from Allen, Northern Samar; Tessie Tomas, Nonoy Zuñiga and Bibeth Orteza, from Catbalogan City; Karla Estrada and former mayor Cristina Gonzalez-Romualdez [by affinity] from Tacloban City; Chito Roño, Calbayog City; Kim Rodriguez, Catubig, Northern Samar; comedian Pooh, Laoang, Northern Samar; Boy Abunda and Aster Amoyo, Borongan City; and Tom Rodriguez, Pinabacdaw, Western Samar.).
Tonton and Glydel treat their daughters as friends.
"Open sila sa amin," said Glydel. "Open din kami sa kanila."
Glydel recalled that when Aneeza was four years old, she and Tonton noticed that she would be dressed like a little girl should be but she always carried a basketball. Growing up, the girl preferred to be in denim pants and rubber shoes. That made her parents' curious.
So Tonton asked her, "'Anak, tomboy ka ba? It's fine with us if you are.' She said, laughing, 'Of course, no, Dada! I'm a girl...girl na girl, hahaha!' We were relieved, at least nawala ang duda. Aneeza is into sports kasi sumasama siya sa amin ni Glyds sa golf. Why was I so frank with her? That's the way we treat our kids. Times have changed. What was taboo is now okay. With social media, everything is out in the open."
"One time," recalled Glydel, "I thought Aneeza had a crush on Justin Bieber. Yon pala hindi as a singer. The maid told us that Aneeza liked Bieber's fashion style, hehehe!"
"Actually," added Tonton, "may crush siya ngayon...si Donny Pangilinan. Ay, bakit ko sinabi?" Then, he laughed. There's a "connection." Donny is the son of Maricel Laxa, Donny's mom who is Tonton's former girlfriend now happily married to Donny's dad Anthony Pangilinan.
Tonton and Glydel have done daring roles but that was before they had children. Not anymore.
"We don't want to play roles na hindi namin puede ipakita sa kanila," said Glydel.
"Before Glyds accepts an offer, she tells me about it first." And vice-versa. "In a movie she's doing, she has a rape scene and she's asking the director kung puede ako na lang ang magri-rape sa kanya."
Being both children of cinema, Tonton and Glydel are okay if their daughters follow in their footsteps (Tonton's mom Liza is one-time Bb. Pilipinas runner-up and award-winning actress while Glydel practically grew up under the klieg lights, discovered by talent manager Daddy Wowie who introduced Mayor Isko to the late Master Showman German "Kuya Germs" Moreno after he spotted Isko at a wake in Tondo). Aneeza is attending an acting workshop under Joel Lamangan and is in the cast of the indie film Jolly Spirits Squad with Mayor Isko's son Joaquin Domagoso.
Incidentally, how does the couple celebrate special occasions (birthdays, weddings, etc.)?
"Simple lang, always with the kids. Glyds is not pa-girlie-girlie. She doesn't expect flowers or chocolates. Walang ganoon. Basta kasama ang family, happy na siya."
(E-mail reactions at rickylophilstar@gmail.com. For more updates, photos and videos, visit www.philstar.com/funfare or follow me on Instagram @therealrickylo.)