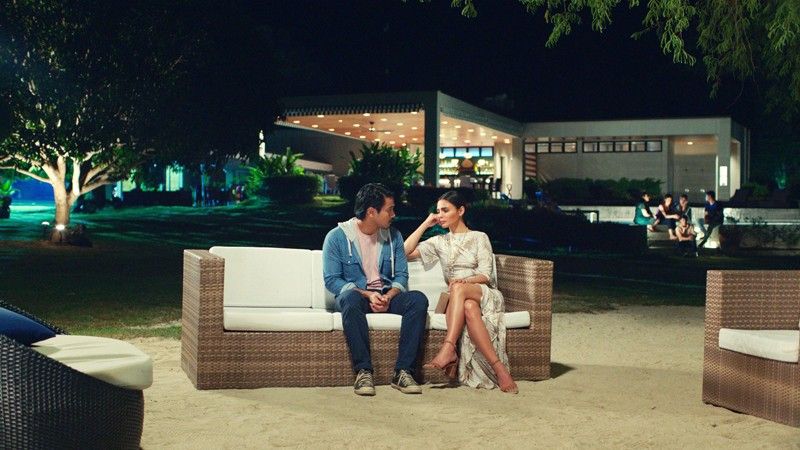 Joem Bascon and Lovi Poe in The Annulment. Marriage from direk Mac Alejandre's lens shines brightly.
Film review: The Annulment
MANILA,Philippines — There are two searing portraits of a marriage in Mac Alejandre's The Annulment and they might as well be simple case studies of how some marriages survive the test of time and infidelity.
There is moment of truth when daughter Gari (Lovi Poe) tells her mom (Ana Abad Santos) after walking out of his husband that she wants to be brave like her during tough times.
"No, I am not brave," she tells her daughter. "I just don't want to be separated from people I love." She is referring to her equally philandering husband (Johnny Revilla) who had the gall to bring to the house a love child from another extra-marital relationship.
The Annulment is another curious profile of a marriage of an unlikely couple with contrasting educational attainment.
For the most part, it is an uncanny comparison of marriages of different generations.
Gari is a preschool teacher who finished her master's degree by sheer strong will while Sherwin (Joem Bascon) only took up vocational courses and ended up a car mechanic. She is determined to be financially independent by doing odd jobs in between teaching.
Her willpower and financial literacy is too much for Sherwin who tries to find jobs more lucrative than just being a car mechanic. But he is really helpless with his limited schooling and no amount of trying hard brings him anywhere.
This is when you see marital cracks beginning to wreak havoc on a young marriage.
There is bigger relief when writers Easy Ferrer and Onay Sales make something interesting and redeeming out of a marriage headed for splitsville. For one, they have fleshed out characters treating the common case of infidelity without extra hysterics. The seemingly polite exchange between wife (Lovi) and the other woman (Myrtle Sarrosa) had audiences gearing for the worst. She asks who she is and what she is doing in her house with her husband. Just a dagger look did it and her well-manicured hands landed on her face more like a gentle reminder than a cruel reprimand.
Watching the audience react on premiere night, there is no doubt that direk Alejandre connected very well with his audience in his latest output.
It is a very daring role for both Lovi and Joem, and they acquitted themselves in civilized confrontation scenes but more so in the love scenes that had bowls of soup toppling all over their restless bodies. It is one intimate marital act that is at once candid and heart-pounding. One could literally see audiences holding their breath in the steamy, intimate scenes. A collective gasp breaks out in the theater as cameras zoom in on someone's derriere.
As it is, the screenwriters were able to project interesting characters and how they are at home and in their work-a-day world.
Gari is the epitome of efficiency in her assorted work but she is also a warm animal in bed where husband brings out the insatiable in her. Sherwin is as much a victim of his limited schooling as he is easily tempted by restless females in search of willing partners.
The Annulment has a lot of lessons to impart, one of which is that separation need not be treated as a death sentence of a relationship.
Somewhere in the movie as characters move on to their next life, you see separation as a liberating force that brings out the best in seemingly incompatible couples.
Direk Mac succeeds in bringing out something highly positive for warring couples to ponder. Give it a break and let's explore the best in both of us.
On the whole, the ensemble acting is commendable, the direction focused and intense, and the writing sizzles with quotable lines.
To be sure, the movie is not without loopholes. There are scenes that look like snatches from an afternoon teleserye. But it offers a slice of life as it is lived today beyond the fantasies of the wedding planners.
Produced by Regal Films, The Annulment is now showing in cinemas.