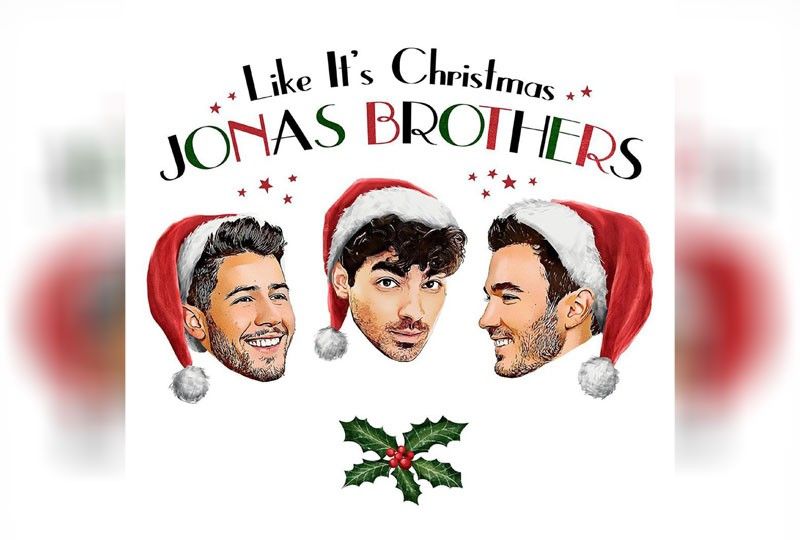 Jonas Brothers release Christmas song
The Jonas Brothers have released a Christmas single. Titled Like It's Christmas, it is the sweet and charming cap to what has been an incredible year for the famous trio. This song is the icing on the cake, the cherry atop the ice-cream soda, the song by which 2019 will be brought back to Jonas minds with each succeeding Christmas.
Like It's Christmas is a new original by the boys which has this engaging throwback vibe. The theme is the usual Christmas love song that says "It's Christmas every day that I'm with you," but it has this old-fashioned charm made for slow dancing that would have also sat well with Frank Sinatra and the Rat Pack 50 years ago.
Like It's Christmas with its happy message gives the Jonas Brothers the right ending for one of their most successful years ever. Just think about it, really, 2019 was not just successful, it was also tumultuous and life-changing with dream come true moments for Kevin, Joe and Nick.
A long time ago the Jonas Brothers were on the Disney Channel, opening for Miley Cyrus who was Hannah Montana in concerts and starring in movies like Camp Rock and Camp Rock: The Final Jam. They recorded a lot of songs and I remember Burning Up and When You Look Me In The Eye as two of the most popular. And then the Jonas Brothers were no more.
Nothing was heard about the trio from 2010 onwards. They did some solo ventures. There was a Jonas in theater in a live Hairspray and on Broadway or the West End playing Marius in Les Miserablés. I think it was Nick. Kevin, the sexiest Jonas, got married to jewelry designer Danielle Deleasa. The two starred in their own series on TV, Married to a Jonas. Joe stayed with the music, recording and performing solo and then later forming the group DNCE which made the big hit Cake In The Ocean.
And then late in 2018, the Jonas Brothers were suddenly in the news again. Nick married the multi-hyphenated Priyanka Chopra, a former Miss World from India. She is the first South Asian to star in a TV series produced by a major Hollywood network, Quantico. She is also a singer, film producer, UNICEF ambassador for child rights, philanthropist and a lot of other things. Their wedding, two ceremonies actually, one Indian and one Christian, was a major event.
Joe also found his true love, Sophie Turner, the beautiful English actress who played Sansa in the epic series Game of Thrones and was a young Jean Grey in Dark Phoenix of the X-Men series. They were also married twice. Once when they eloped to Vegas and then again in a castle in Paris.
Then it turned out that while all those things were happening, the brothers were also reuniting and their first single after almost 10 years was released early in March this year. The song was the catchy ditty titled Sucker and it zoomed straight to No. 1. And what do you know, the video that came with the song was the most sumptuous ever. It was shot in an English castle with luxurious sets, outlandish costumes and lots of Corgis. It also featured the lovely Jonas wives. No wonder Sucker became the group's very first No. 1 seller.
The album, so aptly titled Happiness Begins, came in June and also went straight to No. 1, another first for the Jonas boys. Loaded with 14 cuts, it is basically pop-rock with a strong New Wave influence and hints of country. It is the best Jonas album ever. The boys are now all grown up and have left the bubblegum rock 'n roll of their past behind.
Singles Sucker, Cool and Only Human are the best of the batch. I Believe, which is said to be Nick's song for Priyanka, also shows strong chart potential. Other songs included are Used To Be, Every Single Time, Don't Throw It Away, Love Her, Happy When I'm Sad, Trust, Strangers, Roller Coaster, Comeback and Hesitate which is said to be Joe's song for Sophie. Have not heard anything about Kevin writing for Danielle. I sure hope he did. Having two daughters, should not in any way deprive the wife of the romantic experience of having a song that she inspired.
Happiness Begins and all its contents though are now confined to the back burner for the next few weeks. Like It's Christmas is taking center stage. What a glorious end theme to a wonderful Jonas year.