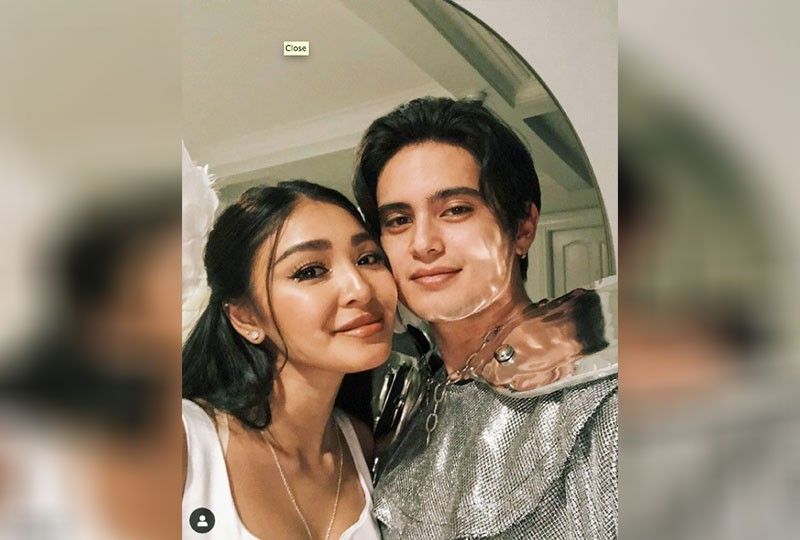 Nadine Lustre is happy for having James Reid always by her side. It is him who keeps reminding her to never doubt herself.
Nadine Lustre just turned 26 last Oct. 31, and according to her, it has become a tradition to celebrate her birthday wearing a costume since it's also a Halloween. In fact, her boyfriend James Reid posted a photo of them on his Instagram with the caption, "She's an angel and I'm her knight in shining armour…Happy birthday, Love."
The sweethearts dressed up as lovers Romeo and Juliet taken from Baz Luhrmann's 1996 adaptation of William Shakespeare's Romeo and Juliet topbilled by Leonardo DiCaprio and Claire Danes. Recall that one of the film's memorable scenes is when Romeo and Juliet first meet at a dress party with Juliet dressed as an angel while Romeo garbed as a knight.
"Parang ever since, even during my first birthday party, naka costume ako for Halloween and it's fun to celebrate that way," shared Nadine when she guested on Tonight with Boy Abunda (TWBA) a few nights ago.
The actress is happy for having James always by her side. It is him who keeps reminding her to never doubt herself knowing how Nadine would question her ability on some days. Nadine, on the other hand, inspires James to do better every single day. But settling down is still far from happening.
Both are not keen on starting a family of their own. More so, at having a baby. James was on the hot seat of TWBA when he honestly told that he doesn't know if he wants to have kids right now. He reasoned, "Where I am right now, I don't even know if I can have kids. I would love to but I just feel like the state of the world right now, I don't know if I wanna bring another into the world the way it is now." And just like James, Nadine gave a sensible answer.
"For one, we're still both young. Wala pa ako sa ganung head space; matagal pa 'yun but I think the reason why he said he's not sure because a lot of things are happening and there are so many things that we want to do as individuals."
Nadine maintained they are happy with how they are as a couple. They attend to their work separately and talk about their day when they see each other in the evening. "We talk about our day and then I tell him my plans."
Asked if James will be a good dad, Nadine responded with a yes and added, "All the things he's telling me about life in general, I learned so much from him."
Nadine is more visible on television these days as she sits with yours truly and Billy Crawford as judges in Your Moment, a collaboration of ABS-CBN and Dutch powerhouse creator Fritz Productions. It aims to put a spotlight on Filipino and foreign singing and dancing acts of all ages, naming two grand champions in each talent category in the finals.
According to Nadine, she had mixed feelings after being told of her role in the reality talent show. She's happy and at the same time nervous because it's her first time to do a lot of talking in front of the cameras.
"Nakakatakot (at first) kasi I don't like public speaking. I don't like talking when there's a lot of people at nagsasalita lang ako takot na takot ako sa ganun but then Your Moment gave me the chance to face that fear and then you are there pa so you and Billy help me to be honest, open and just say what I wanna say," Nadine concluded.