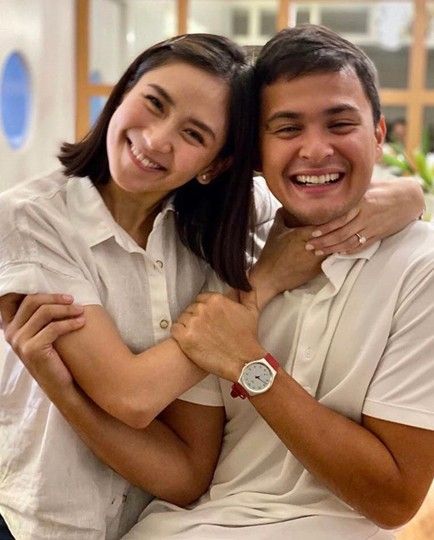 Sarah Geronimo and Matteo Guidicelli: Gotcha!!!
Matteo's social media accounts
Matteo talks about dream wedding
FUNFARE
-
Ricky Lo
(The Philippine Star) - November 11, 2019 - 12:00am
Six months before Matteo Guidicelli posted their "sakal" (strangled) photos in his social media accounts, showing his girlfriend Sarah Geronimo wearing what looked unmistakably like an engagement ring on her left hand, Matteo already hinted "at it" in an interview with The STAR last May. He captioned his post, "I love you my love, now and forever," and his brother Paolo confirmed that Matteo and Sarah have been engaged for a year.
Asked in that May interview if he and Sarah got engaged during a trip abroad, Matteo only laughed and said, "Secret!" In showbiz parlance, that kind of answer (like "no comment") is interpreted as yes. Even if Sarah is proudly showing the whole world "that ring," the sweethearts haven't categorically admitted that they are engaged. Actually, it goes without saying.
What remains is the hint at when and where they would get married. Sarah at 31, two years older than Matteo, needs no parental consent. According to those close to the Geronimos, not even Sarah's over-protective mom Divine can thwart whatever decision Sarah makes. Proof: Sarah has been traveling un-chaperoned with Matteo and is accepted as member of the Guidicelli family.
In that interview, Matteo also revealed what kind of wedding he had in mind.
"Of course, getting married has been a topic, we've been discussing marriage," he had added, "after all we've been together for several years now. What I want is just a simple and small wedding with family." (Note: It was Sarah who admitted that she and Matteo have been going steady since 2014.)
Kisses signs up with APT/Triple A
REVEALED: Kisses Delavin has signed up with APT/Triple A management, three months after her contract with Star Magic has expired. During last Friday's contract signing with manager Rams David and director Mike Tuviera (son of APT/Triple A big boss Antonio "Mr. T" Tuviera), Kisses was introduced part by part in a video, first showing her eyes, then her nose until her face was shown, making the media guys gasp in surprise. The invitation didn't give any clue what the presscon was all about.
Kisses, 20, was launched on the Kapamilya show PBB (Pinoy Big Brother) in 2016 with housemate Marco Gallo (now a Viva contract star) as partner. Under Star Magic, Kisses was paired with Donny Pangilinan (they were known as DonKiss) but the team-up fizzled out soon after. In a forthcoming Regal movie, Kisses is paired with McCoy de Leon.
Currently an Accountancy sophomore at La Salle, Kisses is determined to tuck up a college degree.
Under her new home, she is scheduled to star in three movies, with more projects in the blueprint. Isn't it nice to see Kisses as the younger sister of Maine Mendoza in the Vic Sotto sitcom Daddy's Gurl, since they are now under the same management?
On with Humperdinck Nov. 12 show
The much-awaited once-cancelled concert of Engelbert Humperdinck will be finally pushed through on Tuesday, Nov. 12, at the New Frontier Theater. This was announced by Joed Serrano who is producing the concert as follow-up to the Gloria Gaynor concert that he co-produced only several weeks ago. The concert is part of Humperdinck's The Angel on My Shoulder Tour.
"It will be a nostalgic trip down Memory Lane as we groove to Humperdinck's well-loved songs," assured Joed (yes, he's a singer) who proceeded to sing a few lines from Release Me, one of Humperdinck's hit songs that also include Spanish Eyes, How I Love You, After The Lovin', Am I That Easy to Forget, Love Me With All Your Heart, A Man Without Love, The Way It Used To Be, How Do I Stop Loving You, There Goes My Everything, The Last Waltz and many more.
"It will be a memorable concert," said Joed, "and Humperdinck's fans shouldn't miss it."
(For tickets, call 8911-5555.)
(E-mail reactions at rickylophilstar@gmail.com. For more updates, photos and videos, visit www.philstar.com/funfare or follow me on Instagram @therealrickylo.)