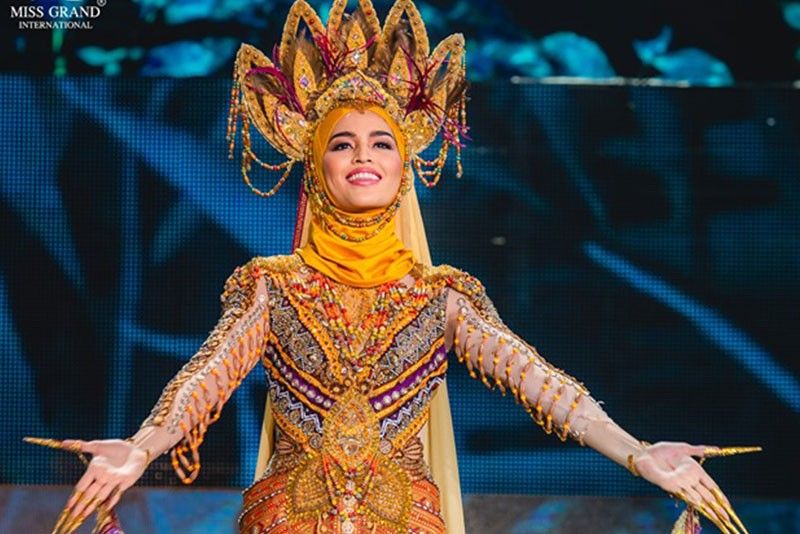 Samantha Ashley Lo presenting her national costume at Miss Grand International 2019
Facebook/Miss Grand International
Philippines' Samantha Lo a front-runner at Miss Grand International 2019 Best in National Costume
MANILA, Philippines — After making headlines for her delayed trip to Venezuela due to passport issues, Miss Grand International Philippines 2019 Samantha Ashley Lo has been topping the pageant's poll for Best in National Costume.
Miss Grand International posted a solo photo of the Philippine representative on its Facebook page. The solo photo, like Lo's picture included in the compilation of candidates, has over 50,000 likes as of writing, the highest in the bunch.
Miss Philippines is followed by Mexico with 22,000 likes, and Vietnam with 15,000 likes.
As posted on the pageant's Facebook page, the top 10 most liked national costumes will be added to the top 10 to be picked by the judges. After the top 20 are announced, the public will then vote again for the Best in National Costume award, which will be given at the grand finals on October 25 in Poliedro de Caracas, Venezuela.
Voting for Lo's national costume is ongoing and runs until October 23.
Designed by Filipino couturier Edwin Uy, Lo's national costume for Miss Grand International is the same one she wore at the Binibining Pilipinas 2019 competition. The intricately-beaded Tausug princess costume was named as among the top 10 Best in National Costume at Binibining Pilipinas.
The long nails Samantha brandished are elements of the ethnic dance "Pangalay."
"Sam was great in the costume she used. Even if she used it already in Bb. Pilipinas, she gave it wow factor performance. Congrats Sam!!!" Uy said in a Facebook post, where he also showed Lo's original national costume for Miss Grand International.
The original costume, said Uy, was left in Paris "together with her other things."
Lo was unable to join Miss Grand International's opening ceremony and pre-pageant activities because she was detained in Paris due to passport issues.
RELATED: Binibining Pilipinas denies Samantha Lo's allegations over passport issue
Nonetheless, the Muslim-inspired costume she donned at the pageant was well-received by even non-Filipinos.
"She wearing hijab...love from Indonesia," said one Internet user.
"As (a) muslim . I really appreciate what Sam (gives) for her national costume. She (gives pride for Muslim women)," said another.
Another fan said that thanks to Lo's costume, she learned more about the Philippines: "It turns out that in the Philippines there is a history of Islam and I just found out."
If successful, Lo would become the Philippines' first Miss Grand International winner. — With Rosette Adel