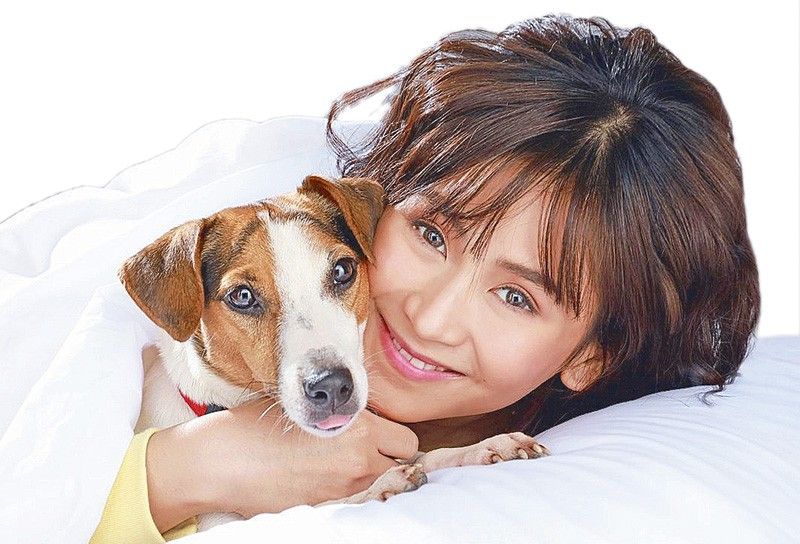 Sarah Geronimo with Milo, her co-star in Viva Films' Unforgettable.
Sarah agrees: Dogs are loyal friends
FUNFARE
-
Ricky Lo
(The Philippine Star) - October 19, 2019 - 12:00am
We all know that dogs are man's best friends. And Sarah Geronimo, who is starring in a movie with a dog as "co-star," agrees.
"Dogs can be more loyal than (human) friends," Sarah told Funfare. "When dogs fall in love with you, you become their world, their everything. And no matter what happens, they will never leave you. What they give is unconditional love."
That's why after her award-winning turn in Miss Granny (that won her a Best Supporting Actress trophy from the PMPC Star Awards for Movies last year), Sarah wished that her next project would be about dogs…or, specifically, a dog. Wish granted!
Conceptualized and co-directed by Perci Intalan and Jun Lana (whose first movie about a dog, Bwakaw, starred the late Eddie Garcia), Unforgettable casts Sarah as Jasmine, a young woman on a journey with her pet dog (Milo, the Jack Russell Terrier featured in viral videos) to Baguio where they meet different kinds of people and touch their lives in the process.
Asked what memories did Milo evoke in her during the shoot, Sarah said, "Beautiful memories about my own pet dogs, two are named Rio and Betty. They give me so much joy. Makita ko lang sila gumagaan na ang loob ko at sumasaya na ako. Dependable sila at nagdudulot ng emotional support."
Her first pet dog was Bukol, an askal (asong kalye or street dog), found by her father.
Like Sarah, her boyfriend Matteo Guidicelli is also a dog lover.
"I have an Akita named Gelato and a bichon frise named Snow," shared Matteo who cried a river when his dog Ragu died, recalling how Ragu brought joy to his family for six years. Rest in Peace in doggie heaven, Matteo posted on his Instagram, We love you.
"Dogs are indeed man's best friends," he said, "forever loyal. Dogs need love and attention, too, and you must make them feel it."
Like Matteo, Sarah has also cried over dogs. "So many times," but she didn't elaborate.
Milo has become a popular showbiz dog.
"Milo is bright," said Sarah, "very attentive to the trainer kaya maayos at mabilis niya nagagawa ang mga eksena."
Showing nationwide starting on Wednesday, Oct. 23, Unforgettable showcases the tricks of Milo, tagged as "the wonder dog" that has also starred with Vice Ganda in Fantastica. As early as 2017, Milo has been appearing in various TV programs displaying its ability to play dead, roll, spin nonstop, jump through the master's arms, remove the master's socks, do a massage and even "pray" before eating.
The movie also stars Regine Velasquez, Anne Curtis, Cherie Gil, Tirso Cruz III, Yayo Aguila, Kim Molina, Meg Imperial and Gina Pareño.
Best known star-dog is Lassie (featured in several Hollywood films). Among other dog movies are: Iron Will, Benji, All Dogs Go to Heaven, Homeward Bound, 101 Dalmatians, The Adventures of Milo and Otis, My Dog Skip, The Fox and the Hound, Lady and the Tramp, Old Yetter, Marley and Me, Turner and Hootch, plus the recent A Dog's Purpose.
How different is a dog co-star from a human co-star?
"Well," noted Sarah, "with animal co-stars, you must be sensitive sa feelings nila especially kung hindi sila okey or in pain. Animals are also very transparent. Humans can hide their true feelings but the animals cannot. Dapat mahaba ang pasensya mo when you're working with animals."
Aside from A Dog's Purpose, Sarah's favorite doggie movie is Hachiko, which is about a Japanese Akita dog remembered for its remarkable loyalty to its owner.
(E-mail reactions at rickylophilstar@gmail.com. For more updates, photos and videos, visit www.philstar.com/funfare or follow me on Instagram @therealrickylo.)