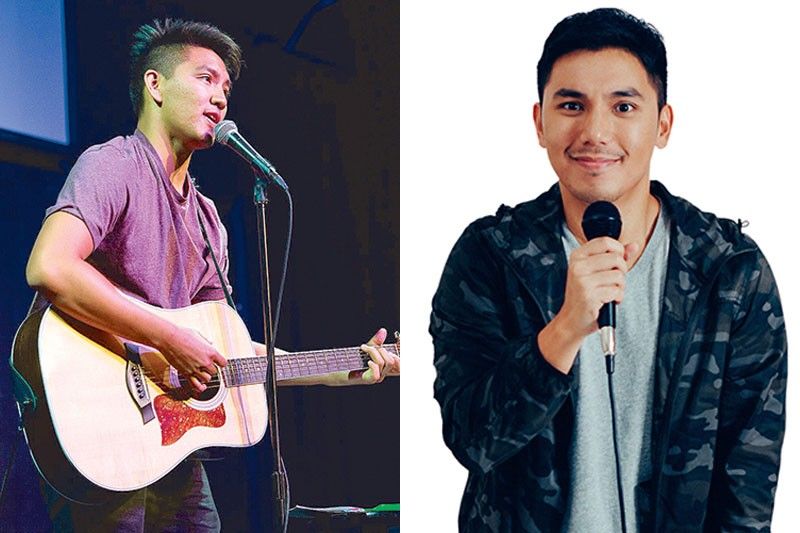 JR de Guzman (left) and Ryan Puno will give Comedy Central their brand of Filipino comedy. Says JR, 'I do a lot of musical comedy combined with silliness and sometimes inappropriateness mixed with some soulful chords and melodies.' And Ryan, 'I am mababaw. It's the humor I grew up with. That's what I love so much about Filipino humor.'
Two Pinoys among 12 Asians in Stand-Up, Asia! Season 4
FUNFARE
-
Ricky Lo
(The Philippine Star) - October 14, 2019 - 12:00am
Brace yourselves for belly-aching laughter as 12 Asian comedians showcase their stuff, two of them Filipinos, in season four of Stand-Up, Asia! on Comedy Central, premiering next month.
Ryan Puno, founder/director of comedy channel SOLID OK and member of Comedy Manila, wants to make people laugh by showing the different facets of Pinoy comedy; while JR de Guzman, winner of the 13th Annual Stand-Up NBC Competition who hails from the Philippines but resides in the US, combines music and comedy.
Hosted by Singapore's sketch duo Benjamin Kheng and Hirzi Zulkiflie (of the BenZi Project), the show also features Sam See and Qamarul Haziq (Singapore); Hannan, youngest winner of the 2016 Hong Kong International Comedy Competition, Kavin Jay and Nigel Ng (Malaysia); Brian Tseng (Taiwan); Zainal Bostaman (Brunei); Yumi Nagashima (Japan); Storm Xu (China); and Aaron Chen (Australia).
The STAR did an exclusive e-mail interview with Ryan and JR.
What are the challenges you will face vis-a-vis the 10 other comedians from the region?
Ryan: No challenges at all. It's more of a showcase than a competition. It's been a pleasure listening to everyone's jokes and learning more about them. This is all so much fun.
JR: Since it's not a competition but more of a showcase, I don't foresee any challenges vis-a-vis the other comedians. Though I'd say the biggest challenge overall is choosing material that you want to showcase to the Comedy Central Asia and International audience.
How were you chosen for the series — were there any auditions?
Ryan: Good question! I'm not entirely sure how Comedy Central found out about me because there weren't any auditions. Hahahaha! I'm going to guess, they saw my stand-up videos on YouTube and followed the Filipino comedy channel I started called SOLID OK. However, way they found me, I'm thankful they did.
JR: They reached out to me via e-mail and we spoke on the phone a few times. I'm not exactly sure where they found my material. It's either on YouTube, or on Comedy Central US, but I'm thankful they did!
How would you describe your comedic style against those of the other comedians in the show?
Ryan: I'd say my stand-up focuses on two things — being a Filipino and silly observations. Those are the things I really love to talk about. And it's all kind of funneled and communicated through my own experiences.
JR: I do a lot of musical comedy combined with silliness, and sometimes, inappropriateness mixed with some soulful chords and melodies.
How, if you have, did you incorporate Filipino humor into your act?
Ryan: I am a very mababaw person. Hahahaha! It's the humor I grew up with, it's how I joke with my friends, and it's what I love so much about Filipino humor in general. I just like to add a bit of a thinking component to it so it's not totally wala lang… sort of a smart way of looking at stupid things I guess. My favorite way to refer to it is "elevated babaw."
JR: I'd say I learned a lot of my sense of humor from my dad. More or less, the spirit of Filipino humor exists within my comedy whether consciously or unconsciously.
Ryan, tell us about Comedy Manila.
Ryan: Comedy Manila is a collective of Filipino stand-ups that support each other and help each other grow as comics. The open mics and shows are set up in a way that allows everyone to develop their own unique style and confidence as comedians. I would not be where I am as a stand-up comic without Comedy Manila.
What about you, JR?
JR: I was born in the Philippines and moved to the US when I was very young. My Filipino heritage is something I'm very proud of because I've had to face cultural challenges growing up in America. I struggled with the cultural clash in the US.
When and how did you discover your knack/talent for comedy?
Ryan: I went to Ateneo my entire school life. I watched a lot of stand-up in high school, but I'd say my knack for it really started in college. I loved joking around with my barkada, and until this day, we're all still so close. What bonds us is our similar sense of humor. Every time we hang out, it is always one joke after the other. I love it.
Those first few years of college were when they started pointing out how funny my observations were. Then I thought, "Hmmm… I wonder if I could do this in front of strangers."
After that, I went to an open mic with Victor Anastacio for the first time. There were no comedy open mics back then so we just went to the poetry open mic of Heights, the Ateneo literary magazine. We did pretty well that day and haven't looked back since.
JR: I started stand-up at 20 years old while in college. I took a comedy class, then did an open mic. Eventually, I saw that there could be a possible future for me in it after a set I did at Cobb's Comedy Club in San Francisco, with my buddy and mentor, Jimmy Earl. It was the biggest show I had done at only a short time in comedy. That show made me feel like I could really do this.
Comedy actors you look up to as role models?
Ryan: There are a lot, so I'm just going to name as many as I can — Conan O'Brien, Dave Chappelle, Seth Rogen, Will Ferrell, Kristen Wiig, Key & Peele, Demetri Martin, Mark Normand, Jim Gaffigan, GB Labrador, Alex Calleja, Victor Anastacio, Red Ollero, James Caraan, Nonong Ballinan, just to name a few.
JR: Zach Galifianakis and Dave Chappelle. Not only do I like their comedy, but I also like how they navigate their lives off stage. They both seem to not be too attached to the motivations of fame and fortune but focused on their own integrity and values, all while creating great content.
Any chance/possibility of you doing a project (movie or TV series, etc.) with Filipino comedians?
Ryan: With JR? Absolutely! I'd love to work with him again. His comedic skill set is just through the roof, and he brings a different perspective to the Filipino experience that's just so fresh. I'm hoping to write and direct a full-length Filipino comedy movie in 2020, so hopefully, we can collaborate on that project.
JR: Most definitely. I'm currently in the works on a project with a very talented Filipino comedian, actor and writer Rene Gube. Hopefully, it gets picked up by a network. In general, I'm always looking to collaborate with other Filipino talents of all kinds.
When, if ever, will you have a show in Manila?
Ryan: You can usually catch me at the open mics at Mow's, Matalino St. (Quezon City) every Tuesday. Comedy Manila also books me for gigs here and there. I'd say just follow their page on Facebook for more information. Hopefully, though, I can come up with my own hour-long special by next year.
You can also follow all my work on SOLID OK; it's this Filipino comedy channel thing where I'm the headwriter and director. On top of uploading stand-up bits, we also do sketches, satire and a bunch of other random stuff. Follow us on Facebook, Instagram, Twitter and YouTube!
JR: Maybe after Stand-up, Asia! Season 4 premieres on Comedy Central Asia, so hopefully soon!
Since the channel was launched across Southeast Asia in 2012, Comedy Central has become one of the fastest-growing brands for Viacom International Media Networks (VIMN) which is available 24/7 in 16 Asians markets via 80 providers. Comedy Central gives audiences access to a world of super funny, personally relatable, culturally relevant and provocative comedy that tells the funny truths of life, every day and everywhere.
(For more updates, photos and videos, visit www.philstar.com/funfare or follow me on Instagram @therealrickylo.)