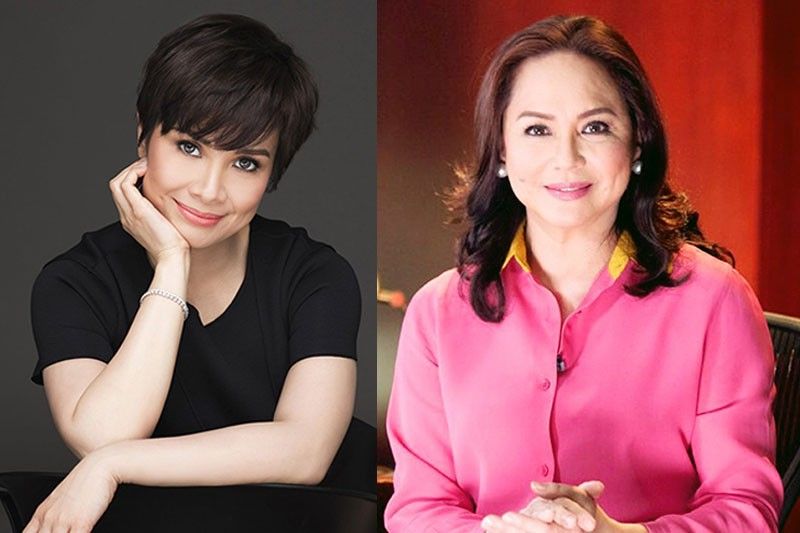 Lea Salonga (left) and Charo Santos-Concio
Have you tried 'bread crumbing' and 'orbiting'?
RAZZLE-DAZA
-
Pat-P Daza
(The Philippine Star) - October 7, 2019 - 12:00am
MANILA, Philippines — Last week, I wrote how eloping these days is almost unheard of. Today, I must admit I'm lost with the terms millennials describe their relationships.
At the height of the Bea Alonzo-Gerald Anderson-Julia Barretto frenzy, netizens were quick to assume that Gerald ghosted Bea. I asked myself, what the heck does that mean? And so I did some research and apparently what it means is that one cuts the other from their life and stops responding to the other altogether — like a ghost! Ouch!!! To me, ghosting is a cowardly way of ending a relationship. One should be man or woman enough to cut clean. Breakups are never easy, but if you cut clean, and you're honest and truthful, at the very least your partner will respect you for that. Maybe not immediately, but it beats being deceived and taken for a ride.
Another buzzword is bread crumbing. This is when one puts in minimal effort just to keep the other interested but is afraid to commit to anything serious. I guess this is why lots of people can't put a label on their relationships because it is so unsure and fleeting. This set-up is convenient specially if you're a commitment-phobe who still wants to sow your wild oats. But for how long?
Lastly, there's orbiting. This is when the guy keeps his distance from his object of affection and keeps tabs on her through her FB or IG posts. In my time, we called these guys torpe! They're too shy or too intimidated to have a relationship with you. But with the advent of social media, keeping track of someone's whereabouts is so easy specially if they're active on Facebook, Instagram, Twitter, etc… But what kind of relationship is that? A virtual one?
Talking about IQ
When my siblings and I were growing up, our parents hoped and prayed that we would have high IQ's (Intelligence Quotient). Remember how our moms would brag to their amigas, "ang tali-talino ng anak ko…" as if that was the only thing that mattered. But of course, it helped if we were smart, so we could get into good schools and universities and eventually become doctors or lawyers.
Lea Salonga is one of those in showbiz who has a very high IQ. Rumor has it that she has a photographic memory which allows her to memorize a script after just scanning it. Charo Santos-Concio, on the other hand, has a high EQ or Emotional Quotient. According to Wikipedia, those who have a high EQ have the ability to recognize their own emotions and those of others, discern between different feelings and label them appropriately. I guess that's what makes Charo a very effective host of MMK (Maalaala Mo Kaya), the longest drama anthology in the Philippines. As soon as Charo looks into your eyes and holds your hand, she will be able to feel your pain and sense your fears.
During a recent dinner I had with my high school friends, they mentioned the newest Q which is AQ or Adversity Quotient. Coined by Paul Stoltz in 1997, AQ refers to a person's ability to deal with adversity vis-à-vis his/her resilience. So who in local showbiz has a high AQ? The first name I thought of was Piolo Pascual. Cruel and negative stories about him have been circulating for years, and yet he has never spoken ill of anyone in retaliation or in self-defense. I guess this is why he's still at the top of his game, because he is a genuinely kind person.
With so many types of quotients popping out, it's just a matter of time all the vowels will be taken. That leaves O and U…