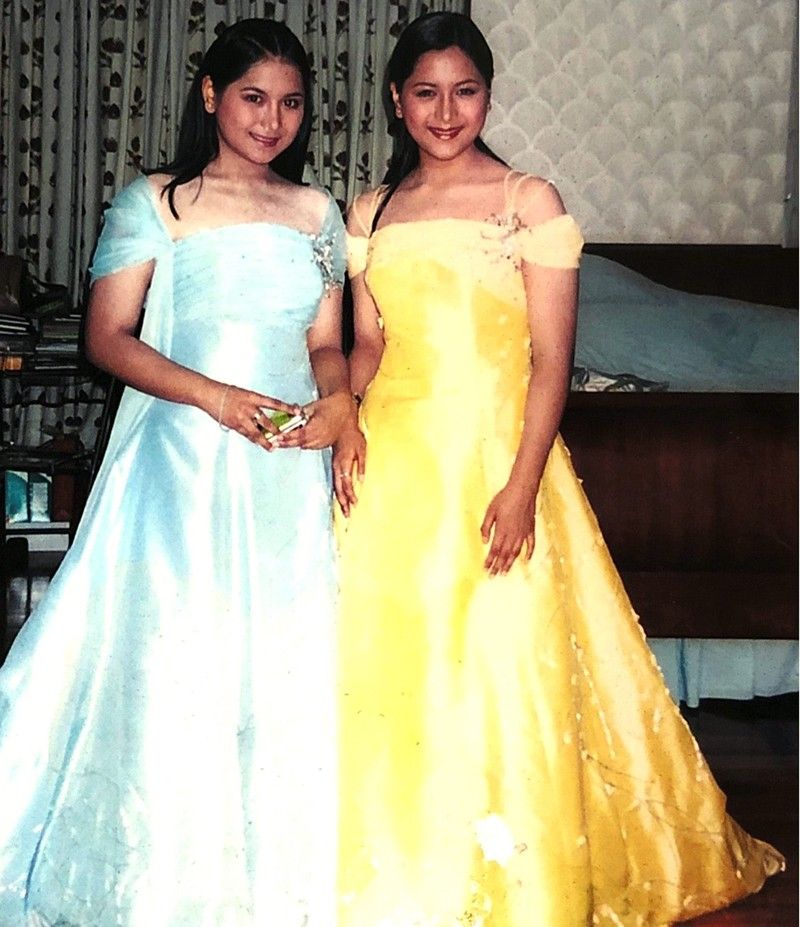 Ciara Marie Abalos (left, with twin sister Charisse Marie) died barely 24 hours after she was rushed to the hospital with a slight fever, diagnosed to have contacted E.coli during a feeding program at a slum area
The story behind the mysterious ringtone (Or, how Christmas in Our Hearts helped heal the Abalos family)
FUNFARE
-
Ricky Lo
(The Philippine Star) - September 21, 2019 - 12:00am
What can you say about a 19-year-old girl who died?
That heart-rending question was answered in the 1970 movie Love Story based on the Erich Segal best-selling novel, in which Ali MacGraw's character dies, much to the eternal grief of her young husband (played by Ryan O'Neal).
In that movie, the young wife succumbs to cancer at 25. In real life, the girl in this story was 19 when she died in 2005. Her name was Ciara Marie, twin sister of Charisse Marie, two of the seven children of former Mandaluyong City Mayor Benjamin "Benhur" Abalos Jr. and wife Carmencita, incumbent mayor of the same city.
"It was devastating," said Benhur, his voice trembling a bit. "When something good and happy happens, you feel that it has been a long time ago but when something sad and painful happens, it seems as if it happened only yesterday."
Funfare made Benhur recall that tragedy for a follow-up story to this corner's feature about Christmas in Our Hearts (Sept. 13 issue), Jose Mari Chan's song that ushers in the yuletide season. A Funfare reader told me that that song helped in the healing of the Abalos family.
"Ask Benhur about the 'mysterious ringtone'," the reader reminded me. "It played an interesting role."
As Benhur retold it, Ciara was going to the US for a vacation with her grandparents.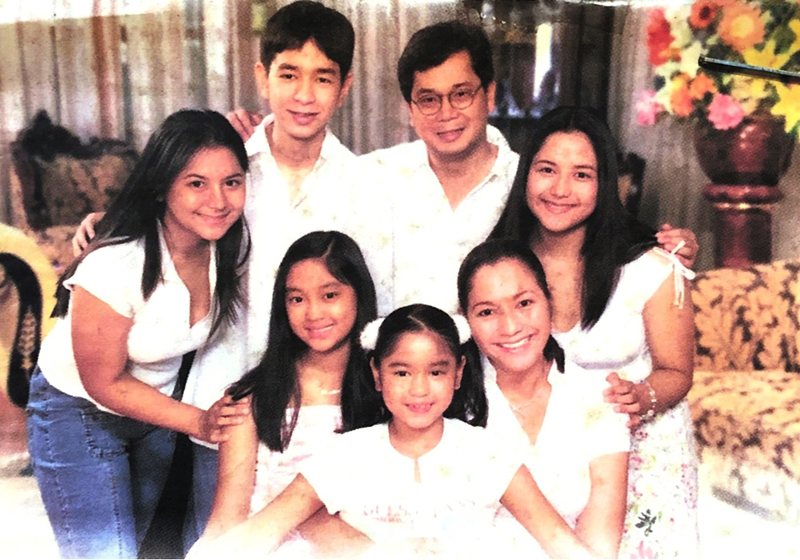 Since 2005 when Ciara died, her parents, former Mandaluyong City Mayor Benhur Abalos and incumbent Mandaluyong City Mayor Carmencita Abalos see to it that she's included in the family calendar. In 2005, Ciara is the girl in white shirt and denim
jeans at leftmost...
"They were already checking in at the airport," Benhur related, "and Ciara suffered from a slight fever, so she backed out and we brought her to the doctor. At the hospital, we didn't suspect that she was serious; in fact, that night she was still joking while the doctors were reviewing the tests. The next morning, barely 24 hours later, she died."
A few days earlier, Ciara was with her La Salle group on a feeding program at a slum area where they had eaten what could be contaminated food. Diagnosis: neither was it leptospirosis nor dengue. It was E.coli (Escherichia coli, bacteria found in the environment, foods and intestines of people and animals).
Ciara suffered four attacks while on life support. Her vital organs had failed. When things turned hopeless, Charisse whispered to her twin sister, "Follow the light. Go to God."
"The pain is the greatest that anyone could experience, especially if you are a parent. You would rather die than let your child die. The pain became unbearable when, after the doctors did everything and nothing could be done, I had to sign a DNR (Do Not Resuscitate) document. I was in denial. I was angry. I questioned my faith. In school, I was taught that there was God. So, I said, 'If there is God, can He let me see my daughter again?'
"I think it's normal for a parent to feel that in those trying moments. I lacked sleep as we were busy attending to those at the wake and all the other details. Gulong-gulo ang isip ko. Long after that, the process of acceptance came but it was very, very slow."
It was while Ciara was in coma and during her six-day wake when that "mysterious ringtone" came. Every time Benhur got a call, it was the refrain of the Joe Mari song that played — Let's sing Merry Christmas and a happy holiday/This season we may never forget the love we have for Jesus/Let him be the one to guide us as another new year starts/And may the spirit of Christmas be always in our hearts — even if Christmas was months away.
"I asked around why my ringtone had changed and nobody could tell, not even the phone company who checked and rechecked for a glitch and there was none."
The ringtone disappeared the day after Ciara's funeral just as mysteriously as it came, with Benhur's old ringtone back. When he had rested and his mind became clear, Benhur said he remembered that every Christmas, it was that Joe Mari song that served as the soundtrack of the family celebration.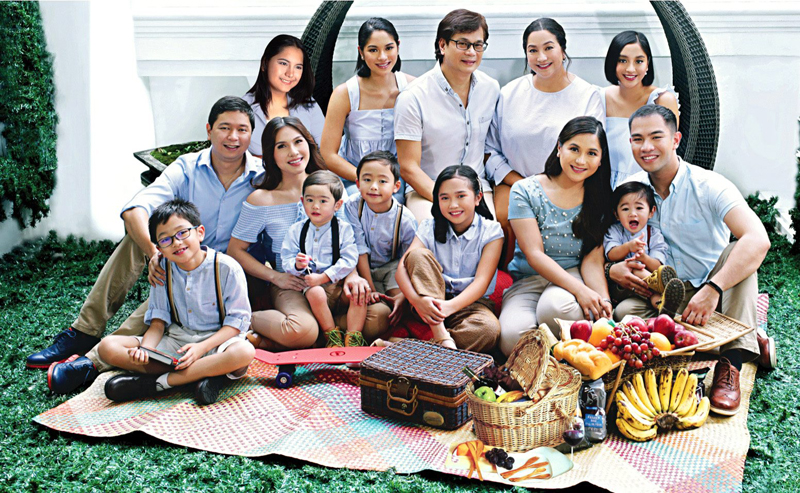 ...and in 2019, she's the girl on the top left. The family now includes several grandchildren.
"Ciara and Charisse used to sing that together, repeating the refrain again and again," continued Benhur. "I was thinking, how come that happy song was playing on my ringtone at the time when we were grieving? The refrain kept on playing and playing as my phone kept ringing and ringing. That got me thinking. Maybe Ciara was sending me a message that she was happy where she was, with the Lord."
Benhur added that Joe Mari's songs are the family favorites because, according to him, "the melody is good, the lyrics are meaningful and all the songs have a positive message. They are joyful songs."
And that was how Christmas in Our Hearts healed the Abalos family. The six other Abalos children are all okay: one is with San Miguel Corporation, one scheduled to work in Spain and another is an international golfer.
"It restored my faith," noted Benhur. "It gave us hope. It made us put ourselves in the hands of God…Thy Will Be Done. It reminds us of the promise of eternal life."
In memory of Ciara, the family has put up the Ciara Marie Foundation that has so far built school buildings in Laguna, Benquet, Mountain Province and other places. Every year since 2005, the family makes sure that Ciara is included in the family calendar.
And every Christmas since 2005 when they play Christmas in Our Hearts, it makes them smile and they rest assured that Ciara is with them, singing along with them — This season we may never forget the love we have for Jesus…