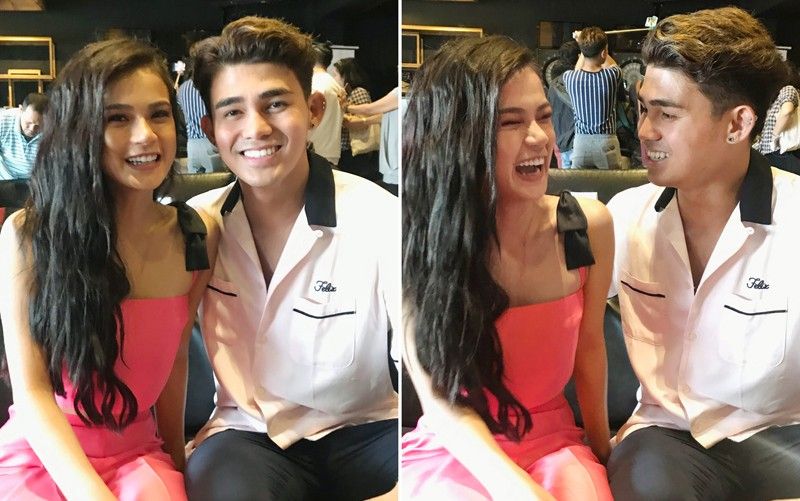 Maris Racal and Iñigo Pascual share a light moment during an interview with The STAR in which they clarify about their true status — never 'on,' so they are not 'off'
Photos by Ricky Lo
Maris & Iñigo: No breakup?
FUNFARE
-
Ricky Lo
(The Philippine Star) - August 30, 2019 - 12:00am
The social media has lately been abuzz with the news that Maris Racal and Iñigo Pascual have broken up, much to the disappointment of the MarNigo fans.
But here's the rub: there was no breakup because Maris and Iñigo were never an item in the first place, not in real life anyway.
Asked if she and Iñigo are now "exes," Maris broke into a wide smile.
"No, we are not 'exes' because we have never been actually 'on'," Maris admitted to The STAR in an interview after the presscon for their movie I'm Ellenya L. at the Tipsy Pig restaurant on Timog Avenue, Quezon City. "We were exclusively dating but we have never gone steady. I am a bit puzzled why people were talking about it when, I repeat, wala naman dapat i-break up."
Iñigo said the same thing.
"We were never officially 'on'," he clarified. "We never reached a point na naging kami. I actually made that clear from the very start so that we wouldn't be pressured into being a loveteam for real. We have always been and will always be good friends. I am grateful for whatever we had."
What Iñigo likes about Maris is her being "so talented and so driven," but he said that he regretted not having enough time for her and that it pained him to see her not getting what she deserved.
"Someone who would be there for her," stressed Iñigo. "That's something I couldn't give her since my time is focused on my family and my music. I have my family with me while Maris' family is not with her. If ever I go into a relationship, I want to give my all. It's really a matter of choice and for now, I'm choosing my music and family. I want to make up for the time I wasn't able to be with my family. I wish the same for Maris."
Actually, it was Iñigo's dad Piolo Pascual who first noticed how pretty Maris is, so he told Iñigo to court her.
Laughed Iñigo, "My dad is always making jokes like that. But I do find Maris pretty."
And what is his dad's constant reminder to him?
"To be patient, that there's always a right time for everything."
What about regarding his lovelife?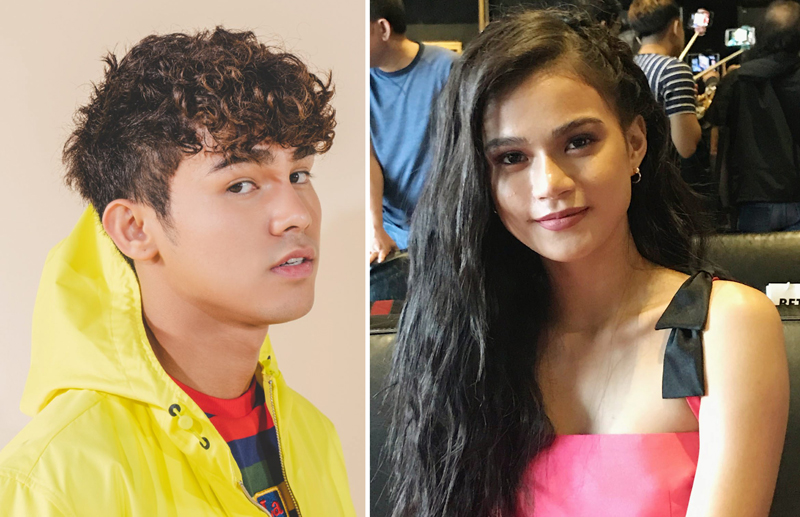 Iñigo and Maris are focused on their music and family
"My dad lets me be. He allows me to make mistakes and to learn from them. He wants me to experience life and learn how to make my own decisions."
A product of 2014 PBB (Pinoy Big Brother): All In topped by Brapanese Daniel Matsunaga, Maris was tagged as the "Singing Sunshine of Davao." Like Iñigo, she's deadset on making it as a singer. She's 21 and faces a bright future, gifted with good looks and good voice evident in a few singles that she has recorded.
And so is Iñigo, also 21, whose eyes are set on an international career, especially after the release of his single Catching Feelings featuring music producer Moophs that continues to conquer the global stage. The song was first heard on 92.7 The Rev FM and Iñigo shared a video of it on his Instagram. Inigo also collaborated with Fil-Am musicians Jeremy Passion and Gabe Bondoc in a remix of his newest song with their original songs Lemonade and The One exclusively on MyxTV which now has over 150,000 views. During his recent trip to US and Canada, he shared the stage with urban reggae band Tribal Theory at the House of Blues in Anaheim, California and guested on Good Morning Hawaii.
"I'm relieved that the truth is out," said Maris about the seeming confusion over her and Iñigo. "Now I can concentrate on my work. Magaan na ang loob ko." (She's in the cast of the Kapamilya soap Pamilya Ko with Sylvia Sanchez and JM de Guzman, airing next month.)
Because neither of them is broken-hearted and they have remained friends, Maris and Iñigo were comfortable working on I'm Ellenya L. (sounds like "I'm a millennial" which is what it really means), one of the 10 official entries in next month's 2019 Pista ng Pelikulang Pilipino (PPP) which will be screened nationwide.
The movie that marks the directorial debut of Boy 2 Quizon casts Maris in her first solo lead role as ambitious Ellenya Lakampati who aspires to be the next big vlogger with Iñigo as her best friend, a boy-next-door talented photographer who is always there when she needs him.
"It is not a romcom," said Boy 2, "it's a comrom. A comedy-romance, that is. I come from a family who made their business in this genre," added the grandson of the late Comedy King (Dolphy) and a mainstay of the long-running GMA hit show Bubble Gang, "so I made sure that laughs will be plenty. We took careful consideration of the classic way of doing gags but also making sure that we injected our own brand of new, organic and subtle humor."
Produced by Spring Films, N2 Productions and Cobalt Entertainment, I'm Ellenya L. also stars Nova Villa, Francine Prieto and social media sensation Kat Galang.
(E-mail reactions at rickylophilstar@gmail.com. For more updates, photos and videos, visit www.philstar.com/funfare or follow me on Instagram @therealrickylo.)