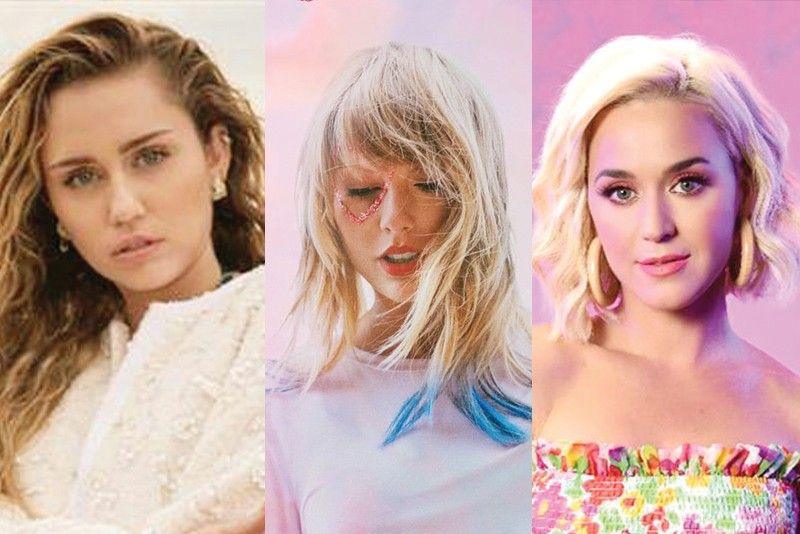 Miley Cyrus, Taylor Swift, Katy Perry
Girls bring back the pop song
With tunes like dance and chill hip-hop dominating the hit charts these days, it is most refreshing to find some big stars returning to the genre that brought them success. That means pop music like emotional ballads that rely more on melodies that move the heart and on lyrics that everybody can relate to. So much better to listen to and certainly more enduring than droning synths or pulsating beats. And when the pop returnees have names like Taylor Swift, Miley Cyrus and Katy Perry, you can bet that a lot of people would be listening.
Lover by Taylor: Can it be true? Is the Swiftie thinking of getting married? Check out what the 29-year-old star has to say in her new single release Lover. "Can I go where you go/ can we always be this close?... All's well that ends well to end up with you." Lover is the title track and latest song to come from Swift's new album. It is a dreamy pop tune with a guitar-based arrangement and an old-fashioned country vibe. Lover has a sweet melody and is very nice to dance to. It comes after ME!, her collab with Brendan Urie of Panic! at the Disco and her solo hit You Need To Calm Down.
Now do not be surprised if her fans are getting marriage ideas. Taylor is one songwriter who is unafraid to show her emotions in her compositions. She has been in love, broken-hearted, happy, bullied and in all sorts of battles in her past releases but Lover seems to be the first time she wrote something about making a love relationship permanent. The guy of the moment in Taylor's life is British actor Joe Alwyn and her followers are hoping for the happy union soon.
Slide Away by Miley. While Taylor is considering permanence, Miley is walking away from a long, once thought will last a lifetime relationship in her latest single Slide Away. "Once upon a time it was paradise/ once upon a time I was paralyzed…I think I'm gonna miss those harbor lights/ but it's time to let it go." And she is letting go indeed. Miley and her husband, Liam Hemsworth, the Australian star of films like The Hunger Games and Independence Day, have recently ended their marriage. They had been married for less than a year and together since she was 17 years old. Boo hoo hoo.
Slide Away is sad with ominous drums and plaintive strings. It is introspective and unlike other Miley songs. Remember how she twerked. It is seen as the culmination of her self-reflective period that began with her track Nothing Breaks Like A Heart with Mark Ronson. Slide Away might be one of the cuts included in her upcoming album titled She is Miley Cyrus. Emotions are the gist that songs are made of and Miley has parlayed what is going on in her life into one of her best works. Hopefully, the former Hannah Montana star will face better times soon.
Small Talk by Katy. Small Talk is also introspective and while it has a lilting beat powered by synthesizers, it is really a sad pop ballad about love that is coming to an end. I hope that Katy just imagined herself in that heartbreaking bored situation to write the song and that it is in no way about her real-life relationship with Lord of the Rings' Legolas, Orlando Bloom. "We had conversations about forever/ now it's about the weather okay/ I just can't believe/ we went from strangers to lovers to strangers in a lifetime."
Katy is at her best with catchy pop tunes and she hit the jackpot again with Small Talk. It was co-written with Johan Carlsson, Jacob Kasher Hindlin and Charlie Puth. Many of you doubtless remember Puth. The young singer and songwriter had a huge hit with the song See You Again, a collab with hip-hop star Wiz Khalifa that was used to excellent effect in the movie Fast and Furious 7. It is one of the saddest songs ever written. Thankfully, Katy is one girl who can enjoy the heartbreak with an upbeat song. Hopefully though, unlike Miley's, it is not for real at this time.