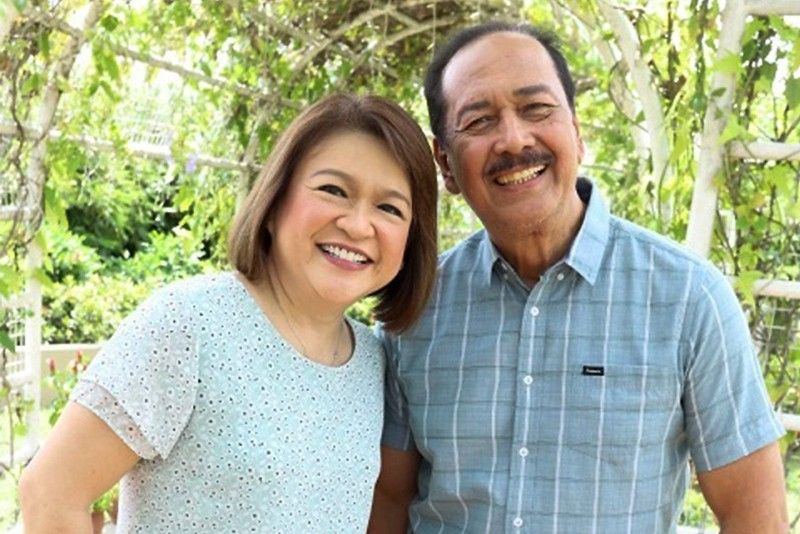 Winnie Cordero (left) and Ariel Ureta have been working together as anchors of the Golden Dove awardee for Best Variety Program on Radio
Ariel & Winnie: Still Todo Todo Walang Preno after 15 years
Fifteen years.
That's how long Ariel Ureta and Winnie Cordero have been working together as anchors of Todo Todo Walang Preno on DZMM TeleRadyo and Radyo Patrol 630.
Airing on weekdays at 3 p.m., Todo Todo was named the Best Variety Program on Radio in the recent 27th KBP Golden Dove Awards. This is one validation that the radio tandem is effective in keeping the viewers and listeners well entertained and wide awake in the middle of a sleepy mid-afternoon.
Ariel's laughter is infectious while Winnie's voice is melodious. They talk spontaneously during discussion of topics, injecting humor in between. It is necessary for Winnie and Ariel to make even the most uninteresting subject matter engaging to people.
"It's our job to make any topic appealing. Doon lumalabas ang galing namin to make everything interesting — 'yung hahanap ka ng kagandahan sa topic na binabato sa amin kahit na walang kwenta-kwenta pa 'yan," Winnie amusingly said.
The program covers all kinds of subjects, including promotion for movies, shows and record albums.
Ariel gets frustrated at times when dealing with people who obviously wanted to promote something without any significance. "For example, the color of orchid is violet, 'yun lang ang pag-uusapan namin ng 15 minutes. It would be good if it's color red (laughs)."
However, Winnie and Ariel know it would be unethical to reject the topic being presented to them. "Actually, any topic is fine but we don't tackle serious issues; it's not our line. What we do in (our program) is to show the good in people or the positive effect of this and that event."
Inviting guests to the program is not easy. Ariel recalled how some would demand to be picked up from their place while others give so many excuses.
"It's good if there are big stars of ABS who will promote their shows. But of course, it doesn't happen every day so we cannot simply rely on having guests because first of all, we do not pay our guests."
Ariel and Winnie welcome the participation of audience and listeners who call on the program to give their opinions or ask questions regarding the topic of the day.
"We share to them (audience) our opinions regarding their concerns. We make sure to have something to tell that will remind them that life is good," said Ariel.
The program is famous for segments like Sabi Ng Lolo Ko, where Ariel talks about Filipino values like respect for elders and love for country, and WinWin Solutions where Winnie shares tips and practical solutions to problems faced by mothers like her. Other well-loved segments are Todo-Todo Kuro Kuro and Todo Kwentuhan Kasama Ang Mga Sikat.
While the program enjoys good ratings, Ariel and Winnie continue to work hard in giving quality entertainment. The former said, "We strive to keep them interested because even our loyal listeners will get bored if we become repetitive with our messages, however beautiful and positive these may be."
Asked what is the biggest challenge of anchoring the show, Ariel recalled the moment when they had difficulty in keeping their timeslot "alive."
"'Yung timeslot namin na para kaming napunta sa disyerto na siguro tatlo lang ang nakikinig sa amin. So, we really tried to keep that boring, patay na oras (dead hour), so alive. Thankfully, the point came when we hit the No. 1 in the afternoon slot. And now, many people have been listening (to us) because they can relate and they like topics that are light, simple and funny."