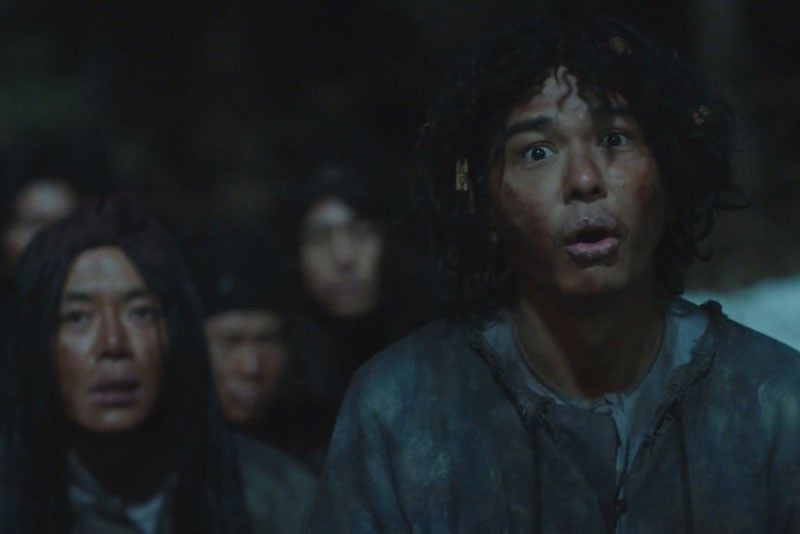 Filipino actor and filmmaker Nash Ang in Netflix's Arthdal Chronicles
Netflix/Released, screen grab from 'Arthdal Chronicles'
Filipino actor proudly speaks Tausug in Netflix Korean drama
(Philstar.com) - August 16, 2019 - 5:54pm
MANILA, Philippines — Nash Ang, the young Filipino actor and filmmaker whose appearance on the Netflix Korean drama "Arthdal Chronicles" recently made waves in local media, had a chat with Philstar.com where he shared what his original role was supposed to be, how he felt seeing his effort on the series go global, and his advocacy of promoting Filipino artistry and creativity to the rest of the world.
What is it about the show made you want to be part of it?
"Arthdal Chronicles" is one of the biggest Korean dramas recently. There's history, and it's very unique.
How did you feel upon hearing the Tausug dialect on the show? We understand you were the one who coached the team about the dialect.
I was amazed because it was the first time on international TV to feature Tausug in a drama. Actually, I did not even promote it. The Tausug community in Southern Philippines, nabulabog sila. They were the ones that reached out to me and my family, saying they're very proud that their dialect was featured in a Korean drama. I'm glad that I was able to help promote not just the Filipino culture but an ethnic minority in the Philippines.
When you signed up for the show, was teaching certain cast members part of your job description, or were you originally supposed to just be an actor?
During my first conversation/audition with the director, he was happy that I had some background on a tribe from Southern Philippines. He said it was perfect. And because of that, I got the part right away. The set-up for that first interview was, I did a little bit of acting and dialect translation. They said I'd have a big role so they advised me to go to the gym [laughs].
Initially, I was cast for a different role. The character was supposed to be talking to Song Joong-ki in the Yakan dialect, and then biglang mamamatay. The director said my role was too short, and asked that I be given a different one. They gave that role to a Korean actor; I just helped him learn to speak in the Yakan dialect.
Was it difficult coaching them about the dialects?
Actually, the actor was very good in memorizing. I only helped him with the pronunciation.
What was it like working on the series?
I was on location in the mountains for about a week and it was very cold, but it was well worth it. The series has been well received, not just here in the Philippines and Asia; even my cousins in America are watching it.
Is making the Filipino brand of artistry and creativity an active advocacy of yours?
Yes, it's been my objective since 2007, when I founded OBRA Incorporated, which promotes Philippine culture and arts for overseas Filipinos. I also founded a media organization here, Pinoy Seoul, and right now, we're organizing the first ever Filipino festival in Korea, the Korea Pinoy International Film Festival, which promotes Filipino films and culture to Koreans. It will happen on September 27 to 29 here in Seoul.
I've already achieved what I want in terms of filmmaking. I now have a different goal, which is promoting and taking care of the new generation [of Filipino artists]. And this is one of the reasons I organized the festival -- to promote Filipino films, to promote Filipino actors who will next bring pride to our country.
Do you have a message for aspiring artists?
With hard work and dedication, I think anything is possible. Just be optimistic. Failures themselves don't make us unhappy; our reactions to them do. These failures can be a challenge for us to become better people, not only as filmmakers, actors, or other artists, but as human beings.
A Korean epic fantasy drama, "Arthdal Chronicles" depicts the birth of civilization and nations in ancient times. It is a story of mythical heroes, their struggle, unity and love of people living in a virtual land called Arth.
The storyline centers on the ancient city of Arthdal, established on Arth. Eunseom is a character who relentlessly fights to protect his own tribe. Eunseom may appear innocent-looking, but
his protective instincts are quite strong that he does not hesitate to be aggressive when attacks are imminent. Tagon, a son of Sanung who is the leader of Saenyeok Tribe, is a character who is very charismatic and most talented, yet overwhelmingly dangerous as he buries his feelings so deeply that no one knows when he will explode with anger and rage.
Alongside Eunseom and Tagon are Tanya and Taealha. Tanya is the successor of Wahan Tribe clan mother, who realizes her destiny to lead and protect her own people against other powerful tribes. Taealha is the most beautiful lady in Arthdal, and has the strongest desire for power.
"Arthdal Chronicles" is now streaming on Netflix, with a new episode coming on September 7.