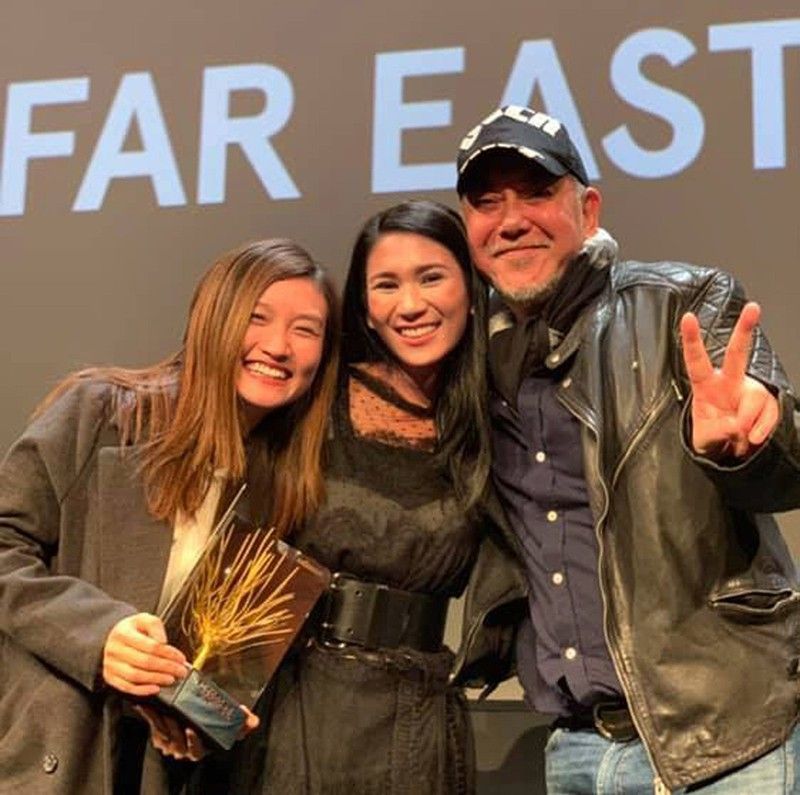 Crisel is all smiles with Still Human director Oliver Chan Siu Kuen and lead actor Anthony Wong after their film won the top prizes at the Far East Film Festival in Udine, Italy last May
Still Human's Crisel Consunji hopes acclaimed HK film screens in Philippine cinemas
MANILA, Philippines — Highly-acclaimed Hong Kong dramedy Still Human about a disabled man (played by Hong Kong superstar Anthony Wong) forming an unlikely bond with his newly-hired Pinay domestic helper (first-time film actress Crisel Consunji) premiered at the recently-concluded Cinemalaya film festival.
Screening under the Vision of Asia Selection, the film was also brought to the country with the help of the Hong Kong Economic and Trade Office in Jakarta.
Crisel, 34, who became the first homegrown Filipino actor honored — specifically as Best New Performer — at the Hong Kong Film Awards, equivalent of the Oscars, hopes Still Human will enjoy a commercial run in Philippine cinemas.
"I do believe that the distributors have been working very hard. I don't know what walls they are encountering. For some reason, every other country has seemed to pick it up, except the Philippines. We've been distributed in mainstream theaters in Malaysia, Taiwan and soon in Japan. The rights have also been bought in other Southeast Asian countries," Crisel said in a roundtable interview post-screening at the CCP, adding she's very open to participate in the local filmmaking scene and hopes "this will give me a chance to go, in a way, back home."
A movie that touches on the plight of over 200,000 overseas Filipino workers (employed as domestic helpers) in Hong Kong is not exactly novel, with predecessors like the award-winning documentary Sunday Beauty Queen and the Star Cinema juggernaut Hello, Love, Goodbye, still showing in theaters nationwide. But Still Human, directed by Oliver Chan Siu Kuen as her debut feature, is different and groundbreaking because the narrative is led by a primarily Hong Kong cast and production.
This has been an equally groundbreaking experience for the Hong Kong-based but Philippines-born Crisel. While this is her first-ever film experience, she started performing musical theater at the age of 10, mainly for Repertory Philippines. For her education, she pursued her "other passion" Political Science, both for her Bachelor's and Master's degrees, at the Ateneo de Manila University "thinking that eventually I will begin community work, particularly in education and arts."
She was already running her own performing arts education centers after a stint with Hong Kong Disneyland, when she got the opportunity via Facebook to be cast in Still Human.
During her homecoming of sorts over the weekend, Crisel — who last stepped on a Philippine stage in 2007 — was asked about her exciting journey from Manila to the movies.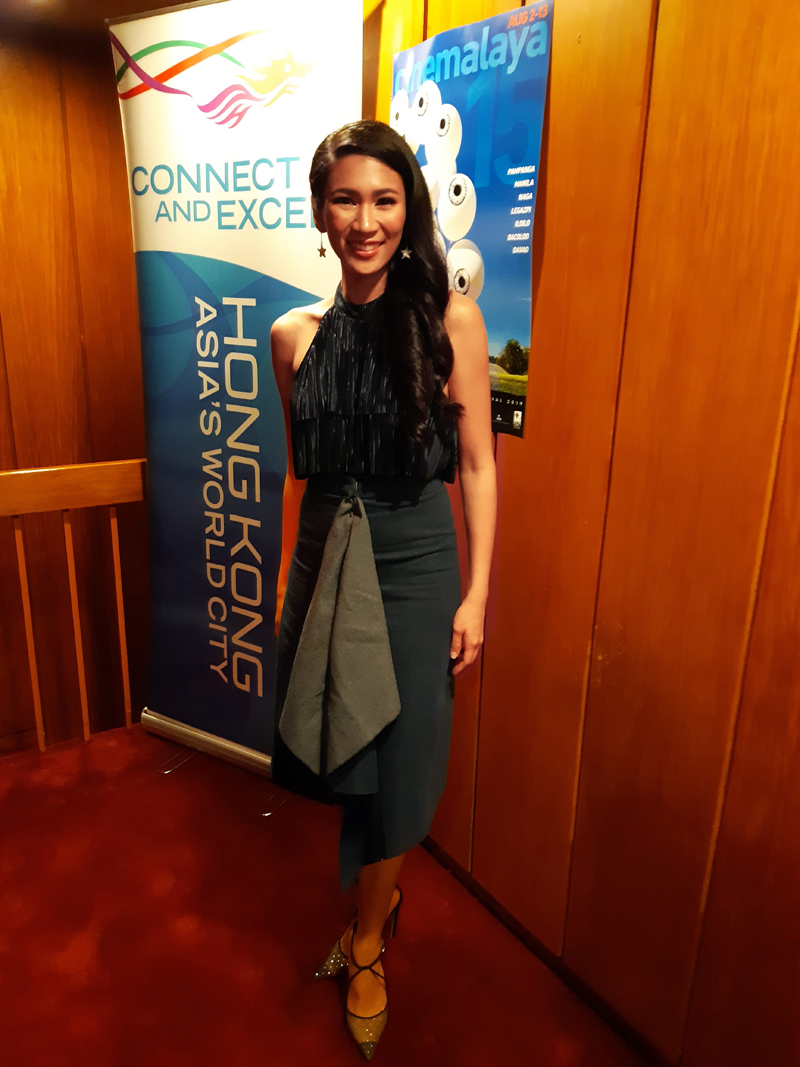 ...during an interview on the sidelines of the Cinemalaya filmfest where her movie was screened...
On how she ended up in Hong Kong:
"Just as I was finishing my master's thesis, I got a call from Disney in Hong Kong because I was on file, and they offered me a contract. And I said, what's eight months? But it turned out to be a few years (laughs). During that time, I said, it's a great time for me to explore the city and connect with the Filipino community, all of us Filipinos in the diaspora. At first, I was thinking from the context of community development and linking what I learned here in the Philippines about OFWs and figuring out how are their lives abroad. Foolishly I thought, 'Oh, I'm going to be helping people.' When I got there, I realized, no, a lot of these women who are migrant workers, foreign domestic workers, were very empowered. They had their own voice, they were very strong. And I learned a lot from them.
"Throughout these community engagements with multiple organizations, supported by Hong Kong, also supported by the (Philippine) government and the private sector, I've come to listen to their stories. I've been collecting these stories and I've never had a chance to share them on a bigger platform. Now fast-forward a couple of years later, I've been running my own creative arts schools in Hong Kong and suddenly, this casting call of Still Human came about. It landed on my Facebook inbox."
On becoming part of Still Human:
"I was wondering, it's a Hong Kong production, how would they understand our story and how would they interpret our voice? But when I got to meet the director, Oliver Chan Siu Kuen, I realized she was a special woman. She was very empathetic and was going to treat our story with dignity and respect. So I said, I have to be part of this production, even not as an actress. On the casting day, I did read from the script, but ultimately, it was a very long, drawn-out discussion about how much we cared about this community and what stories we want to portray. They actually first approached the Philippines to look for an actress here. It didn't work out."
On the tough part of playing a domestic worker:
"Honestly, I did not have trouble finding out that character because I felt like I was preparing for this role because of the experiences I've had in the community work with a lot of these migrant women. Yes, a lot of them have become good friends of mine, and a lot of them have carved niches in Hong Kong.
"The process itself was very tough. Emotionally, it was draining because of the story. Physically, it was exhausting. As a small-budget film, we were shooting long hours in a very short time frame. And we were in a very dark and damp and dusty basement where we shot all the scenes. The summer scenes were shot in winter, and it was freezing. My lips were turning blue. They said, you're supposed to look very drained of energy. And I said yes, you're seeing my natural lips.
"But I think sending forth the message was even tougher. People always say they're open to hearing the story. But you have to realize that amongst so many people with so many different backgrounds, there are a lot of hidden biases, hidden prejudice. And I've encountered that. I've encountered really amazing people. I've also encountered people who started questioning their own biases when upon meeting me because we brought this film to a wide audience in Hong Kong. I think, it's a new thing for Hong Kong to have this kind of film and to actually have a Filipina actress. So, when I was thrown into the pile, it felt as if everybody was adjusting to everybody."
On audience feedback on the film, which has been touring the world:
"One of the questions that would repeatedly be thrown at me was, how long have I been a domestic worker in Hong Kong? And that's a really tough situation. Because on the one hand, I'm here representing the voices of these women, and I'm very proud of them. I think it's not in any way humiliating to be thought of as a domestic worker, because it's a decent job. I wanted to just share that identity with the audience. But on the other, I also wanted people to realize that there is an implicit bias. And there is a process of generalizing a whole community based on a few people simply because not a lot of people want to break through, you know. A lot of these people have women working as domestic workers in their homes, but they don't get to know them. They don't get to talk to them. They don't get to have that relationship that you see in the movie, and I think that's a mirror to society in general."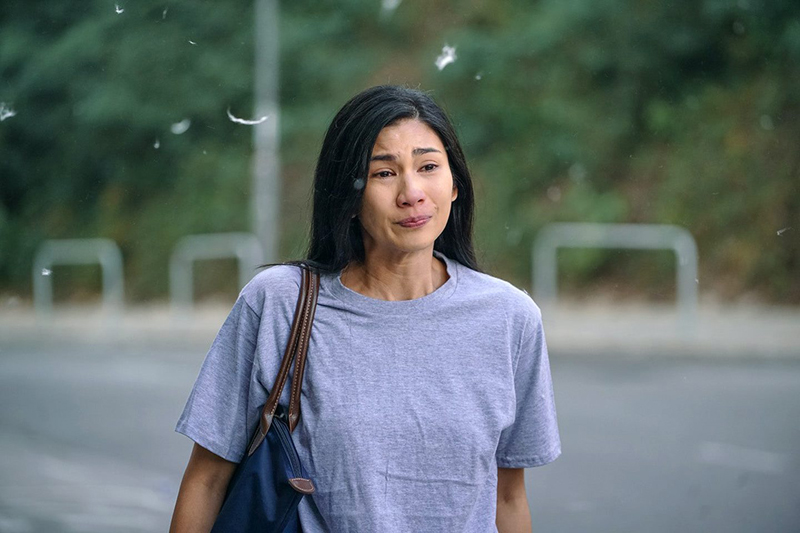 ...and in a scene from Still Human, where she plays a domestic helper.
On working with the Anthony Wong:
"Embarrassingly, I didn't know (Anthony Wong) was famous. Siu Kuen told me beforehand, 'Oh, you're going to be working with an A-list actor.' And I said, that's amazing... I didn't realize how famous he was until the first day of shooting. The crowds were following him! And you enter the set and everybody's like, 'Sir!'
"One thing I've learned from theater as well is that the more seasoned, the more professional you are, the better it is for other people to be working with you. Because he was very generous. He was very giving. He was, of course, so wonderful to throw lines with, do scenes with and was very patient with me. I really value having worked with him. And the professionalism he's shown, there was no special treatment.
"In fact, he actually did this film for free. It was a low-budget film. And when they were talking, he said it in a humorous way, 'I knew they couldn't afford my fees.' But kidding aside, he actually said something along the lines of he wanted to be part of a groundbreaking film because he said Filipinos are part of Hong Kong society. And yet, there is no Hong Kong movie that has them on center stage or no Hong Kong movie that really has them in the context of a social story. So, he said, if a Filipina actress was going to be first cast in a Hong Kong film, he would be there."
On the film winning top prizes (most recent of which, in the Far East Film Festival in Italy), including for her portrayal:
"It's a labor of love. We always thought, maybe after this film is done, we're going to tour it to schools, organizations, and participate in cross-cultural dialogue... I think that's all we had in mind. But maybe because we also had the best of intentions without us realizing, and people saw through it, and picked it up after October 2018 when we premiered it in the Hong Kong Asian Film Festival. A few months later, (we received calls) you guys are nominated. And that's when the roller coaster began. So it's a pleasant surprise.
"It has been challenging, being the first in anything. Breakthrough is always tough because no path is laid out ahead of me, being a Filipino in an even more foreign environment, in show business. It was such an interesting experience. I'm just thankful all these happened because it gives us an opportunity to speak like this and help people hear a different side that maybe they haven't thought of before."