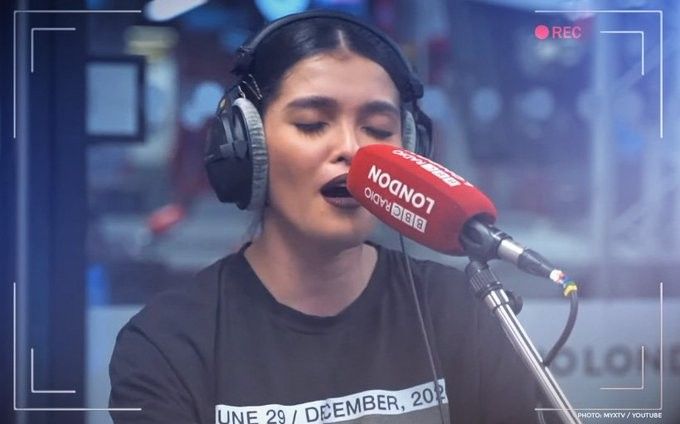 KZ Tandingan performing via BBC Radio London
Twitter/Star Cinema
KZ Tandingan opens up about vocal cord polyps that almost made her give up singing
MANILA, Philippines — Kapamilya singer KZ Tandingan has definitely raised the Philippine flag in London as she wowed the BBC Radio London's "The Scene" hosts with a performance of her single "Nag-iisa Na Naman."
Promoting the London Barrio Fiesta event that happened last July 20 and 21, KZ was asked by the hosts Salma El-Wardany and LionHeart to sing for them. She granted the hosts' request by singing a Filipino song in a foreign land.
"Thank you so much for sharing that with us. It was such a privilege to actually sit right next to you and watch you perform that, to see your expressions and to see the way you were into that song," Salma said.
"That was fire," LionHeart added.
During her guesting, KZ opened up about polyps found in her vocal cords and admitted that she almost gave up singing. She added that this made her realize that belting was not the only way to sing and it led her to discover her present RnB style.
"Every failure is just a redirection to where you should be," she said.
The show's hosts even compared her to American soul singer Lauren Hill.
In her Instagram account, KZ posted a photo of her guesting with Inigo Pascual.
"Raising the Ph flag in London! Thank you @bbcradiolondon for being so game when I asked if I can sing in Filipino. NAG IISA NA NAMAN written by @iamkikosalazar is the first song in Filipino to be performed live on BBC Radio London! @lionheartfelt @salmaelwardany thank you for the warm welcome. We had so much fun hanging out with you guys! Congratulations @inigopascual! OPTIONS is getting a loooooot of love from all over the world!" she captioned the post.
This was not the first time KZ raised the Philippine flag in the international stage. Last year, KZ represented the country in the Chinese singing competition "Singer 2018."
Next, she said she plans to record a song in Los Angeles.