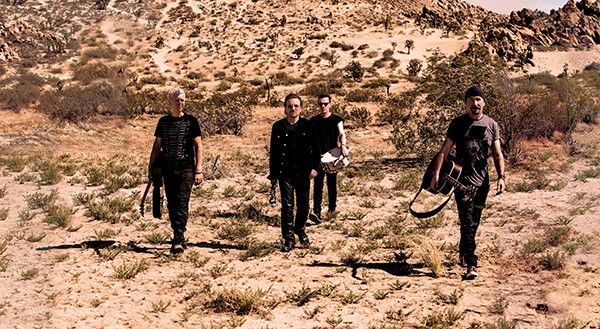 Rock icon Bono pens letter for Manila as invitation to U2's first Philippine concert
MANILA, Philippines — "Coming to rock you…"
That was how Bono, famed Irish singer-songwriter and frontman of rock band U2, opened his greeting to Manila as he announced the band's first ever concert in the Philippines.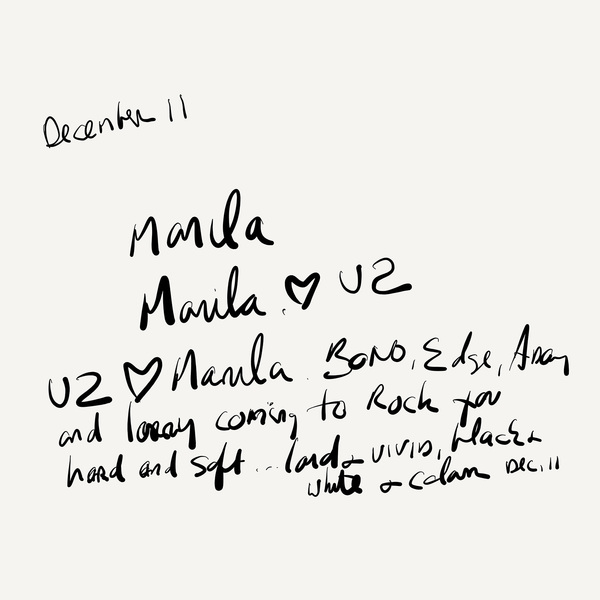 Bono's handwritten invitation to Manila via U2.com.
The concert is slated in Philippine Arena on Wednesday, December 11.
The 22-time Grammy winner posted a handwritten message to Manila, announcing a new date on the band's upcoming "Joshua Tree Tour."
"Bono, Edge, Adam and Larry coming to rock you hard & soft... loud & vivid, black & white & colour Dec 11," the letter read.
"Manila is a first," said Bono. "And that has everyone on their toes…. this has to be one of the great ones!"
"We really wanted to bring 'The Joshua Tree Tour to Asia'," added Edge.
"We'd always hoped that it would include a show in the Philippines and now we can finally say that we will see you in December... We are very excited," added U2's lead guitarist, who also does keyboards and backup vocals.
Likewise, "The Joshua Tree Tour" is taking the band to Singapore and to Seoul for the first time, along with long-awaited return visits to New Zealand, Australia and Japan.

A special presale to U2.com subscribers will begin on Sunday, September 1 (10 a.m. Philippine time) running through until Tuesday, September 3 (5 p.m. Philippine time). U2.com subscribers will have a four-ticket limit.
A subscription to U2.com in 2019 comes with the limited-edition double live CD U2 Live Songs of "iNNOCENCE + eXPERIENCE," including eight tracks for immediate download.
Smart subscribers can also take part in a one day presale on Wednesday, September 4 (10 a.m. to 11:59 p.m. Philippine time).
General sale will begin on Thursday, September 5 (10 a.m. Philippine time) via SMTickets.com. Tickets start at P2,499, with General Admission tickets at P5,250 (plus applicable service fees).
"The Joshua Tree Tour 2019" kicks off in Auckland on November 8 and will visit Brisbane, Adelaide, Melbourne, Sydney and Perth, before moving on to Singapore, Tokyo, Seoul and now Manila.
The tour has been named after group's fifth album, "The Joshua Tree" (1987), which made them international superstars. They consider the album as their greatest "critical and commercial success" that produced their only number-one singles in the US to date: "With or Without You" and "I Still Haven't Found What I'm Looking For."